Sport Utility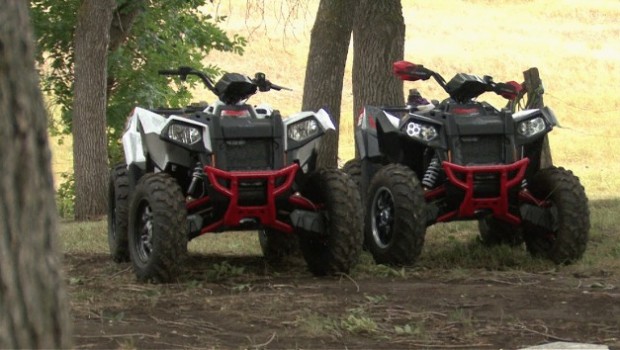 Published on October 9th, 2012 | by Joe
0
2013 Polaris Scrambler XP 850 First Test
The Test
The Bull Run Ranch and private ride club in Great Falls, Montana, played host to the 2013 Polaris press-intro. There, we spent a brief time putting the Scrambler XP 850 EPS LE to the test.
The 850cc, inline twin, four-stroke engine is very efficient with four-valves and single overhead cams per cylinder. Acceleration out of the hole and exiting corners is exhilarating. If you think this machine has more power than you need for most trails, you're right. If you think its huge displacement makes it hard to handle on tight trails, you are mistaken. The fuel-injected power plant is super smooth and easily managed, never making us feel overwhelmed, even in tight technical sections.
Due to the muddy conditions, we left the Scrambler in all-wheel-drive throughout most of our test. The AWD system worked brilliantly, providing extra traction by engaging the front wheels whenever the rear end would start breaking loose. We could barely detect feedback from the AWD system in the steering. The machine simply hooked up better in the slop.If we wanted to really hang it out in the turns, we just switched it into two-wheel-drive and let the engine rip.
The chassis and suspension do a good job of keeping up with the performance of the engine. While wheelies are no problem, the front end is easily controlled on hole shots. The quad stays pretty flat exiting turns thanks to the rear sway bar, which makes the machine behave almost like it has a solid axle. Any hint of front-end dive could be avoided by breaking the rear end loose and backing it into turns. It's very predictable on side hills, climbs, and descents as well. Complete unit dimensions aren't yet available from Polaris; however, we believe they are nearly identical to the Sportsman.
Polaris did a phenomenal job of making the non-power steering equipped Scrambler steer light with minimal bump feedback. Of the power steering systems we have tested, Polaris's are our favorite at slow to intermediate speeds. However, we wish they would provide a bit less assistance at high speeds, where steering feels a little overly sensitive. The Scrambler does a good job going where it is pointed, with a tiny bit of under-steer to help keep you from getting yourself in trouble by over-correcting.
Related Content
VIDEO, 2009 Polaris Scrambler XP 850 EPS Test
VIDEO, 2009 Polaris Scrambler 500 Test
2013 Polaris Scrambler XP 850