Sport Utility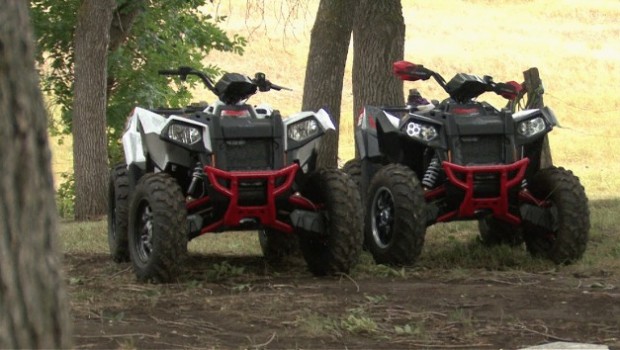 Published on October 9th, 2012 | by Joe
0
2013 Polaris Scrambler XP 850 First Test
With 9in. of suspension travel up front and 10.25 inches out back, the Scrambler floats over just about anything. The attitude of the machine barely changes as you traverse large creek rocks where impacts with the tires are virtually undetectable to the pilot. In spite of its plushness, the suspension doesn't feel willowy at high speeds. We managed to lightly bottom the shocks on one occasion, traversing a harsh g-out at high speeds, so we know we were able to make full use of the travel.  With the extra adjustment of the LE's suspension and a little time, it's possible that we could have made the ride even better.
The way that the Polaris all-wheel-drive system works makes the use of separate front and rear brakes impossible; that's one reason why you don't see them on four-wheel-drive Polaris models. Still, the brakes offer good power and feel. The engine braking system is also very effective.
The Scrambler is a big monster 4×4. Beginners may feel overwhelmed by its size; however, the cockpit will accommodate most any rider comfortably. Its slim midsection aids in comfort and control adding to the sporty feel of the Scrambler. Deciding whether the new styling appeals to you or not is a matter of personal taste; however, we were wishing for a bit more splash protection from the lower profile fenders. Can you say accessory fender extensions?
The Verdict
The 2013 Polaris Scrambler XP 850 is one of the biggest and baddest ATVs going today. It delivers exhilarating trail performance in all conditions, with smooth power delivery and a plush ride that allows you to ride for hours in comfort. In our opinion, the newest Scrambler lives up to the legacy of the machines with which it shares its namesake. It is one serious butt-kickin' ATV!
Related Content
VIDEO, 2009 Polaris Scrambler XP 850 EPS Test
VIDEO, 2009 Polaris Scrambler 500 Test
2013 Polaris Scrambler XP 850