Racing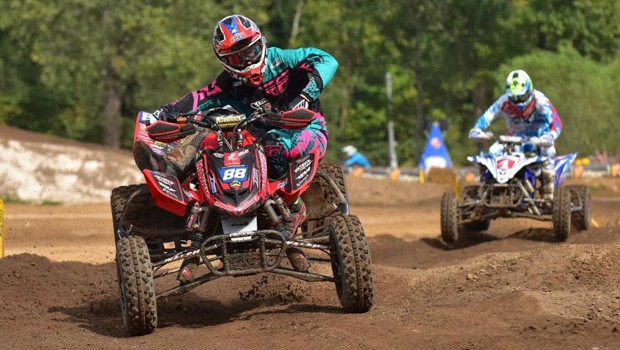 ATV MX Nationals Round 11 2016 Race Report
Hetrick Dominates ATV Dirt Days at Loretta Lynn Ranch
Wienen and Haagsma Round Out Overall Podium
Photos by: Ken HIll
HURRICANE MILLS, Tenn. (August 13, 2016) – The 34th Annual ATV Dirt Days took place today, August 13, at the historic Loretta Lynn Ranch in Hurricane Mills, Tennessee. This race served as the penultimate round of the 2016 ProX ATV Motocross National Championship (ATVMX) presented by CST Tires, an AMA National Championship.
With an overcast sky, the track conditions were near perfect once the world's fastest ATV racers took to the coveted racetrack. After a rough start to the day, Wienen Motorsports/Yamaha/Maxxis/SSi Decals/Walsh Racecraft/FLY Racing's Chad Wienen was able to put it all together to grab the ATVriders.com Fastest Qualifier Award narrowly edging out Maxxis/Elka Suspension/Liquid Wrench's Joel Hetrick.
Once the gate dropped signifying the start of Moto 1 it was the Honda rider of Maxxis/FLY Racing/Baldwin Motorsports' John Natalie who jumped out to the early lead and grabbed the SSi Decals Holeshot Award. Natalie was accompanied by SSR Honda/Quadified/Fourwerx's Wes Lewis and Hetrick.
Four-time National Champion Wienen quickly found trouble in the third turn right before the famed 10 Commandments, while he was following JB Racing/Root River Racing/Gold Speed Tires' Jeffrey Rastrelli. The pair became tangled and in a standstill. Once they were able to ungroup and restart their quads the duo was in the last two positions.
"In the first moto about the third turn, Rastrelli came in pretty hot trying to make a move," said Wienen. "I followed in the inside line and I got stuck with Rastrelli. I started in fifteenth and knew I had a long way to go because the race just started. I had to calm myself down a little bit and then I just started picking guys off to salvage some points."
Once Hetrick made the pass for the lead, Natalie began to feel pressure from Maxxis/Liquid Wrench/Elka Suspension/Honda's David Haagsma. Natalie put forth his best effort to hold off Haagsma, but he would eventually slide by in the open sweeper turn.
Meanwhile, Wienen was busy working his way through the pack from a dead last start. With only two laps remaining Wienen was in a podium position but wanting more. As the white flag waved Wienen would make the last minute pass on Haagsma for second, but Hetrick claimed the win with a commanding lead of 22 seconds.
When Moto 2 was underway Wienen bolted out of the gate eager for redemption, but it would be Haagsma claiming the SSi Decals Holeshot Award. By the time they checked into the finish line for the completion of the first lap, Wienen had secured the lead with Haagsma and Hetrick following in second and third.
Hetrick sat in the top spot once the moto reached it halfway point. Once the Pennsylvania native had a clear track he slowly began pulling away from the rest of the field. Wienen was running a consistent race in second, while the battle for third started brewing behind him between Rastrelli and Haagsma. Although Rastrelli was able to make the pass for third Haagsma kept him honest the entire moto even constantly showing a front wheel in a turn.
"I feel great that I got to run up in the front for a while in both motos," said Haagsma. "I had a good battle with Rastrelli in the second moto and I tried to pass him back, but I was just a little too tired. I knew I had the overall for third if I just finished fourth so I just played it safe to get third overall."
By the conclusion of the second 20-minute moto it would be Hetrick reigning victorious once again and standing on the top of the box (1-1), with Wienen (2-2) and Haagsma (3-4) rounding out the overall podium. Rastrelli would recover from a dead last start in the first moto for fourth overall (7-3) and AGX Designs/Walsh Racecraft/Maxxis' Nick Gennusa landed a spot in the top five with a pair of fifth place finishes.
"My bike worked great all day today," said Hetrick. "Today really showcased all the hard work with two 20-minute motos in brutal heat and rough track conditions. Everything hooked up awesome for a perfect weekend where I was able to gain some points and I'm ready for the Edge of Summer MX.
The ProX ATVMX series takes a month off before the Edge of Summer MX season finale at the Soaring Eagle Casino and Resort. The inaugural event is set for Friday, September 9, in Mountain Pleasant, Michigan.
For more information on the 2016 ProX ATV Motocross National Championship, visit the official series website at www.atvmotocross.com. Join the conversation on the series Facebook page, follow on Twitter and Instagram, and be sure to always hashtag #ATVMX.
Loretta Lynn National
Hurricane Mills, Tennessee
Round 11 of 12
Saturday, August 13
2016 AMA Pro Class Event Results:
Joel Hetrick (1-1)
Chad Wienen (2-2)
David Haagsma (3-4)
Jeffrey Rastrelli (7-3)
Nick Gennusa (5-5)
John Natalie (4-7)
Ronnie Higgerson (8-6)
Josh Upperman (6-8)
Sam Rowe (9-9)
Wes Lewis (10-10)
Overall National Championship Standings:
Chad Wienen (490)
Joel Hetrick (474)
Jeffrey Rastrelli (337)
Josh Upperman (319)
David Haagsma (317)
John Natalie (307)
Nick Gennusa (305)
Ronnie Higgerson (247)
Brett Musick (220)
Thomas Brown (215)
SSi Decals Holeshot Award Standings:
Chad Wienen (10)
Joel Hetrick (9)
John Natalie (7)
David Haagsma (3)
Brett Musick (3)
Jeffrey Rastrelli (1)
ATVriders.com Top Qualifier Award Standings:
Joel Hetrick (6)
Chad Wienen (5)
About the ProX ATV Motocross National Championship
The ProX ATV Motocross National Championship presented by CST Tires, an AMA National Championship, is the nation's premier amateur and professional ATV motocross series, hosted at top motocross facilities nationwide. The 12-round series features the Nation's best racers, teams and sponsors, and is America's largest and longest-running ATV national motocross program. Since 1985, the series continues to expand and produce top talent from the amateur ranks, while premiering the professional class. For more information, please visit www.atvmotocross.com.
About ProX
Whether on the track, in the woods or on the street, riders trust OEM quality engine components from ProX Racing Parts. Specializing in high quality components for powersports applications, all parts are manufactured to highest quality standards at state of the art manufacturing facilities around the world. As the industry evolves, so does ProX. By stocking over 9,000 part numbers and with so many products continually being added, you won't go anywhere else! For more information please visit www.pro-x.com.