Racing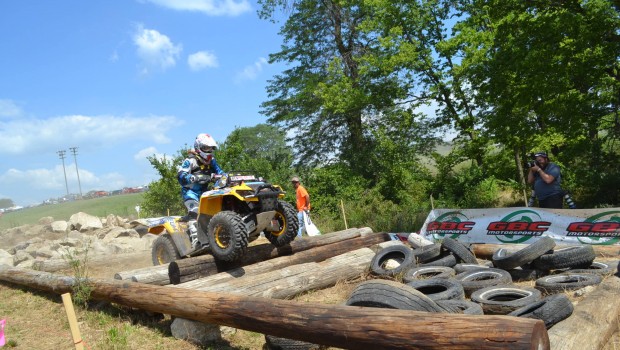 Published on June 2nd, 2014 | by Joe
0
GBC Motorsports Returns as Title Sponsor of 2014 Heartland Challenge
Anaheim, Calif. – May 29, 2014 – GBC Motorsports will return as the title sponsor of the GBC Motorsports Heartland Challenge, an ATV and UTV endurance race held annually in Carlisle, Iowa. The 7th Annual Heartland Challenge is slated for August 15-17.
The GBC Motorsports Heartland Challenge draws competitors and spectators alike from across the country to compete for cash payouts and a year's worth of bragging rights. In 2013 more than 120 teams from 21 different states descended on Carlisle, Iowa for the 4-hour UTV Challenge, 3-hour Youth ATV Challenge and the 10-hour Adult ATV Challenge.
Prior to last year's gathering, race organizers Andy and Tracy Kyner decided to shake things up a bit. In lieu of the traditional Pro class atop the 10-hour Challenge, a new Series Challenge class would pit representatives of race series from across the country in one of the nation's most intense endurance races.
Some of the notable results from 2013 include Team Cabana Motorsports out of Des Moines, IA winning the Open UTV class as well as top honors overall in the UTV Challenge. Team K&K Racing out of Carlisle, IA bested the 90cc Production class as well as the Youth ATV Challenge. In the new Series Challenge, Team IXCR represented the Indiana Cross Country Racing series well, winning the inaugural class race. Kevin Trantham was victorious in the Pro 4×4 Ironman class, while Thee Woodhead Mafia out of Westunion Marietta, WV topped the AA class on their way to the overall ATV Challenge victory.
The 2014 GBC Motorsports Heartland Challenge promises to be another must for ATV and UTV racers and fans alike, so mark your calendars for August 15-17 and keep an eye out for information on early-bird registration. More information to come in the next few weeks.
To learn more about GBC's lineup of ATV and UTV tires, please visit www.GBCMotorsports.com. Follow us on Facebook, Twitter and Instagram for more racing updates.