Racing
GBC Motorsports Scores 4 Class Victories at Snowshoe GNCC
Anaheim, Calif. – June 25, 2015 – It was a wet and wild one in Snowshoe, WV for the 9th round of GNCC Racing, but GBC Motorsports racers didn't let the rainy and muddy conditions get the best of them. Riders laid it all on the line for the last round before the break, grabbing four class victories and numerous podiums along with precious class points in this last race before the summer break.
GBC riders absolutely tore up the utility classes, led by Rob Smith with a 2nd place finish in the 4×4 Pro class and 2nd AM Overall spot. This matches his best finish of the year and has him squarely in 4th place in the competitive 4×4 Pro class.
Scott Day added a victory in the 4×4 A/B class, while fellow GBC rider Ben Bruce followed in 2nd place. Both earned top 10 AM Overall finishes and Day leads the class in the season standings. Forrest Whorton added some gold for GBC in the 4×4 Senior class, his fourth win of the season.
Tori Fryer and Kara Merritt fought hard in the WXC class, finishing 6th and 7th respectively. They both hold spots in the top 5 of their class heading into the break. Brittany Reebel put up another strong performance in the Amateur Women class, finishing 4th.
Shane Pitzer put together a 2nd place performance at Snowshoe, good enough for 19th in the AM Overall. His eight consecutive podium finishes have him in control of the Schoolboy Sr. class.
The afternoon races saw more fierce battles and more GBC wins. Starting in the XC1 Pro class, GBC racer Kevin Yoho rounded out the top 10 while Johnny Gallagher followed in 11th. Marty Christofferson put in a solid 4th place run in the XC2 Pro-Am class, while Tom Koontz follwed in 5th place. Marty is in 3rd place in the class standings after nine rounds of racing.
Kenny Shick continues to battle for control of the competitive College A class. Following a 4th place finish at Snowshoe, Shick is five points behind the class leader. GBC racer Kevin McKeown has missed most of the 2015 season but has come back with a vengeance, finishing 5th in College A after notching a 3rd place in the Sportsman A/B class in Round 7.
Nathan Hornacek carried the momentum of his impressive 3rd place Junior A finish into Round 9, this time grabbing the checkers. It was his first win of the season, and his consistency has him in third place in the standings behind fellow GBC rider Dwight Pollard. Pollard added a 3rd place podium finish for GBC at Sowshoe.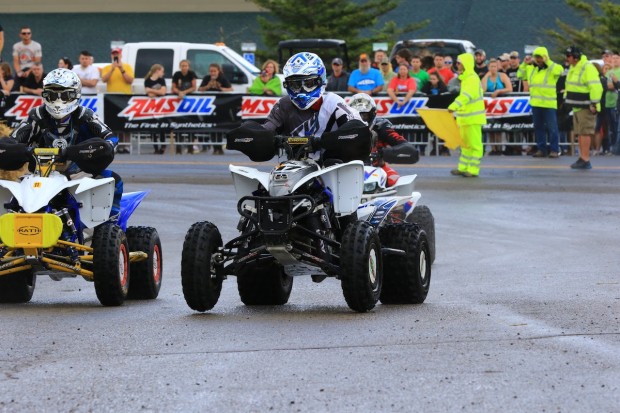 Longtime GBC racer Jeff Pickens has missed a few races this season, but enjoyed his second straight Vet A class win, also good for 19th in the PM Overall. Bryan Filicky continues to push hard, notching a 2nd place podium finish in Junior B and also holding onto the second place spot in that class. Todd Moskala has been solid in Vet B competition this season, and earned his fifth straight podium finish with a 2nd place.
GBC Motorsports racers will enjoy the GNCC summer break to rest, heal, tune and train. GNCC Racing resumes September 19-20 at Unadilla Raceway in New Berlin, NY. Learn more about GBC Motorsports tires at www.GBCMotorsports.com, and follow us on Facebook, Instagram and Twitter for the latest racing and product updates.