Racing
Published on October 19th, 2015 | by Joe
0
Westley Wolfe Makes History at GNCC Round 12
Fowler Wins ITP Powerline Park GNCC
Christofferson Grabs First XC2 Pro Am Win This Season
Photos by: Ken Hill
MORGANTOWN, W.Va. (October 17, 2015) – Saturday's penultimate round of the 2015 AMSOIL Grand National Cross Country Series (GNCC), presented by Maxxis, an AMA National Championship, set the stage for a dramatic season finale as the XC1 Pro ATV Championship still remains undecided with one round remaining. Walker Fowler captured his seventh victory of the season at the ITP Powerline Park GNCC, while XC2 Pro Am winner Marty Christofferson won his first class victory of the season.
Only 14 points separated N-Fab/AmPro Yamaha/Maxxis/Lonestar's Walker Fowler and CST/PirateMX.com/LSR/DeRisi/Tireblocks/SG-backed Adam McGill heading into round 12 and the pair didn't disappoint when it came to delivering an exciting battle in St. Clairsville, Ohio. As the green flag dropped for the XC1 Pro ATV race, it was McGill taking the early lead and claiming the $250 AMSOIL Holeshot Award with Fowler right behind him. The lead duo set a blistering pace early on, where they opened up a 30 second gap on third place by the second lap.
"At the beginning of the year I really struggled with starts, so a second place start was more than enough," said Fowler.  "I knew I needed to either beat McGill or be right behind him, and all I could think was that they guy I needed to beat was in front on me."
After a small bobble by McGill, Fowler was able to find his way into the lead, and  he maintained his composure throughout the entire two-hour race to secure his fourth win in the last five rounds. Fowler's victory not only extended his lead in the championship chase by a comfortable cushion, but it was perhaps the extra boost of confidence that the young racer needs to claim his first ATV National Championship heading into the season finale in just two weeks.
"I was able to pull the quick lead until we got to Gus' Mud Hole," said McGill. "I took a bad line through the mud and Fowler was able to get around me."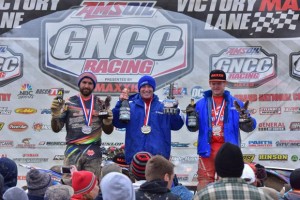 After getting off to a not-so-favorable start, Maxxis/B. Neal Motorsports's Brycen Neal pushed himself into the top five by the third lap.  Both he and JMR/ATVRiders.com's Jarrod McClure engaged in a battle of their own early on, and lasting until the last lap when they would catch the tail end of the third place rider of Team Maxxis-backed Chris Borich.
In the end Borich would be able to hold off Neal and McClure for third overall. Neal placed fourth overall, followed by McClure in fifth. Coastal/Waynesburg Yamaha's Jay Shadron crossed the finish line in sixth.
The Bithell Racing/Maxxis/Precision-backed rider Chris Bithell improved over the last round's finish taking seventh overall home for the day. Following behind him would be BNR/GBC's Kevin Yoho in eighth, Maxxis/BNR/Moose's Josh Merritt in ninth and Fasttrax/Wolf Racing's Brian Wolf held the tenth place in the XC1 Pro division.
With the absence of N-Fab/AmPro Yamaha/Maxxis/Lonestar's Cole Richardson due to wrapping up the championship early and moving up to XC1, it opened the door for a new XC2 Pro Am class winner. Dillinger's Celtic Pub/Hygear Suspension/Moose/GBC's Marty Christofferson took full advantage of the opportunity claiming the class win, but it would West Virginia's James Green jumping to the front first and claiming the $100 All Balls Racing XC2 Holeshot Award. Unfortunately Green would fall to the back while JMR/ATVRiders.com's Randy Hamilton captured yet another solid podium finish, and RYCO Racing's Cody Collier took home third.
College A (16-21) class winner Westley Wolfe took the Top Amateur honors, finishing 13th overall for the day ahead of a handful of XC1 Pros and the entire XC2 Pro Am class. The Maryland native made history today by being the first person to win an ATV Motocross (ATVMX) championship and GNCC championship in the same season. Earlier this year Wolfe clinched both the Production A and 450 A division championships in the ATVMX series.
The 10 a.m. race was full of excitement as the overall podium was filled with the unusual sight of two Schoolboy Sr. competitors. New York's own Hunter Hart's impressive performance landed him not only a class win, but also the overall win and the GT Thunder ATV Amateur Overall Award. He finished ahead of 4×4 Pro Michael Swift in second overall, and Yamaha rider John Glauda Jr. took the last spot on the box and finished a respective second in the Schoolboy Sr. Class.
Although he finished second overall, Team UXC Racing/Factory Polaris' Michael Swift added another 4×4 Pro class to his resume. Swifts teammate, Kevin Trantham placed second in the class and Can-Am rider Bryan Buckhannon finished third, continuing his impressive season-long podium streak. Buckhannon continues to hold onto the points lead heading into the last round.
Defending class champion, Angel Knox, was able to wrap up the 2015 championship with the class win today. The Honda rider crossed the finish line with more than a two minute lead over Ohio's Kara Merritt who placed second. Even with the time gap after the checkers flew, the win would not come that easy for Knox as Alicia McCormick put up a hard fight until facing setbacks that would have her finishing outside the top three. Katelyn Osburn rounded out the WXC podium.
"It's a lot of hard work and years going in to get three WXC titles," reported Knox. "It feels good to know that my hard work has paid off."
In the ATV Youth division, Pennsylvania's Ronnie Rusch had the 2015 Overall Youth ATV championship in hand heading into this round, and he captured his 11th overall victory of the season in a come behind fashion, thus proving his nickname "Rocket Ronnie" still holds true. Yamaha rider Mikey Nickles stood in the second stop of the podium, Pennsylvania's Tim Sroka placed third.
In Side-by-Side racing, Tim Farr and Angel Knox were on the top step of the box. They were followed by Bill Patterson and Mike Isaacson in second and Steve Matko and Clinton Graff in third.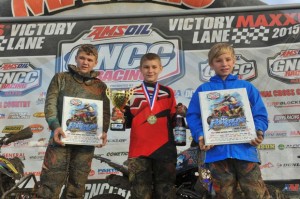 The 1:00 p.m. race was broadcast LIVE in its entirety on RacerTV.com and can be viewed as an archived video now. Please click HERE to view the full three-hour race coverage. In addition to the archived live race coverage on RacerTV, a highlight show featuring the event will air on NBC Sports Network will feature a highlight show Sunday, December 13 at 4:30 p.m. Complete results from today's ATV racing can be found HERE.
The 2015 AMSOIL GNCC series heads to Crawfordsville, Indiana on October 31 and November 1 for the AMSOIL Ironman GNCC. For more information on the series, visit the official website at www.gnccracing.com or call (304) 284-0084.
Stay up-to-date with exclusive content from the 2015 AMSOIL GNCC Series by following the official Facebook, Twitter, and Instagram accounts.
ITP Powerline Park GNCC
St. Clairsville, Ohio
Round 12 of 13
Saturday, October 17
XC1 Event Results:
Walker Fowler (YAM)
Adam McGill (HON)
Chris Borich (YAM)
Brycen Neal (YAM)
Jarrod McClure (HON)
Jay Shadron (YAM)
Chris Bithell (SUZ)
Kevin Yoho (YAM)
Josh Merritt (YAM)
Brian Wolf (HON)
*Overall National Championship Standings
Walker Fowler (295)
Adam McGill (276)
Jarrod McClure (225)
Chris Borich (204)
Brycen Neal (192)
Cole Richardson (155)
Chris Bithell (143)
Jay Shadron (140)
Brian Wolf (134)
Johnny Gallagher (118)
*Indicates that the Overall National Championship Standings will determine the 2015 National Champion.
XC2 Event Results:
Martin Christofferson (HON)
Randy Hamilton (HON)
Cody Collier (YAM)
Danny Rogers (YAM)
Michael Lancaster (HON)
Kenny Shick (YAM)
Robbie Pecorari (HON)
Levi Coen (HON)
Cameron Bruce (YAM)
Ryland Johnson (HON)
XC2 Series Standings:
Cole Richardson (303)
Martin Christofferson (270)
Cody Collier (248)
Randy Hamilton (222)
Thomas Koontz (135)
James Green (128)
Michael Lancaster (127)
Blake Tornes (123)
Bryson Hoppes (121)
Brad Aman (101)
About GNCC Racing:
The AMSOIL Grand National Cross Country Series presented by Maxxis is America's premier off-road racing series. Founded in 1975, the 13-round championship is produced exclusively by Racer Productions. Cross-country racing is one of the most physically demanding sports in the world. The grueling three-hour GNCC races lead as many as 2,000 riders through tracks ranging in length from eight to 12 miles. With varied terrain, including hills, woods, mud, dirt, rocks and motocross sections, GNCC events are tests of both survival and speed. The series draws talent from all over the U.S., Europe, Japan, Australia and New Zealand. GNCC Racing is televised weekly on NBC Sports and RacerTV.com. For more information, please visit www.gnccracing.com.