Industry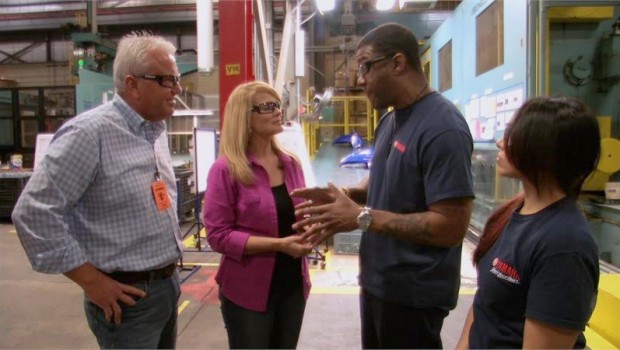 Yamaha's Georgia Manufacturing Facility Featured in "Small Town, Big Deal" Television Program
Leading RFD-TV Network Program Showcases Yamaha and its Newnan, Georgia Facility
KENNESAW, Ga.—June 10, 2015—The Yamaha manufacturing facility in Newnan, Ga., is featured in a new episode of "Small Town, Big Deal," one of the most popular and widely viewed shows airing on the RFD-TV network. Small Town, Big Deal is a weekly program that shines the spotlight on the innovative, interesting and historic things happening in small towns across America.
The show is co-hosted by Rodney Miller, a long-time leader in the agricultural machinery industry, and Jann Carl, former correspondent and anchor for "Entertainment Tonight." The episode featuring Newnan and Yamaha will first air on Thursday, June 11, at 8:30 p.m. Central Standard Time.
"We showcase real Americans and real communities doing remarkable things," said Miller. "Newnan is a very historic and charming community, which makes it a great fit for Small Town, Big Deal. Yamaha is a big part of the community fabric and has had a tremendously positive impact on Newnan, not only from an economic standpoint, but also from a philanthropic standpoint. It was a thrill for us to visit Yamaha's state-of-the-art manufacturing facility, talk to the employees and learn about some of the community-based programs Yamaha has brought to Newnan."
Yamaha Motor Manufacturing Corporation of America (YMMC) is Yamaha's worldwide hub of off-highway vehicle (OHV) manufacturing, where all of the company's SxS and the majority of their ATV vehicles are produced for national and international distribution. The facility in Newnan covers 280 acres with more than 1.3 million square feet of manufacturing facilities and has approximately 1,473 employees.
"Yamaha has invested more than $250 million into U.S. manufacturing over the past 15 years, creating a world-class facility in Newnan," said Mike Chrzanowski, executive vice president of YMMC. "Whether it be ATV or Side-by-Side vehicles, Golf Cars or Personal Watercraft, Yamaha Motor Manufacturing Corporation strives to maintain the highest production quality and environmental standards, while giving back to the community through comprehensive corporate social responsibility programs."
Yamaha Small Town, Big Deal Sweepstakes
Yamaha is also partnering with Small Town, Big Deal for an online sweepstakes in which eligible participants can enter for a chance to win a brand new 2015 Viking EPS Side-by-Side with an approximate retail value of $12,999.
"We've created this sweepstakes in partnership with Small Town, Big Deal to show our support for all the great people, places and communities across the U.S that Rodney and Jann are showcasing every week," said Steve Nessl, ATV/SxS marketing manager, Yamaha Motor Corporation. "Small Town, Big Deal is a fun program that's also very interesting and a great format that specifically spotlights all of the wonderful small communities like Newnan that are really the backbone of America."
The sweepstakes is open now through August 27th and no purchase is necessary to enter. The winner will be determined by random drawing. Complete rules, entry details and additional information are available by visiting http://www.yamahamotorsports.com/outdoor/campaign/smalltownsweepstakes.
The Small Town, Big Deal episode featuring Newnan, first airing on June 11th at 8:30 p.m. Central Standard Time, can be seen on the cable network RFD-TV, Direct TV channel 345, Dish TV channel 231 and U-verse channel 56.
Follow Yamaha at www.Facebook.com/YamahaOutdoors, www.Twitter.com/YamahaOutdoors, and www.Instagram.com/YamahaOutdoors
#YamahaOutdoors
About Yamaha Motor Corp., USA
Yamaha Motor Corporation, USA, (YMUS) a leader in the motorsports market, makes the toughest, most capable and versatile ATV and Side-by-Side vehicles. The company's ever-expanding product offerings also include motorcycles, outboard motors, personal watercraft, snowmobiles, boats, outdoor power equipment, accessories, apparel and much more. YMUS products are sold through a nationwide network of dealers in the United States.
Headquartered in Cypress, Calif., since its incorporation in 1976, Yamaha also has facilities in Wisconsin and Georgia, as well as factory operations in Tennessee and Georgia. For more information on Yamaha, visit www.yamahamotorsports.com.