Sport Utility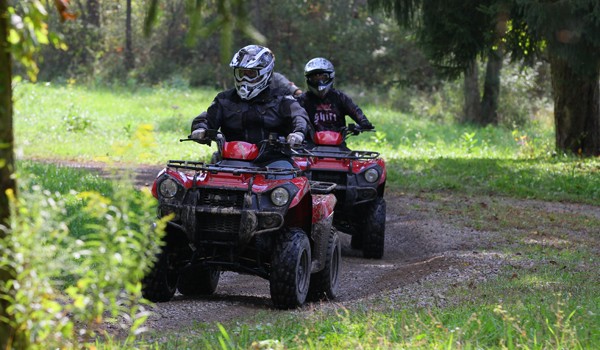 Published on October 10th, 2011 | by Joe
0
2012 Kawasaki Brute Force 300 Test
Kawasaki's new Brute Force 300, functional, sporty, and affordable.
Top of the line ATVs, like the totally revamped 2012 Kawasaki Brute Force 750 4×4 with power steering, play a big role in creating enthusiasm for the potential customers. Entry level machines, on the other hand, like Kawasaki's all new, two-wheel drive, 2012 Brute Force 300, will provide most new riders with something to cut their teeth on. Entry-level machines are responsible for creating brand loyalty, and, most importantly, lifelong ATV enthusiasts.
Replacing the Bayou 250, Kawasaki wanted to tie its Brute Force line together, from the entry point up. The new Brute Force 300 receives styling strikingly similar to that of the Brute Force 750, although in a much more compact design.
To show off the new machine, Kawasaki invited us out to the Mines and Meadows ride area in Wampum, PA. The park covers 650 acres–– over 60 miles of groomed trails. What makes Mines and Meadows unique is its underground trails, located in an abandoned mine.
As the smaller sibling of the 750, the 300 shares many of the biggest Brute Force's attributes. Aside from its styling, the 300 features a larger, front storage box than the 750. and a similar right front fender pocket. A feature not found on all ATVs in this class, the 300 has a handlebar mounted digital display similar to the 750's that  provides speed, fuel, trip, time and other useful info.
What makes your first ATV (or ride) memorable isn't slick features; it's the way the ATV performs and makes you feel out on the trail.  The 300 is small enough not to intimidate riders in the five feet tall range, yet large enough in the cockpit to accommodate six footers comfortably. The seat is plush for long rides in the saddle, and we never snagged our boots on the bodywork while standing. The ergonomics were equally comfy sitting or standing. The floorboards with raised foot pegs offered plenty of room and enhanced control.
The 300 is powered by a 271cc, liquid-cooled, two-valve, single overhead cam engine, fed by a 32mm carburetor.  A fully automatic CVT transmission featuring high, low, neutral, and reverse is similar in design to that found on the 750, completely disengaging at idle to reduce belt wear.
The 300 gets rolling low in the RPMs thanks to its respectable low end power and positive, early CVT engagement. If you are out for a brisk ride, the 300 is willing to rev. We were able to conquer all the hills we attempted, easily, in high range. The transmission does a good job of back shifting for steep climbs, or when you grab a handful out of corners, keeping the engine in the meat of its power. The gated shifter made gear selection smooth and simple.
A tubular steel frame is mated up to dual control arms up front and a solid axle equipped swing arm out back. Five-way, preload adjustable shocks reside at both ends controlling 5.2 inches of travel up front with 5.6 inches of wheel movement out back.
The 300 weighs in at 535.7 pounds ready to ride. While that is reasonable for its class, the Brute feels way lighter when you ride it! Steering on the 300 is quite responsive, gladly going where it is pointed. Through the turns, the 300 is respectably stable, responding well to rider positioning. For its displacement, the 300 slides remarkably well, thanks to its quick steering, spunky engine, and purpose-built Maxxis tires.  The tires provide ample forward traction and good ride characteristics, while keeping side bite light enough to kick the rear end out for slides.
For its price and intended audience, the 300's shocks were surprisingly plush. They worked well on small trail junk, and stood up to a little air. We did bottom the fronts once in a small, abrupt dip in the trail, but that was with a 235-pound rider on board! The 300's suspension travel numbers are competitive on paper, but they feel even longer out on the trail.
Triple hydraulic disc brakes are individually operated using the handlebar-mounted levers and right, side mounted foot brake. Stopping power is ample, and we like the positive feel that only hydraulic discs provide.
If work is on your list, the 300's front and rear racks can haul 44 and 56 pounds respectively in addition to 500 pounds of towing capacity. Additional features include a DC outlet, and winch ready, mounting point up front.
If you buy the Brute Force 300, we have to warn you, though, you will be looking for excuses to get out of work and head for the trails. Kawasaki made the 300 surprisingly sporty, comfortable, and capable for its reasonable asking price of $4,199. The all-new, 2012 Kawasaki Brute Force 300 delivers exactly the kind of fun that made lifelong enthusiasts out of us.
Manufacturer: Kawasaki
Model: 2012 Brute Force 300
MSRP: $4,199
Contact: www.kawasaki.com

2012 Kawasaki Brute Force 300
Summary: Kawasaki made the 300 surprisingly sporty, comfortable, and capable for its reasonable asking price of $4,199. The all-new, 2012 Kawasaki Brute Force 300 delivers exactly the kind of fun that made lifelong enthusiasts out of us.