First Looks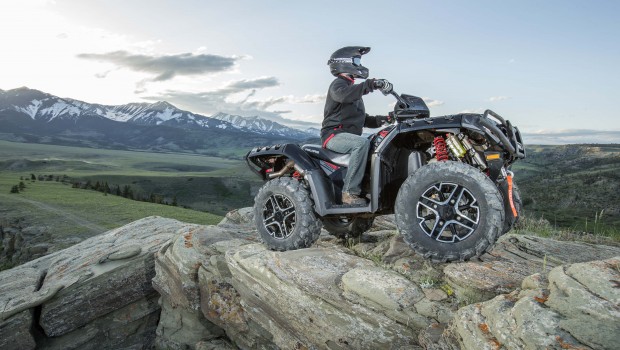 Published on July 31st, 2014 | by Joe
0
2015 Polaris ATV Lineup First Look
 Last year Polaris made a few significant changes to its ATV lineup; adding the new value-priced, fuel-injected, Sportsman 570, and the skies-the-limit Scrambler 1000 sport 4×4 to its stable. Despite their investments in the ever expanding UTV market, plus their latest entrant into the street segment with the Polaris Slingshot, the Minnesota-based manufacturer has once again made some major changes to its ATV lineup for 2015, offering six new ride-on models, plus a major revamping of its adult-size ATV lineup. If you are a die-hard ATV enthusiast like us, 2015 is going to be a big year for Polaris.
New for 2015
Sportsman XP 1000 and Touring XP 1000
 Both variations of the new Sportsman XP 1000 are powered by the same 88 horsepower, 952cc, fuel-injected engine, based on the one introduced last year in the Scrambler 1000. Both machines come with electronic engine braking and Polaris' Active Descent Control system, which aids the four-wheel, hydraulic disc brakes. The 1000's chassis is based on the superb handling Sportsman 850. Dual a-arms at both ends feature preload adjustable shocks controlling 9 inches of suspension travel up front and 10.25 inches of travel out back. The Touring XP 1000 features an improved driver and passenger seat with more comfort and bolstering for increased passenger comfort and security.
To work hard, both machines feature a 1,500-pound towing capacity via its 1.25-inch hitch receiver in addition to 120 pounds of front and 240 pounds of rear rack capacity. The racks feature a total of 100 built-in, tie-down points designed to make attaching cargo easy. Both units also feature a Polaris HD 2500-lb winch and plow accessory integration, plus a new handlebar-mounted headlight pod with improved instrumentation visibility. Automotive style paint and cast aluminum wheels are both standard equipment, helping the new XPs stand out on the trail.
MSRP
Sportsman XP 1000: Starting at,$11,999
Sportsman Touring XP 1000: $13,299
Sportsman 570 SP and Touring SP 570
For 2015, Polaris has replaced the Sportsman  550 models in its premium line, with the new Sportsman 570 SP and two-seat Touring SP 570 models. The new 570 SP models are based on the same platform as the Sportsman 570 models released in 2014 with a new dual a-arm front-end suspension, with geometry optimized for the SP's standard electric power steering system. Dual a-arms and preload adjustable shocks at both ends control 8.25 inches of suspension travel up front and 9.5 inches of travel out back.
The 567cc, DOHC, four-valve, four-stroke engines feature electronic fuel injection. The Polaris AWD (all-wheel-drive) system was enhanced to provide faster engagement of the front wheels on slippery surfaces for improved traction, while the close ratio, fully automatic transmissions were optimized for enhanced responsiveness. Electronic engine braking and Active Descent control come standard and greatly aid in controlling speed on steep downhills.
The vehicles feature a 660 watt output electrical system to power accessories. A new light pod features easier-to-read instrumentation. Rack capacities measure in at 90 pounds front and 180 pounds rear, in addition to its 1,500 pounds of towing capacity. Both machines feature automotive-style, painted bodywork, 14-inch cast aluminum wheels, and 26-inch Maxxis tires.
Compared to the 2014 Sportsman 550 EPS, formerly XP 550, the SP features many of the same standard features including power steering, automotive style paint, and cast aluminum wheels. The new 570 SP weighs 3 pounds less and enjoys four more horsepower than the old 550, although it lost ¾ inch of front and ½ inch of rear suspension travel. Retail price for the 570 SP is $200 less than last year's 550. While we feel confident giving the nod to the new engine, we will have to ride the new 570 before we know how the handling compares to the old 550, which we absolutely loved.
MSRP
Sportsman 570 SP: Starting at $8,499
Sportsman 570 SP Touring:  $9,299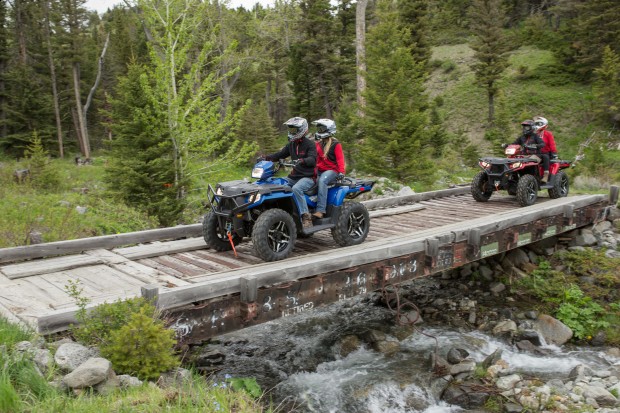 Sportsman ETX
 Last year's 29 HP 400 has gone away and has been replaced by the new 30HP Sportsman ETX. Polaris is keeping this Pro Star engine's displacement under wraps, most likely because it's hard to market a 325cc machine for $200 more than a 400cc machine, even though the ETX engine is higher-tech and could be superior in every way. The ETX engine features a modern efficient four-valve, DOHC design, counterbalanced to reduce vibration. While the old 400 was carbureted, fuel injection on the ETX means easy cold starts, and more consistent power at different altitudes and temperatures. Of- course, the ETX enjoys Polaris' fully automatic, close-ratio transmission, plus their versatile 2WD/AWD system.
The ETX shares its chassis with the Sportsman 570, but with a smaller and lower profile for improved ease of mounting and dismounting. The ETX features 1-inch smaller 24-inch tires. Its front suspension travel measures in at 6.7 inches, versus 8.2 on the 570. Rear suspension travel is identical to the 570 with 9.5 inches. Ground clearance was reduced a bit to 9 inches from 11 on the 570. All of these changes add up to a seat height that is 2 ¼ inches lower than the 570, at 31.5 inches, and a machine that is two inches lower overall at 48 inches. The ETX's overall length and width remain the same, yielding a full size machine that should be a little easier for smaller riders to handle.
The ETX seemingly sacrifices nothing when it comes to work, with the same 90 pounds front and 180 pounds of rear rack capacity, plus 1,225 pounds of towing capacity. For easy accessory attachment, the ETX features the same Lock & Ride rack accessory integration found on all of the other Sportsman models, plus winch and plow mount integration for easy attachment.
MSRP
Sportsman ETX: $5,899
Sportsman X2 570
 The Sportsman X2 570 is designed to be a versatile work machine. Part of Polaris' 2-up value line, the X2 shares its chassis with the 570 Touring EPS. What is unique about the X2 is that its second seat can be flipped up, providing full access to the machine's rear cargo box. While it shares its 90-pound front rack, and 1,250-pound towing capacity with the other Sportsman 570s, its rear cargo box increases its rear weight capacity from 180 to 400 pounds, greatly enhancing the functionality of the machine when it comes to getting work done.
Its 44HP, fuel-injected, four-valve, DOHC engine features a close ratio, fully automatic transmission, and enhanced AWD system. McPherson Strut front suspension delivers 8.2 inches of travel, while dual a-arms out back yield 9.5 inches of rear wheel movement. Standard electric power steering is a big plus, whether you are trail riding, or working hard with the X2 loaded to capacity.
MSRP
Sportsman X2 570: $9,699
Ace 570
While we classify it more as a UTV than an ATV, Polaris has a vehicle with some cross-over appeal with the Sportsman Ace. The vehicle features the dimensions of a ride-on ATV with an adjustable driver's seat and tilt-adjustable steering wheel, wrapped up in a RZR-style roll cage. When the 325 hit the market in 2014, consumers begged for a unit powered by the Pro Star 570 engine found in the RZR 570 and Sportsman 570 ATVs, and Polaris has delivered for 2015.
The Ace 570 boosts horsepower from 32 to 45. With only a small 24-pound gain in weight, the power-to-weight ratio, AKA fun factor, should be significantly increased. The engine is mated to a fully automatic transmission with high and low ranges, plus Polaris' 2WD/AWD drive system, making the Ace a very capable trail machine. McPherson Strut front suspension with 8.2 inches of travel and dual a-arms out back with 9.5 inches of travel are identical on both machines and performed well in our test of the 325 last year.
You can strap 120 pounds of payload to the top of the front rack/cargo box, in addition to 240 pounds of rear rack capacity and 1,500 pounds of towing capacity, making this single-seat UTV as capable a worker as it is a trail runner.
MSRP
Sportsman Ace 570: $8,499
2015 Youth Models
This year Polaris is offering a mix of 2015 and 2014 models providing a wide range of vehicle types and engine sizes for young riders. Polaris needs to be applauded for offering the largest number of youth models on the market, proving its dedication to bringing new riders into the sport.
Polaris' youth line up will include two 2015 ATV youth models, the Phoenix 200 and Outlaw 50; and two 2014 Youth ATV models, the sport-oriented Outlaw 90 and utility-inspired Sportsman 90; all of which meet SVIA standards for youth ATVs.
MSRP
Outlaw 50: $2,099
Outlaw 90: $2,799
Sportsman 90: $2,799
Phoenix 200: $3,599
This Coming Year
We believe there must be a shift in the ATV market from making the largest displacement, most powerful machine, to building machines that deliver the most value for the dollar. For 2015, Polaris continues to push the envelope in both performance and value. Polaris is now challenging Can-Am and Arctic Cat for 1000cc supremacy; however, for the first time in a long time, Polaris is now being challenged in the value department by the new Can-Am Outlander L machines. While we anticipate our first tests, we're sure that this year's offerings will inspire plenty of enthusiasts to visit their local Polaris dealer and go riding!
For complete specifications, pricing, or to find a Polaris dealer visit Polaris.com