First Looks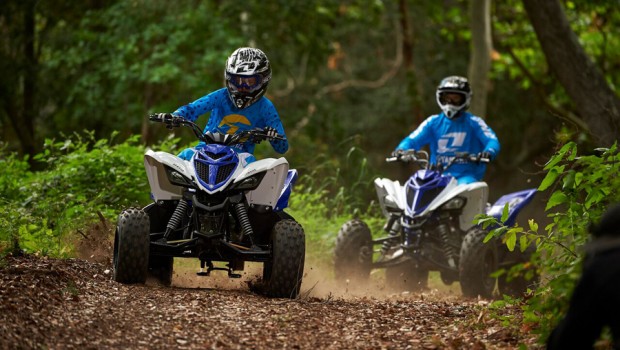 Published on June 4th, 2015 | by Joe
0
2016 Yamaha Sport ATV Lineup, First Look:
All-New Raptor 90 Joins the YFZ450R and Raptor 700R For Yamaha's 60th anniversary!
Story By: ATV on Demand
Entering their 60th year manufacturing in the power sports industry, 2016 is a monumental year for Yamaha, with sweeping changes across their entire sport and utility ATV lineup. After revamping their flagship YFZ450R and Raptor 700R over the past two years, Yamaha is beginning to regrow their number of sport ATV offerings for 2016. After a non-descript manufacturing issue led to the disappearance of the Raptor 90, 125, and 250 in 2014, we were growing concerned with Yamaha's lack of a youth offering. For 2016, we're excited to see that a brand new Raptor 90 has joined the YFZ, Raptor 700 and 700R, providing a brand new machine on which to bring young enthusiasts into the sport.
Raptor 90
On the outside, the 2016 Raptor 90 has clearly inherited the appearance of the latest Raptor 700. On the inside, it's essentially new from the ground up. While the old Raptor 90 was intended for riders 12-years-old and up, the new 2016 Raptor 90 has earned a rating of ages 10 and up, increasing its service life for parents who follow manufacturer's guidelines. We feel the new age ratings make perfect sense and are a step forward in the over-regulated youth market. The 2016 Raptor 90 has grown in size dimensionally compared to the 2013 model. The 2016 is 5 inches wider at 40.2 inches. It has a 3.8-inch taller seat height at 29.5 inches and a 1.5-inch taller overall height at 37.6 inches. The tire manufacturer switched from Maxxis to Duro for 2016, but the tire sizes remain the same at 18×7-8 front and 18×9-8 rear and ground clearance remains the same at 3.9 inches. Overall dimensions indicate an increase in stability, and a cockpit that will serve growing riders better than its predecessor.
The new Raptor 90 is said to enjoy an increase in power. It's powered by an 89.9cc air-cooled, two-valve, SOHC 4-stroke engine featuring a continuously variable transmission (CVT) with reverse. Its engine is fueled by a 13mm carburetor. The air filter can be accessed and serviced with no tools and is conveniently located under the front of the seat. Power is transferred to the rear wheels via an O-ring chain.
Complementing the 2016 Raptor 90's larger chassis are five-way preload adjustable shocks front and rear with increased travel. Front wheel travel has been increased .6 inches up front to 5 inches, while the back end now delivers 2.5 inches more travel at 5.8 inches. We are a bit disappointed to see Yamaha go backwards from a dual A-arm front end to single A-Arms. Dual A-Arms help keep the front tires traveling straight up and down as the suspension compresses and rebounds, greatly reducing tire scrub for better suspension action. The new suspension looks like it takes two steps forward and one step backward.
The old Raptor 90 featured drum brakes up front and a hydraulic disc brake out back. The 2016 Raptor featured drum brakes front and rear. While this seems like a step backwards on paper, we will reserve our judgment until we have a chance to put it to the test. Overall, it looks like the Raptor 90 has returned better than ever. The 2016 Raptor 90 comes in Yamaha Blue/White with only a $100 price increase over 2013 at $2,799 MSRP.
YFZ450R and 60th Anniversary YFZ450R SE
In 2014, Yamaha wanted more power out of the YFZR's engine, with a focus on improving the machine's low-end hit. To achieve this, Yamaha bumped the compression from 11.6:1 to 11.8:1, changed the cam profiles, and installed a new throttle valve. Yamaha tied all the horsepower improvements together with a new ECU complete with a new fuel map and a new exhaust designed to enhance power throughout the midrange and top-end.
The five-speed transmission was updated in 2014 with a new assist and slipper clutch. It was designed to slip a bit under deceleration, reducing compression braking force to the rear wheels, allowing the rear suspension to track better through braking bumps.
Yamaha matched up its hybrid cast aluminum and steel chassis with a new set of KYB shocks, featuring revised settings for 2014. Yamaha's goal with the new shocks was to increase compliance over small bumps, without losing bottoming resistance. The Kashima coated shocks feature 9.8 inches up front and 11 inches of travel out back. The fully adjustable shocks feature preload, high and low-speed compression, and rebound damping adjustments.
The new suspension setting was complemented with new Maxxis tires, designed to improve rider comfort, enhance steering precision while improving the rear tires' balance between straight-line traction and willingness to slide. Yamaha continues to offer the YFZ450R with 21-in. tires up front and 20-in. tires rear offering a balance between on-track traction and performance, with the ground clearance needed for trail riding. Hydraulic disc brakes with dual piston calibers at both ends bring the machine to a halt in a hurry.
The YFZR is only four bolt-on parts away from being a competitive local racer as we proved in our Dealer Built Racer Project earlier this year. Of course, if money is no object, there's enough aftermarket parts available from Yamaha's own GYTR line and other aftermarket companies to turn your stock machine into a national motocross or cross country pro class winner.
For 2016, the YFZ450R is available in a Yamaha team blue and white color combination while the 60th anniversary special edition comes in a yellow and black retro look with aluminum GYTR bumper installed from the factory.
There's a small $100 MSRP increase on the base model for 2016 at $8,899, with the 60th Anniversary Edition retailing for $9,199.
Raptor 700R, 700, and 60th Anniversary 700R SE
The fast, plush, and agile Raptor 700R and 700 return for 2016 with a fresh set of graphics, having received a significant round of updates in 2015. Its 45.5-in width and 50.4-in wheelbase make it at home on any trail or dune from coast to coast. In 2015, the 686cc water-cooled, four valve, DOHC, engine received a healthy 10% increase in horsepower focused in the bottom-end and midrange. The increase in power was the result of a number of engine updates. A new head features a single exhaust port. A new piston and connecting rod raise compression from 9.2:1 to 10.0:1. The new piston is complemented by new cam profiles, designed to work with the other mods to increase power while maintaining the ultra-smooth, fast-revving power the 700 is known for. The counterbalance shafts were also tweaked in 2015 to offset any vibration the engine's higher compression might have added. New fuel mapping and a new exhaust system rounded the engine's top-end makeover which is mated to a five-speed manual gearbox with reverse that's well spaced for all types of riding.
The 700 was Yamaha's first ATV to use a hybrid aluminum and steel frame, which improves handling while reducing weight. A lightweight, cast aluminum, round housing style swingarm keeps unsprung weight down and makes chain adjustments easy. Handling was updated in 2015 with new 22-inch front Maxxis tires replacing the older 21s. The taller tires roll more smoothly through bumps. The new tire features a flatter profile and a 20% stiffer sidewall reducing rollover in corners. The rear shock received 5mm more spring preload, plus slightly stiffer compression and rebound damping. The front shocks received a bit more attention. Travel was increased 2mm. The dual-rate front springs feature a slightly stiffer spring rate throughout both stages. Compression damping was slightly reduced in the first part of the stroke while rebound damping decreased.
The Raptor's very capable suspension delivers 9.1-in. of travel up front with 10.1-in. out back. The 700R's shocks benefit from preload, high and low-speed compression, and rebound adjustment. They offer a wide range of adjustability allowing you to tailor the suspension's performance to your weight and style of riding. If you're not into suspension tuning, the base model 700 retains preload adjustment, but gives up damping adjustments and front reservoirs in trade for saving some cash over the 700R.
The Raptor stops fast with hydraulic disc brakes, equipped with dual piston calipers at both ends and performs beautifully in nearly every way right out of the box. The latest engine responds even better to bolt-on performance parts, and there is a plethora of aftermarket parts available for the machine.
The 2016 Raptor 700, and 700R are available in a blue and white color combination, while the 60th Anniversary Special Edition model comes in a cool retro Yamaha black and yellow color scheme. The SE models also benefit from factory-installed GYTR front bumpers and aluminum GYTR heel guards.
All of the Raptor 700 models saw a small $100 price increase in 2016. The base model 700 retails for $7,799; the 700R retails for $8,299; while the 60th Anniversary SE retails for $8,999.
Conclusion
For 2016, Yamaha's sport ATV lineup once again has a machine to get the kids involved with the Raptor 90. Competitors can win motocross races at the local fair virtually right off the showroom floor, or could build a National Pro Championship winner like Chad Wienen with the YFZ450R. For those who want to dominate the trails and dunes, the Raptor 700R is nearly the perfect sport ATV, made even better in 2015 and dressed up nicely in 2016's 60th Anniversary SE model.
The one model we feel Yamaha's Sport ATV lineup and the market, in general, would benefit from is a true entry-level priced, adult-sized machine; the kind of machine a teenager could save up and buy by working a couple of summers with enough size and performance that Dad will want to go ahead and pick up one for himself. Yamaha released a brand new Kodiak 700 4×4 ATV for 2016 that retails for $6,999, so a full-sized, mid-bore, two-wheel-drive, chain driven, sport ATV should be possible for more than $1000 less than that! We're issuing challenges, not complaints.
While we have expectations of even more great sport ATV to come from Yamaha over the next 60 years, their 2016 lineup reaffirms the company's dedication to bringing riders into the sport and keeping them riding a Yamaha for life.
For more information visit www.yamahamotorsports.com