Published on August 2nd, 2019 | by Joe
2020 Polaris Scrambler XP 1000 S Test Review
2020 Polaris Scrambler XP 1000 S Test Ratings
Summary: The long-travel, wide-track 2020 Scrambler XP 1000 S creates a new segment in ATVing, bringing with it some much needed excitement to the world of ATVs. It's sure to be the dominant 4x4 ATV force in the desert and dunes, and we imagine it to be a dream machine for those looking to take on many of today's wider, gnarlier SXS trails.
Polaris Introduces a NEW ATV Segment!
When Polaris released the 2014, Scrambler XP 1000 Sport 4×4, we were blown away with its speed and performance.  We later went on to test a Scrambler 1000 built up for cross-country racing by high-performance chassis component manufacturer, Teixeira Tech, which took the Scrambler's handling, durability, and engine performance to the next level. Sadly, the day that Polaris announced their 2019 ATVs, it disappeared from their lineup with no explanation. That is, until March 1st 2019, in the desert of Nevada, leaving us with a very exciting secret until the release of this video.
Introducing the 2020 Polaris Scrambler XP 1000 S
For 2020, Polaris is taking the Sport 4×4 segment to an insane new level of performance with the release of the new Scrambler XP 1000 S. At an incredible 55" wide, it boasts suspension travel that rivals dirt bikes, unheard of on any previous production ATV. Perhaps, most importantly, Polaris claims to have put a lot of work into improving the durability of the new 1000 S, making the Scrambler sound like the ultimate 4×4 ATV for gnarly desert terrain, or wider, more gnarly trails created by SXS.
All New Chassis and Suspension
Along with its ground breaking 55" width, Polaris added around 4" of wheelbase to the front of the Sportsman S. Designed from the ground up for its 55" width, suspension travel, and larger tires, the 1000 S is built on a brand new frame that's a claimed 31% stronger through the mid-section. All bolted joints are double sheered and boxed in at the rear of the quad.
Suspension geometry is claimed to have been completely updated as well, to help reduce tire scrub throughout more of the suspension travel for improved suspension feel. Wider Dual A-Arms at both ends, with high-clearance lower front A-Arms mate up to Walker Evans, 2.0 shocks. They feature spring preload and crossover adjustability, along with high and low-speed compression and rebound damping adjustments.  They control an incredible 12.5" of wheel travel front and 14" of travel out back.
Originally released on their Predator 500 Sport ATV decades ago, Pro Steer has returned for 2020. Pro Steer essentially adds a linkage to the steering system and moves the inner tie rods outward to reduce bump steer. The Scrambler S also receives a new variable assist electric power steering unit that's calibrated specifically for the new machine.
The Scrambler rides on 27×9-12 Duro Power Grip II tires at all four corners. This improves handling and allows you to swap tires front to back in the event of a flat. Polaris went with 12" cast-aluminum wheels instead of 14s, allowing for a larger tire sidewall for a more compliant ride and greater puncture resistance.
Dimensions have grown quite a bit compared to the 2018 Scrambler 1000. Boasting 3.5" more suspension travel front and 3.75" more out back, the S is a claimed 6.4" wider at 55". Its wheelbase is around 4" longer at 57.4". It enjoys 3" additional ground clearance at 14.5". Seat height has now reached motocross dirt bike levels at 37", and the Scrambler's added durability, width, and suspension upgrades have added nearly 140 lbs dry weight at the S tipping the scales at 881 lbs.
Updated Engine and Drive Line
The Scrambler is powered by the same fuel-injected, 952cc, parallel twin-cylinder Polaris Pro Star engine with four-valves and single-overhead-cams per cylinder that was used in previous Scrambler and Sportsman 1000 models. Gone are the side-mounted, dual silencers of old replaced by a new exhaust with a centrally mounted silencer. It shaves weight and centralizes mass, but costs the Scrambler 1 horsepower.  With its electronic throttle, the Scrambler now features two throttle modes, Standard and Performance. Both offer full power with standard mode smoothing delivery at lower throttle settings for improved manageability at lower speeds. The transmission's internal drive chain and sprocket were widened for added strength.  To help ensure front drive durability, Polaris took the front drive out of their RZR S 1000 for use in the Scrambler. The axles are also said to have been beefed up.
For those looking to add bigger tires, the Scrambler S can accommodate larger, more aggressive tires without the need to add a lift kit to the ATV. This prevents adding additional angle to the axles and CV joints, which compromises durability.
Brakes
Without engine braking, allowing the Scrambler to coast through bumps, single handlebar lever controlled all-wheel braking, with a separate rear brake pedal, slows the scrambler. Brake lines are steel braided for power and feel.
Additional Changes and Features
The Scrambler 1000 S receives a new handlebar and 3" handlebar risers, allowing the handlebars to pivot forward or rearward.  Hand guards come standard from the factory.  There's an LED display with Bluetooth phone connectivity. Additional lighting is provided with a 12" Pro Armor LED light bar. A new front bumper features winch integration.
The Test
Dressed in riding gear from Fly Racing, Ed Teixeira, Owner of Teixeira Tech Chassis Components, was chosen to test ride for us due to his desert racing background and experience testing and developing parts for the Scrambler and Sportsman. Our time to test was rather brief, so we're hoping for a long term test in the future with time to set up the suspension and ergonomics to suit our liking, providing an even better test of its true capabilities.
Stepping aboard the Scrambler S, the first thing you notice is its tall seat height, although you quickly adjust to it as you feel out the machine's confidence inspiring stability. Engine performance was very familiar. The Scrambler accelerates smoothly off the bottom, pulling hard through the midrange, never feeling as though you're going to run out of power.  While its increased mass might detract a bit from the power to weight ratio of the S, we found it more thrilling to ride than the original Scrambler 1000 in wide open spaces as we were able to more easily take advantage of the engine's nearly 90 horsepower.  Compared to the new Sportsman 1000 S, the Scrambler feels a bit quicker, due to its roughly 90lbs lighter weight.
Suspension performance was pretty amazing right out of the box. Over small to medium sized hits, it's acceptably plush for its sporty intentions. The S lets you pound and skip your way through deep desert whoops in such a way that was formerly reserved for lightweight two-wheel-drive sport ATVs. If you manage to get a little crossed up, you recover with greater ease than you expect from such a behemoth. Land in the face or clip the rear tires doubling through whoops are not a problem with this much travel. Later in the day, we found a rather sizeable mound, perfect for getting some serious air. Ed was flat landing from around 5 to 6 feet of air repeatedly. While he bottomed out a bit on his first few attempts, adding some high-speed compression damping was all that was needed for the Scrambler S to soak up hits that would have been brutal to both man and machine on any other 4×4 ATV.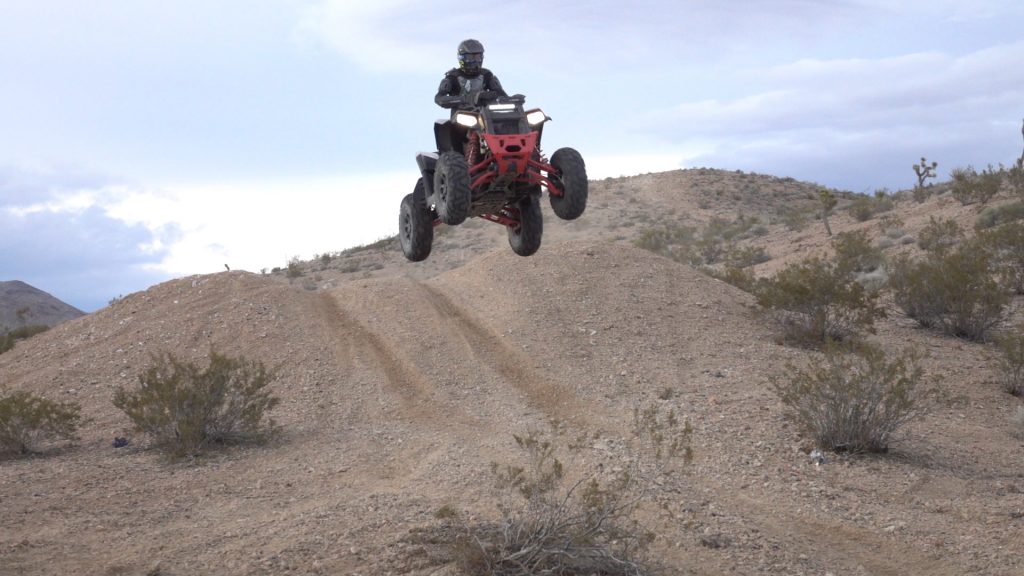 The longer front end helps hold the front wheels down on climbs and the back end planted on descents. Its 55" width takes stability to the next level on sidehills and while cornering aggressively. The firm factory shock settings let you take full advantage of the Scrambler's good braking performance, keeping front-end dive to a minimum, allowing you to brake later than you might expect on a machine this size.
Having experienced the high-speed twitchiness of the previous Scrambler and Sportsman models, Ed felt that the S model's high-speed steering felt less sensitive, overly nervous, and more natural than years past, adding to the machine's feeling of security traversing rough terrain at speed. Power steering performance remained very good at lower speeds.
While we haven't said much about ground clearance, it's because we couldn't find much lying in the trail to challenge it. With a long-term test, we'd like to try lowering the ATV a bit with some suspension, adjusting to see if we can even further enhance the S' unrivaled 4×4 stability.
While weight has gotten a bit out of hand for a ride-on, four-wheeled machine, as usual, Polaris' power steering and notoriously plush suspension do a remarkable job of hiding its heft on the ground. Make no mistake about it, though; once you've lifted off, in-flight corrections are rather difficult. Fortunately, the suspension is up to a less than perfect landing.
Conclusion
Admittedly, this ATV isn't for everybody. It is as expansive as many SXS. It's too wide to fit between the wheel wells on some mid-size trucks. If you ride trails near 50" to 60" in width and speed is your thing, you might be faster on a narrower machine. It might be a great choice for desert racing, but it's not the machine of choice for cross-country racing; at least, not without serious help from the aftermarket.
The long-travel, wide-track 2020 Scrambler XP 1000 S creates a new segment in ATVing, bringing with it some much needed excitement to the world of ATVs. It's sure to be the dominant 4×4 ATV force in the desert and dunes, and we imagine it to be a dream machine for those looking to take on many of today's wider, gnarlier SXS trails.
With no other machine in its class, the 2020 Polaris Scrambler XP 1000 S is a more capable Sport 4×4 ATV designed to keep up with a changing off-road world.
Manufacturer: Polaris
Model: 2020 Scrambler XP 1000 S
MSRP: $14,999