Tracks/Trails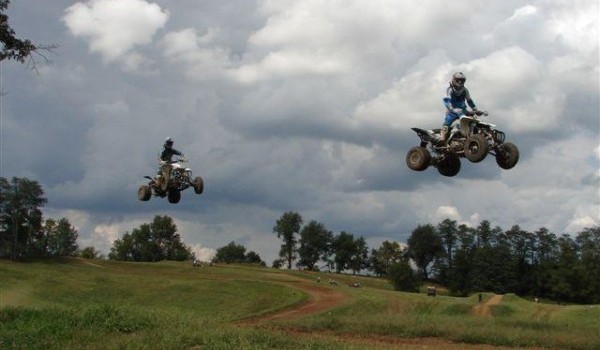 Published on December 2nd, 2011 | by Joe
0
Bar2Bar MX, Mount Sterling Ky. Track Review
Story By: Chase Cunningham
Recently ATVondemand was fortunate enough to catch up with several members of the 2011 Media Allstars to shoot our Inside the Media Allstars video. Selecting a track for a project like this is crucial as you want the finished product to be as visually stunning as possible.  Bar2BarMx in Mt. Sterling, KY is a track we have quite a bit of experience with as we have tested at their beautiful facility on several occasions.  Our 2010 450 MX shootout was filmed at Bar2Bar, as well as our Polaris 450mxr build test and our Kenda Kutter Mx tire test. It was also familiar to several of the Media Allstars as it was used when filming their segment in H-bomb films' Huevos 10 in 2007.
Bar2Bar MX is an absolutely stunning motocross track.  At almost 2 miles in length it twists and turns its way up and down what was once fertile farm land.  Although you'll find some of the biggest air in the eastern US (4 jumps of at least 100ft in length) you'll also find several nice rhythm sections, uphill whoops, triples, doubles, flat and bowl turns and the track was designed to be fun but safe for all ages and skill levels.  The track is owned, operated and maintained by Nacy Stone.  Nacy is a former ATVA MX Amateur National Champion and racer himself.  One look at Bar2BarMX and it's obvious it was built by a racer.  Although they don't host races anymore Bar2Bar is open for practice every Wednesday, Saturday and Sunday during the riding season.  It's not out of the ordinary to find a parking lot full of families out riding together at Bar2Bar, right along side some of the fastest Bike and Quad riders in the nation.
We really hope that you enjoy the helmet cam footage we managed to obtain while filming our Inside the Media Allstars video.  If you've never been able to take a few laps at Bar2BarMX maybe this will inspire you to make the trip to Mt. Sterling, KY next spring and try your hand at one of the best tracks you'll ever ride.
For More info please visit www.bar2barmotox.com