Protection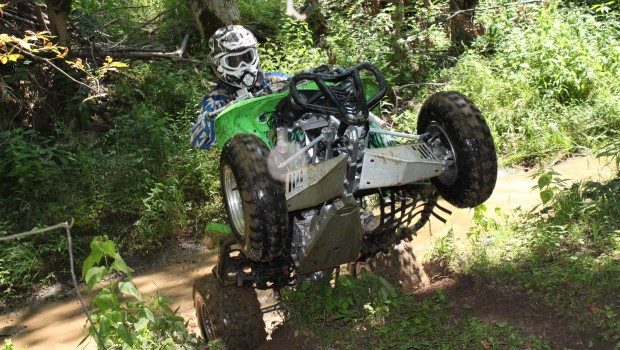 Published on November 24th, 2011 | by Joe
0
DG Performance Products for the Trail Test
Make your ATV tougher, sharper and safer, with skid plates, bumpers, and nerf bars from DG Performance.
Visit your local ATV dealership and chances are that DG Performance products will be hanging on the wall near the parts department. DG has been building aluminum accessories and exhaust systems for ATVs since the three-wheeler days. Their availability, competitive pricing, and functionality have made them popular with distributors, dealers, and enthusiasts alike. As such a popular and readily available brand, we thought it was long since past time for us to order up a round of DG's latest offerings to see what they are all about.
The Test
Looking to add protection to our KFX450 test unit for trail riding or cross country racing, we asked DG to send us a mix of their latest products for sport ATVs. DG Performance constructs their aluminum components with 6061 or 5052 aircraft grade aluminum using whichever material is most appropriate for the application.
A good pair of nerf bars will save your legs from other riders or if you lose your footing on the pegs. DG's Fat Nerf Bars offer larger diameter 1 ½ inch tubing, compared to standard 1 ¼ inch tubing, to increase torsional rigidity. Bolting to the stock foot peg and heel guard makes them significantly less expensive than integrated nerf bar/footpeg/heel guard designs, like DG's high-end Factory Double Net model.
The Fat Nerfs attach at three points. They bolt to the front of the foot pegs, attach to aluminum brackets that bolt to the motor mounts, and slide into one another in front of the engine. It took a few minutes of coaxing to get all of the holes lined up; however, it was accomplished by hand with no need for hammering or bending, like we have seen with other brands in the past. Powder-coated black retails for $219.95
Keeping the "blacked out" look going, we installed DG's black, powder-coated V-Pro front bumper, replacing the sparsely protective stock bumper for $119.95. The V-Pro was designed to follow the lines of the ATV. Aside from being stronger than stock, it also protects a much larger area.  In addition to adding style and protection, the V-Pro's size and shape make lifting the front of the machine much easier, a big benefit on the trail or anywhere for that matter.
A feather-light Alloy Series grab bar added an additional touch of black to the rear of the machine for $69.95. The Alloy Grab Bar features a whip flag mount. Both it and the V-Pro Bumper's mounting holes lined up perfectly with the Kawasaki's chassis and installed in minutes.
Next, DG armored up the underside of the Chassis. First, the stock, plastic, engine skid plate was replaced by a DG Baja Series Full Chassis Skid Plate for $127.95. The stock, plastic, swingarm skid plate was replaced with a DG Baja Series Skid Plate for $120.95 and the A-arms received welcomed protection from DG Fat Series A-Arm Guards for $99.95. The A-arm guards feature a wrap-around front design, offering additional protection for the lower part of the front shocks. All of the skid plates bolted up without issue and all of the DG components came with easy-to-follow instructions.
We took our DG Equipped KFX out for a few rides to see how the various components performed out on the trail. Nerf bars don't offer performance you can feel until you make a mistake or until another rider nearly becomes entangled with you. Having a tough set of nerfs does help you ride harder, knowing that if you or someone else makes a mistake, they are there to save you. We were definitely more confident charging through the rough sections, knowing that the Fat Nerf Bars were there.
The V-Pro Bumper not only provides looks and strength, it also provides more hand-hold room and improved comfort when you need to lift the front of your machine. We were more confident cruising creek beds with DG's aluminum skid plates installed; however, we wish the Full Chassis skid plate covered the entire underside of the KFX' frame. We found a few, deep, abrasion marks on the bottom of the frame, in front of the engine, beyond the coverage of the Baja chassis skid plate. The KFX is the only sport ATV model that we are aware of where the entire underside of the frame isn't protected by DG's Baja series skid plate. We found most of the skid plates to be cross country worthy; however, we would limit the Chassis skid to motocross tracks on the KFX, unless you don't mind some wear marks on the lower front of your frame.
The Verdict.
It is no wonder why DG has been so popular through the years. Their pricing is competitive, their products' fitment was good on this model machine, and they've never left us waiting for months on parts after taking our money.
While we don't usually comment on appearance, we do love the way black components look on certain models, including the KFX. Although DG's powder-coat is pretty strong, it can be scratched. If you ride in the rocks or are worried about keeping your machine looking new for the longest period of time, you can't go wrong with raw or silver finishes, which will save you a few bucks, too.
If you want to improve protection for yourself and your ATV, chances are your local dealer has DG Performance Products in stock for your machine. If not, you can have them shipped straight to your door by visiting www.dgperf.com
DG Performance Products for the Trail
Summary: It is no wonder why DG has been so popular through the years. Their pricing is competitive, their products' fitment was good on this model machine, and they've never left us waiting for months on our parts..