Racing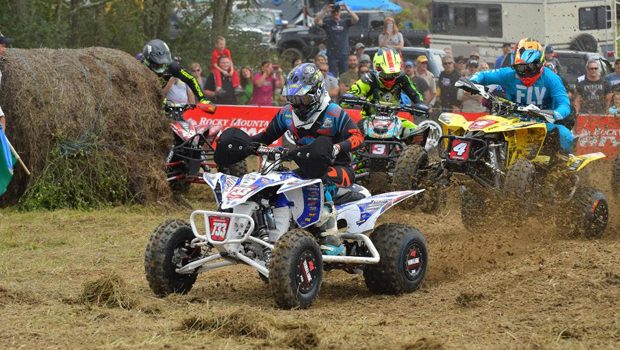 GNCC Round 11 2018, Race Report
Cole Richardson Earns First Win at Mason-Dixon GNCC
Walker Fowler and Adam McGill Round out Overall Top Three
MORGANTOWN, W.Va (September 30, 2018) – Racing returned to Matthews Farm for the first time in fifteen years on Saturday, September 29 for round eleven of the 2018 AMSOIL Grand National Cross Country (GNCC) Series, an AMA National Championship. Although weather impacted the region earlier in the week with rain, the stage was set for an incredible race day that would offer those in competition a tough course that spanned nearly twelve miles. With an historic return and a great turnout, a win here was one worth fighting for.
AmPro Yamaha/Gear Alloy/GBC's Cole Richardson would strike early in the XC1 Pro class as he secured the $250 Wiseco holeshot award and began a two-hour duel with WFR/GBC/Fly Racing/Yamaha's Walker Fowler as the pair swapped for the lead throughout the race. The two riders exclaimed from the podium that both were making mistakes on the brutal track and they seemed to be capitalizing on the misfortunes only to hand the lead back and forth for the duration of the race.
As the checkered flag flew, Richardson would find himself in the lead, taking the Rocky Mountain ATV/MC Mason-Dixon GNCC win and also marking his first career XC1 Pro win. Fowler would settle for second after a trying day, while McGill Mafia/CST Tires/Moose Racing's Adam McGill would battle all day for a top position when it counted. McGill leaves round eleven with a solid third besting a hard charging Maxxis/Fly Racing/Ye Olde Cycle Barn's Chris Borich and Bneal Motorsports/CST Tires/Moose Racing's Brycen Neal who claimed fourth and fifth respectively.
After starting mid-pack JMR/ATVriders.com's Jarrod McClure fought his way back through the XC1 Pro class field, finishing sixth overall. McClure remains second in the National Championship series as we head into the last two rounds. GBC Motorsports/RJR/Solo Pilot's Westley Wolfe came through in seventh after battling at the front for the opening laps. BNR Motorsports/GBC/Precision's Josh Merritt had another great ride with an eighth place finish.
Spider Graphix/GBC Motorsports/Moose Racing's Marty Christofferson and M.R. Unlimited/GBC Tires/RJR's Devon Feehan came through ninth and tenth at round eleven. Feehan and Christofferson both sit inside the top 10 overall, and are looking to improve their standings heading in the final two rounds.
XC2 Pro-Am would set a blistering pace as well as the rough conditions tested both rider and machine. Maxxis/Ithaca Recreation Sports/Fly Racing's Hunter Hart would push incredibly hard on his way to yet another class win and ninth overall. Joining Hart on the podium in second was Pierce Performance/Maxxis/Waynesburg Yamaha's John Glauda Jr. and in third Demaree Motorsports/LSR/Fly Racing's Austin Abney. Conditions from the XC2 podium were all in agreement that this track was deceiving and while it had many open field sections, the woods remained slick and difficult making their podium finishes well earned.
The 10 a.m. racers would have to tackle the Mason-Dixon track head on as they would be the first to encounter the heaviest mud providing the 4×4 Pro class with an advantage and opportunities to make things happen before encountering lappers as the race wore on. Cunningham Racing/Can-Am/Kenda's Kevin Cunningham would secure the 4×4 Pro win as well as the overall followed by Can-Am/Derisi Racing/GBC Motorsports Landon Wolfe in second and Jordan Phillips in third.
Once again, the WXC action was very competitive and would see Traci Pickens charge her way to her seventh win of the season. Katelyn Osburn found success here as well taking second and Megan Shepard would claim the final podium position in third.
The Youth racers took the challenging conditions and ran with them as only they could. There were plenty of slick hills and thick mud in sections, therefore a win here would be one worth bragging about. Layne McCormick powered his way to another win and would be joined on the podium after stellar racing by John Glauda Jr. in second and Parker Henderson in third.
For more information on the GNCC series, visit the official website at www.gnccracing.com or call (304) 284-0084. Join the conversation on the series Facebook page, follow us on Twitter and Instagram, and be sure to always hashtag #GNCC.
Rocky Mountain ATV/MC Mason-Dixon
Mount Morris, Pennsylvania
Round 11 of 13
Saturday, September 29
XC1 Pro Event Results:
Cole Richardson (YAM)
Walker Fowler (YAM)
Adam McGill (HON)
Chris Borich (SUZ)
Brycen Neal (YAM)
Jarrod McClure (HON)
Westley Wolfe (SUZ)
Josh Merritt (HON)
Martin Christofferson (HON)
Devon Feehan (HON)
*Overall National Championship Standings:
Walker Fowler (251)
Jarrod McClure (207)
Brycen Neal (204)
Chris Borich (203)
Cole Richardson (149)
Adam McGill (138)
Devon Feehan (114)
Marty Christofferson (113)
Westley Wolfe (103)
Hunter Hart (100)
*Indicates that the Overall National Championship Standings will determine the 2018 National Champion.
XC2 Pro-Am Event Results:
Hunter Hart (YAM)
John Glauda Jr. (YAM)
Austin Abney (HON)
Jordan Poplaskie (YAM)
Tanner Walker (YAM)
Brody Livengood (YAM)
Steven Covert (YAM)
Kenny Shick (YAM)
Wes Kinsley (SUZ)
Devin Masters (SUZ)
XC2 Pro-Am Series Standings:
Hunter Hart (256)
Austin Abney (198)
John Glauda Jr. (188)
Drew Landers (175)
Ben Kowalewski (141)
Tanner Walker (123)
Brody Livengood (120)
Matthew Lindle (117)
Steven Covert (116)
Kenny Shick (102)
About GNCC Racing
The AMSOIL Grand National Cross Country Series is America's premier off-road racing series. Founded in 1975, the 13-round championship is produced exclusively by Racer Productions. Cross-country racing is one of the most physically demanding sports in the world. The grueling three-hour GNCC races lead as many as 2,400 riders through tracks ranging in length from eight to 12 miles. With varied terrain, including hills, woods, mud, dirt, rocks and motocross sections, GNCC events are tests of both survival and speed. The series draws talent from all over the U.S., Central America, South America, Europe, Japan, Australia and New Zealand. GNCC Racing is televised weekly on NBC Sports and RacerTV.com. For more information, please visit www.gnccracing.com.
How to Watch
Racer TV and NBC Sports Network (NBCSN) are the official homes for coverage of the AMSOIL Grand National Cross Country (GNCC) events. All 13 rounds, from the season opening Big Buck GNCC in South Carolina to the finale at Ironman Raceway in Indiana, will air in 30-minue; taped-delayed telecasts on NBCSN, while Racer TV provides live streaming coverage of the 1 p.m. ATV and motorcycle races from each event, in addition to the six UTV rounds. Catch all the action at http://www.nbcsports.com/ and http://www.racertv.com/.
About the American Motorcyclist Association
Founded in 1924, the AMA is a not-for-profit member-based association whose mission is to promote the motorcycle lifestyle and protect the future of motorcycling. As the world's largest motorcycling rights and event sanctioning organization, the AMA advocates for riders' interests at all levels of government and sanctions thousands of competition and recreational events every year. The AMA also provides money-saving discounts on products and services for its members. Through the AMA Motorcycle Hall of Fame in Pickerington, Ohio, the AMA honors the heroes and heritage of motorcycling. For more information, visit www.americanmotorcyclist.com. Not a member? Join the AMA today: www.americanmotorcyclist.com/membership/join.