Racing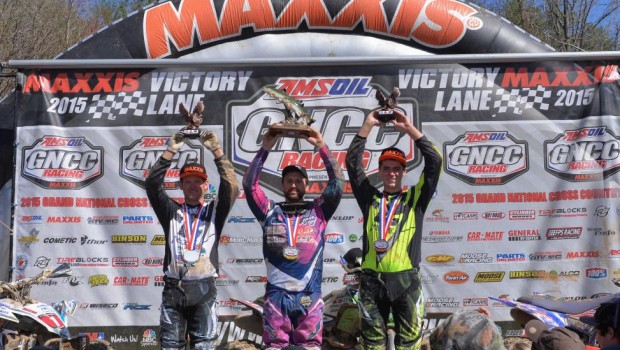 GNCC Round 3 ATV Results: FMF Steele Creek GNCC, WITH VIDEO
Adam McGill Captures Second Straight Victory of 2015 at the FMF Steele Creek GNCC
Cole Richardson Secures Third Win of the Season in XC2 Pro Am
Photos By: Ken Hill
MORGANTON, N.C. (March 28, 2015) – Adam McGill extended his points lead in the XC1 Pro ATV class on Saturday after capturing his second consecutive win of the 2015 AMSOIL Grand National Cross Country Series presented by Maxxis, an AMA National Championship, in Morganton, North Carolina. In an intense battle to the very end, McGill edged out Chris Borich and Jay Shadron to keep his momentum alive after three rounds of racing.
The 16th running of the FMF Steele Creek GNCC produced some of the best racing action of the season as the top ten riders battled closely all afternoon. It was Landon Wolfe who captured the $250 AMSOIL XC1 Pro Holeshot Award as he led a string of veteran racers into the woods on the opening lap.
JMR/ATVRiders.com-backed Jarrod McClure quickly took over the early lead on the opening lap with Brent Sturdivant, Shadron, Borich and Chris Bithell close behind. The front-runners remained wheel-to-wheel for a majority of the two-hour race, exchanging positions along the way.
Coastal/Waynesburg Yamaha's Jay Shadron made his move into the lead position on lap two, where he set the pace for the second half of the race. Borich settled in behind Shadron, but riders like Adam McGill, Walker Fowler and McClure applied great pressure to the leaders. On the final lap, CST/PirateMX.com/LSR/DeRisi/Tireblocks/SG-backed Adam McGill turned up the intensity and made his way past Borich and Shadron to take over the lead position.
Borich made a mistake on the final lap, sending himself back to the fourth place position but the Maxxis/SSi/FLY/Yamaha rider made his way back to second just before the finish. Despite leading much of the two-hour race, Shadron dropped back a couple of positions near the end, where he finished a career-best third overall at round three.
McClure ran inside the top five all afternoon, finishing less than one second behind Shadron for fourth overall. Maxxis/B. Neal Motorsports' Brycen Neal gained a few positions on the final lap to secure fifth place in the XC1 Class and sixth overall behind XC2 Pro Am winner Cole Richardson.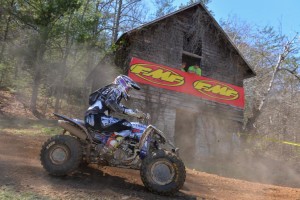 N-Fab/AmPro Yamaha/Maxxis/Lonestar/MXP's Walker Fowler began the race just outside the top five, maintaining a consistent position all afternoon. With a seventh place finish at round three, Fowler maintains second overall in the championship standings with a twenty-point deficit to McGill's lead.
BNR Motorsports/GBC Racing's Kevin Yoho finished eighth overall, followed by Josh Merritt in ninth, and recent XC2 Pro Am graduate Marshal Goings made his XC1 debut aboard a SICC Racing machine to finish tenth overall for the day.
In XC2 Pro Am action, it was N-Fab/AmPro Yamaha/Maxxis/Lonestar/MXP's Cole Richardson who shot out to secure the $100 All Balls Racing XC2 Holeshot Award and a big lead early on. Richardson maintained his lead throughout the two-hour race, where he worked his way into the top five overall. Richardson continues his perfect season as he holds three wins through the first three rounds.
Indiana's Kevin Cunningham posted an impressive second place finish in his first GNCC appearance of the season. Cunningham edged out RYCO Racing's Cody Collier, who rounded out the XC2 podium with a third place finish.
The 1 p.m. race was broadcast LIVE in its entirety on RacerTV.com and can be viewed as an archived video now online by visiting the GNCC LIVE page online.
The 2015 AMSOIL Grand National Cross Country Series resumes April 11 and 12 with the VP Racing Fuels Big Buck GNCC in Union, South Carolina. For more information on the series, visit www.gnccracing.com.
Stay up-to-date with exclusive content from the AMSOIL GNCC Series by following the series Facebook, Twitter and Instagram.
FMF Steele Creek GNCC
Morganton, NC
Round 3 of 13
Saturday, March 28
XC1 Event Results:
Adam McGill (HON)
Chris Borich (YAM)
Jay Shadron (YAM)
Jarrod McClure (HON)
Brycen Neal (HON)
Walker Fowler (YAM)
Kevin Yoho (YAM)
Josh Merritt (YAM)
Marshal Goings (HON)
Johnny Gallagher (YAM)
*Overall National Championship Standings:
Adam McGill (85)
Walker Fowler (65)
Brycen Neal (58)
Jay Shadron (52)
Jarrod McClure (47)
Chris Borich (46)
Cole Richardson (43)
Johnny Gallagher (35)
Chris Bithell (32)
Kevin Yoho (24)
*Indicates that the Overall National Championship Standings will determine the 2015 National Champion.
XC2 Event Results:
Cole Richardson (YAM)
Kevin Cunningham (HON)
Cody Collier (YAM)
Martin Christofferson (HON)
Cameron Bruce (YAM)
Blake Tornes (YAM)
Randy Hamilton (HON)
James Green (HON)
Nathan Wallpe (HON)
Michael Lancaster (HON)
XC2 Series Standings:
Cole Richardson (90)
Martin Christofferson (68)
Cody Collier (58)
Randy Hamilton (53)
Blake Tornes (40)
Michael Lancaster (39)
Bryson Hoppes (37)
Jonathan Fugate (34)
Cameron Bruce (32)
Kevin Cunningham (25)
James Green (25)
About GNCC Racing
The AMSOIL Grand National Cross Country series presented by Maxxis is America's premier off-road racing series. Founded in 1975, the 13-round championship is produced exclusively by Racer Productions. Cross-country racing is one of the most physically demanding sports in the world. The grueling three-hour GNCC races lead as many as 1,500 riders through tracks ranging in length from eight to 12 miles. With varied terrain, including hills, woods, mud, dirt, rocks and motocross sections, GNCC events are tests of both survival and speed. The series draws talent from all over the U.S., Europe, Japan, Australia and New Zealand. GNCC Racing is televised weekly on NBC Sports and RacerTV.com. For more information, please visit www.gnccracing.com.