Racing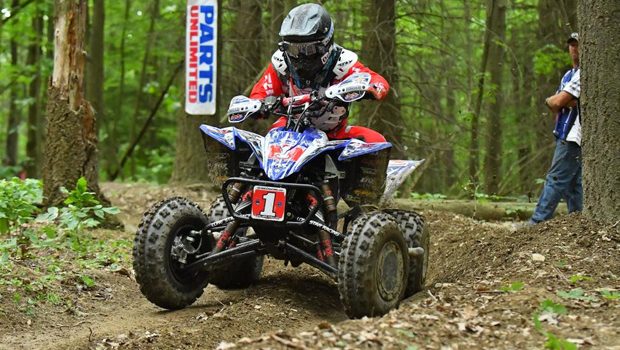 Published on June 19th, 2018 | by Joe
GNCC Round 8 Race Report 2018
Walker Fowler Extends Points Lead with Dunlop Tomahawk Win
Hunter Hart Takes XC2 Pro-Am Win at Hometown Race
ODESSA, N.Y. (June 10, 2018) – The 4th Annual Dunlop Tomahawk took place on Saturday, June 9 in Odessa, New York for round eight of the 2018 AMSOIL Grand National Cross Country (GNCC) Series, an AMA National Championship. With eleven miles of grueling and demanding course laid out, the ATV racers would have to face not only the twisting woods and open grass sections but fierce competitors who are all fighting for their best finish as the series heads closer to summer break.
WFR/GBC/Fly Racing/Yamaha's Walker Fowler wasted no time grabbing the lead as he secured another $250 Wiseco XC1 Holeshot Award. With overcast conditions, segments of today's track were dark and demanded good lines. Fowler was doing his best to break out and distance himself and the pack behind him. However, Maxxis/Fly Racing/Ye Olde Cycle Barn's Chris Borich was looking comfortable at the front of the pack, and he seemed to be on Fowler's grab bar for most of the race.
Borich was not allowing Fowler to build a cushion between them, and he was fast to keep the defending champion in check. His tactics seemed to have an effect as the race wore on. The pair relentlessly pushed the pace as neither wanted to give an inch as this duel played out during the two-hour event. Borich later connected with a lapped rider allowing Fowler the break he needed and allow him to set the stage for the end of the race. When the dust cleared, it would be Fowler finding success and taking the win over a hard charging Borich.
In third, Bneal Motorsports/CST Tires/Houser Racing's Brycen Neal was having his own race as he and JMR/ATVRiders.com/Maxxis' Jarrod McClure fought for the final podium position. Neal suffered a dead last start and had his work cut out for him as he battled his way through the pack setting up a pass on McClure on the last lap to secure another podium finish.
McClure appeared to have a podium finish well underway, however he would slip to fourth at the end of the race. AmPro Yamaha/Gear Alloy/GBC Motorsports' Cole Richardson would secure the fifth position after putting in a solid race effort here at the Dunlop Tomahawk GNCC. McGill Mafia/CST Tires/ Moose Racing's Adam McGill was looking for a redemption ride this weekend and ended his day with a sixth-place finish.
New York native, M.R. Unlimited/GBC Tires/RJR's Devon Feehan put in a good race, finishing seventh overall, after suffering at the past two rounds. Pierce Performance/Moose Racing/Spider Graphix's Cody Collier also had another great race coming through in the eighth-place position. While GBC Motorsports/RJR/Solo Pilot's Westley Wolfe was aiming for a top five finish, he would come through in ninth. Rounding out the top ten was another New York native, Spider Graphix/GBC Motorsports/Moose Racing's Marty Christofferson.
The XC2 Pro-Am action was intense as Maxxis/Ithaca Recreation Sports/Fly Racing's Hunter Hart pushed hard right from the start battling with Austin Abney for the holeshot. Abney would secure the $100 All Balls Racing XC2 Holeshot Award, but it would be Hart who never looked back as he raced to another class win. Hart extended his points lead, and ultimately finished ninth overall at his hometown race. Coastal Racing/Yamaha's Drew Landers made his third appearance on the podium as he came in second at round eight. Riding to a third-place finish after taking the holeshot in XC2 would be Abney.
The 10 a.m. race was ready for a shake up as the 4×4 Pro class racers were gunning for Cunningham Racing/Can-Am/Kenda Tires' Kevin Cunningham. Cunningham has been on a winning streak this season, it has appeared to have no end. Racing to the lead with his number one nemesis dogging him through every mile of track was Cunningham. After pitting for fuel late in the race, Cunningham would state he felt an issue developing which eventually cleared up however the slight mechanical issue was all that was needed for Can-Am/DeRisi Racing/GBC Motorsports Landon Wolfe to overtake the lead. Wolfe would race to his first 4×4 Pro win of the 2018 season. Joining them his fifth appearance on the podium in the third-place position would be DeRisi Racing/Sider Graphix/CST Tires Dwight Pollard.
The WXC class would see an upset this round as well as New York native Spider Graphix's Katlyn Osburn clinched her second win of the season after making a last lap pass to put her ahead of GBC Motorsports/Yamaha/Fly Racing's Traci Pickens. Megan Shepard claimed third, marking her second-consecutive visit to the podium.
Youth racing was once again a highlight of the weekend as Layne McCormick rolled away from the Dunlop Tomahawk GNCC with another victory in the YXC1 Super Mini Sr. class. Joining McCormick on the box was Bryce Husband in second and Parker Henderson finding success here in New York with his third-place effort. Cooper Hook took the 125 Sr. class win, as well as Andrea Rodgers finishing 15th overall as she took the Girls class win. Jaxson Ostrich came through in first overall as the Micro ATV riders had their fourth round of the season. Geoffrey Eberly and Kaleb Shay rounded out the top three.
The 1 p.m. ATV Pro race was broadcast LIVE in its entirety on RacerTV.com and can be viewed as archived video online by visiting the GNCC LIVE page online. A highlight show featuring the event will be aired on the NBC Sports Network on Sunday, July 8 at 6:00 p.m. ET.
With upsets happening throughout the ranks, the stage is set for a heated race as the 2018 AMSOIL Grand National Cross Country Series heads to Snowshoe Mountain Resort in Snowshoe, West Virginia for round nine on June 23 and 24. This is the final round before the GNCC Summer Break. The Snowshoe Mountain has throwbacks to the infamous Blackwater 100 and will surely test both man and machine.
GNCC will head to New York once again right after the summer break on the weekend of September 15 and 16 for the inaugural Parts Unlimited Black Sky GNCC in Hapursville, New York.
For more information on the GNCC series, visit the official website at www.gnccracing.com or call (304) 284-0084. Join the conversation on the series Facebook page, follow us on Twitter and Instagram, and be sure to always hashtag #GNCC.
Dunlop Tomahawk
Odessa, New York
Round 8 of 13
Saturday, June 9
XC1 Pro Event Results:
Walker Fowler (YAM)
Chris Borich (SUZ)
Brycen Neal (YAM)
Jarrod McClure (HON)
Cole Richardson (YAM)
Adam McGill (HON)
Devon Feehan (HON)
Cody Collier (YAM)
Westley Wolfe (SUZ)
Martin Christofferson
*Overall National Championship Standings:
Walker Fowler (205)
Brycen Neal (170)
Jarrod McClure (167)
Chris Borich (155)
Cole Richardson (119)
Adam McGill (117)
Devon Feehan (92)
Marty Christofferson (86)
Westley Wolfe (82)
Hunter Hart (75)
*Indicates that the Overall National Championship Standings will determine the 2018 National Champion.
XC2 Pro-Am Event Results:
Hunter Hart (YAM)
Drew Landers (YAM)
Austin Abney (HON)
Ben Kowalewski (HON)
Tanner Walker (HON)
Brody Livengood (YAM)
Nicholas Royalty (HON)
Zachary Dean (YAM)
Charles Dunn (HON)
Devin Masters (SUZ)
XC2 Pro-Am Series Standings:
Hunter Hart (196)
Austin Abney (156)
Drew Landers (152)
John Glauda Jr. (138)
Ben Kowalewski (125)
Matthew Lindle (117)
Tanner Walker (107)
Brody Livengood (92)
Kenny Shick (89)
Steven Covert (84)
About GNCC Racing
The AMSOIL Grand National Cross Country Series is America's premier off-road racing series. Founded in 1975, the 13-round championship is produced exclusively by Racer Productions. Cross-country racing is one of the most physically demanding sports in the world. The grueling three-hour GNCC races lead as many as 2,400 riders through tracks ranging in length from eight to 12 miles. With varied terrain, including hills, woods, mud, dirt, rocks and motocross sections, GNCC events are tests of both survival and speed. The series draws talent from all over the U.S., Central America, South America, Europe, Japan, Australia and New Zealand. GNCC Racing is televised weekly on NBC Sports and RacerTV.com. For more information, please visit www.gnccracing.com.
How to Watch
Racer TV and NBC Sports Network (NBCSN) are the official homes for coverage of the AMSOIL Grand National Cross Country (GNCC) events. All 13 rounds, from the season opening Big Buck GNCC in South Carolina to the finale at Ironman Raceway in Indiana, will air in 30-minue; taped-delayed telecasts on NBCSN, while Racer TV provides live streaming coverage of the 1 p.m. ATV and motorcycle races from each event, in addition to the six UTV rounds. Catch all the action at http://www.nbcsports.com/ and http://www.racertv.com/.
About the American Motorcyclist Association
Founded in 1924, the AMA is a not-for-profit member-based association whose mission is to promote the motorcycle lifestyle and protect the future of motorcycling. As the world's largest motorcycling rights and event sanctioning organization, the AMA advocates for riders' interests at all levels of government and sanctions thousands of competition and recreational events every year. The AMA also provides money-saving discounts on products and services for its members. Through the AMA Motorcycle Hall of Fame in Pickerington, Ohio, the AMA honors the heroes and heritage of motorcycling. For more information, visit www.americanmotorcyclist.com. Not a member? Join the AMA today: www.americanmotorcyclist.com/membership/join.