First Looks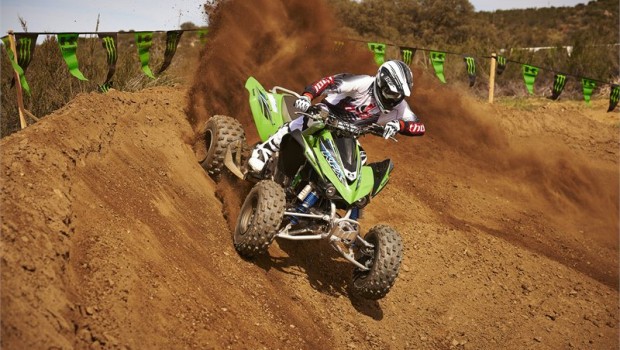 Published on July 10th, 2013 | by Joe
0
Kawasaki Unveils First 2014 Sport ATV and Side-by–Side Offerings
A first look at Kawasaki's sporty ride-on and ride-in 2014 models.
Story By: Joe Tolle
Photos By: Kawasaki


With no heads up to the media, Kawasaki quietly snuck out information on their 2014 Teryx4 and KFX450R models. Side-by-side enthusiasts will rejoice, as Kawasaki drops a few chips on the now two- year- old Teryx4  lookingTeryx4 looking to enhance its overall performance. Sport ATV enthusiasts will like that that the KFX450R doesn't suffer from inflation, retaining its 2012 price tag.
2014 Teryx4
After a few go rounds with the Teryx4, it's becoming obvious that Kawasaki is creating a niche for itselfthemselves in the  four-seat, side-by-side market. While the two-seat UTV market remains split among narrow and wide trail vehicles, the four-seat category has almost unanimously been focused on conquering more wide open and faster terrain.
Kawasaki, on the other hand, has gone in a different direction. While it's really no narrower thaen some of its competitors, its 85.7in. width allows it to cut corners where competitors will be making four point turns. With its rigid Double X chassis, electric power steering equipped responsive steering, and well-tuned suspension, the Teryx4 delivers some real performancamcne advantages over its competitors on tight, wooded trails.
To provide well- rounded sport performance, Kawasaki pumped up itstheir 749cc engine, providing surprisingly potent performance while powering a fully loaded four-seat chassis.
Sport Focused updated for the Tyerx4
Thus far KawaskiKawasaki has released three models:, a base model, camo model, and LE model. All of these models are EPS equipped and enjoy several significant updatesd, seemingly focused on extracting more sport performance out of the machine.
The 2014 powerplant has received a boost in displacement, from 749 to 783cc. This was accomplished by increasing stroke by 3mm, from 66mm, to 69mm. The bore remains identical at 85mm. Adding stroke is claimed to result in 8% more bottom end and midrange power, in addition to 10% more torque, over a wide RPM range. Sounds like a recopyied for an even better woods warrior to us!
The engine changes were accompanied by notable suspension updates . First, there was a switch from KYB to Fox Podium shocks. Front wheel travel has been increased two-tenths of an inch from 7.8 to 8 inches of travel, while the rear remains the same with 8.3 inches of wheel movement. The new Fox Podium shocks are piggyback reservoir equipped and feature preload and compression adjustment.
We expect a noticeable difference thanks to the Teryx4's 2014 changes and we will pass our experience with it on to you as soon as we get a test drive.
Pricing
Base Model:  $15,799
Camo Model:  $16.299
LE Model:  $16,999
2014 Kawasaki Teryx4™LESpecifications*
Engine:

Liquid-cooled, 90-degree, four-stroke V-twin

Valve system:

SOHC, four valves per cylinder

Displacement:

783cc

Starting system:

Electric

Bore x stroke:

85.0 x 69.0mm

Compression ratio:

10.7:1

Fuel system:

DFI® with two 36mm Mikuni throttle bodies

Ignition:

TCBI w/ electronic advance

Transmission:

Continuously variable belt-drive transmission w/ high and low range, reverse, and a wet centrifugal clutch

Final drive:

Selectable four-wheel drive w/ locking front differential, shaft

Frame:

Double-X reinforced design using large-diameter, thin-walled, high-tensile tubular steel

Dual A-arm w/ new piggyback reservoir coil-over Fox Podium shocks, with adjustable spring preload and 24-way compression damping / 8.0 in.

Rear suspension / wheel travel:

Independent Rear Suspension (IRS) w/ new piggyback reservoir coil-over Fox Podium shocks, with adjustable spring preload and 24-way compression damping / 8.3 in.

Front tires:

Maxxis 26×9-12

Rear tires:

Maxxis 26×11-12

Front brakes:

Dual hydraulic discs w/ 2-piston calipers

Rear brake:

Sealed, oil-bathed, multi-disc

Overall length:

124.8 in.

Overall width:

61.6 in.

Overall height:

79.4 in.

Wheelbase:

85.7 in.

Ground clearance:

11.1 in.

Lighting:

(2) High-intensity LED headlights, (2) 8 W taillight, 24 W stoplight

Cargo bed capacity:

249 lbs., 47.6 W x 17.9 L x 8.7 in. H

Towing capacity:

1,300 lbs.

Curb weight:

1580.3 lbs.

Fuel capacity:

7.9 gal.

Instruments:

Multi-function digital meter w/ speedometer, fuel gauge, clock hour meter, odometer, dual trip meter and parking-brake indicator, CVT belt, R/N/P/4WD, water temp and low-oil-pressure indicators

LE Model Colors:

Candy Lime Green

,

Candy Burnt Orange

MSRP Black, Green / White, Blue

$

1

6

,

999

Warranty:

6 Months

Good Times™ Protection Plan

12, 24, 36 or 48 months

Wholesale distributor:

Kawasaki Motors Corp., U.S.A.

9950 Jeronimo Road

Irvine, CA92618

949-770-0400
2014 KFX450R
While it isn't quite what we were hoping for , there is some good news surrounding the 2014 KFX450R. First of all, it's back! Secondly, its MSRP has remained unchanged for this year at $8,299. Yamaha saw a price increase this year moving up to $8,799. What the Kawasaki offers for the money looks more attractive thaen ever, especially for the aggressive trail rider or woods racer.
Unfortunately, the machine didn't get the 50- inch width and other small revisions we were hoping for, so if you already have a KFX450R, Kawasaki still didn't give you a reason to part with your old machine and upgrade. For those of us without a KFX450R, the machine has a lot to offer.
The KFX isIS arguably the best machine in the 450cc class for aggressive trail riders. It can win motocross races at any level, although the price of adding shocks and a-arms to widen the machine, becomesmake an expensive model to make track ready.
The stout and rigid aluminum frame, subframe, and cast aluminum swingarm provide extreamely responsive handling. It's highly adjustable,, albeitl be it slightlyy soft, suspension,  works well on the trail, and can be firmed up enough to have some fun on the track. For the averagee rider, this is one of the best motors in the class. It delivers off idle performance and seamless power like an easy- to- ride sport quad, but with more power as well as the fast reveving quality you expect from a 450. Of course, it's the only 450 left on the market with reverse.
Price: $8,299
2014 Kawasaki KFX®450R Specifications*
Engine:

Liquid-cooled, four-stroke, DOHC, four-valve single

Displacement:

449cc

Bore x stroke:

96 x 62.1mm

Fuel injection:

32-bit digital, with 42mm Keihin throttle body

Ignition:

Digital AC-CDI

Starting:

Electric

Transmission:

Five-speed with reverse

Final drive:

Two-wheel drive, chain

Frame type:

Aluminum double cradle, racing type

Front suspension / wheel travel:

Dual A-arms, coil-over shocks / 8.5 in.

Rear suspension / wheel travel:

Swingarm with piggy-back reservoir shock, dual-rate spring / 10.0 in.

Front tires:

AT21x7-10

Rear tires:

AT20x10-9

Front brakes:

Dual 163mm discs with two-piston calipers

Rear brake:

200mm petal-type rotor with single-piston caliper

Overall length:

71.1 in.

Overall width:

46.1 in.

Overall height:

41.9 in

Seat height:

30.9 in.

Wheelbase:

49.4 in.

Ground clearance:

4.3 in.

Lighting:

Dual removable 30w headlights / LED tail light / brake light

Curb weight:

392.5 lbs.

Fuel capacity:

2.6 gal.

Footpegs:

Sport-style serrated

Color choices:

Lime Green

MSRP:

$

TBD

Warranty:

12 Months

Good Times™ Protection Plan

12, 24, 36 or 48 months

Wholesale distributor:

Kawasaki Motors Corp., U.S.A.

9950 Jeronimo Road

Irvine, California 92618

949-770-0400