First Looks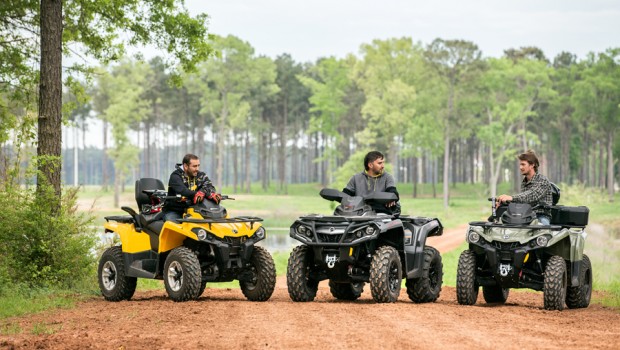 Published on June 5th, 2015 | by Joe
NEW 2016 Can-Am ATV Models, First Look: WITH VIDEO
 Exciting new ATV models and more power across nearly the engire Rotax ATV engine line.
Story by: Can-Am
For 2016, Can-Am aggressively revised its ATV and side-by-side vehicle lineup, by delivering more of what enthusiasts are asking for, including increased power. The performance increase includes three ATV engines and boosting performance of the flagship Maverick™ 1000R Turbo engine. Along with additional performance, new specialty vehicle packages join the family in 2016, giving Can-Am its most diverse lineup ever. From the affordable, mud-specific Outlander® L 570 X® mr ATV and new Maverick 1000R TURBO, to the all-new Maverick X rs 1000R TURBO and Mossy Oak† Hunting Edition vehicles, Can-Am has vastly expanded its off-road family. On top of that, by improving maintenance break-in procedures across the entire Outlander, Renegade® and side-by-side vehicle lineups, Can-Am has also given owners peace of mind they are getting class-leading performance and unmatched reliability.
NEW ENGINES & PERFORMANCE
Can-Am engineers, through persistent research and development progresses over the last two years, has enhanced 80% of the Rotax® ATV engine family to reinforce its performance leadership and maintain industry-leading power. Four engines get updated for 2016; the new 570, 850 and 1000R ATV mills and the revised 131-hp, Rotax 1000R Turbo.
48-HP Rotax 570
Found in the Outlander L and Outlander, the all-new liquid-cooled, eight-valve 570 Rotax, the only V-Twin engine in its class, supplies 48 horsepower to lead the 500-600cc segment. Larger pistons, longer stroke, a higher connecting rod created a +2-HP gain as well as increased low-end torque (+9%).
78-HP Rotax 850
The revised 78-HP liquid-cooled V-Twin Rotax 850 gained 7 hp for 2016, offering the most performance in its class. The new engine offers 9% more power and additional torque (+7%) and was derived from larger pistons and both a throttle body and engine head from the Can-Am Maverick side-by-side vehicle.
89-HP Rotax 1000R
A revised, liquid-cooled, 976cc, 89-hp Rotax 1000R V-Twin engine is the most powerful ATV engine in the Can-Am family and leads the big-bore market in performance. For 2016, the flagship Rotax 1000R has an additional 7 horsepower (9% power increase). Can-Am engineers added new pistons, a Can-Am Maverick side-by-side vehicle engine head and throttle body.
NEW MODELS / PACKAGES / CHANGES
ATV
Can-Am continues its innovative push as the market leader in the mud-specific market, with the introduction of the all-new Outlander L X mr 570. Making mud riding more affordable than ever, the new Outlander L X mr 570 is based off of the class-leading 1-up Outlander L 570, but includes specialty mud-ready components like 28-inch Maxxis Mudzilla tires, snorkel, relocated radiator and more to help it outperform the competition and stand out in a crowd.
Outlander L LE 570
The Outlander L 570 is now offered in an LE package. The Outlander L LE 570 offers key accessories at a value, as opposed to buying all the items separately. Some of the items included are power steering, aluminum wheels, a reinforced seat cover, bumpers, six-ply tires and painted plastic.
Outlander L Mossy Oak Hunting Edition
The all-new Mossy Oak Hunting Edition is loaded for a successful day in the field with its accessories and exclusive Mossy Oak Break-Up Country Camo pattern. Purposely configured with hunters and outdoorsmen in mind, the Mossy Oak edition model includes bumpers, handguards, black aluminum wheels, a Kolpin gun boot, WARN winch, revised suspension preload, skid plate and more.
Other Exciting new 2016 Models

NEW / UPDATED COLOR SCHEMES
ATVs
• Green (Outlander L)
• Mossy Oak Break-Up Country (Outlander L, Outlander, Outlander MAX and Outlander 6×6)
• Cognac (Outlander MAX Limited 1000R)
• White, Black & Can-Am Red (Renegade X xc and Outlander X mr)
• Can-Am Red (Renegade)
NEW REVISED MAINTENANCE SCHEDULE
Can-Am has made a significant improvement to each off-road vehicle's maintenance procedure for 2016. The 300 km / 200 miles break-in inspection has been replaced by 1,500 km / 1000 miles, which will effectively reduce ownership costs. The performance-laden Can-Am off-road vehicles remain as reliable as ever, but are even easier to maintain.
For more information visit www.brp.com