Racing
Published on November 16th, 2015 | by Joe
0
Veterans Eligible for Free Admission in 2016
Veterans Eligible for Free Admission in 2016
ATVMX Partners with the Veterans Tickets Foundation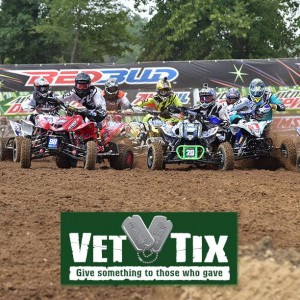 MORGANTOWN, W.Va. (November 11, 2015) – In honor of Veterans Day, MX Sports Pro Racing and the ATV Promoter's Group (ATVPG) introduce an initiative with the Veteran Tickets Foundation to recognize the sacrifices made by our service men and women by offering free admission to any round of the 2016 ATV Motocross National Championship, sanctioned by AMA (ATVMX). For the first time ever, active, retired military, veterans and families of those KIA can watch the on-track excitement of the world's premier ATV motocross series at no cost.
In celebration of its 31st anniversary season and in the spirit of Veterans Day, ATVMX has donated 50 General Admission tickets to the Vet Tix foundation for each of the 10 rounds of the championship. Tickets will be available to all military veterans two weeks prior to each event through VetTix.org.
"Vet Tix is looking forward to the partnership with ATVMX and Giving To Those Who Gave. This new experience for our Vet Tix military community will provide an exciting place to bond with their families and display Giving to Those Who Gave and ATVMX's appreciation of their service to our country," said Chief of Community Relations Brandi Shannon.
Major sports franchises from Major League Baseball, the National Basketball Association, National Football League, and National Hockey League have also partnered with Vet Tix, as have touring organizations like World Wrestling Entertainment and Professional Bull Riders.
Vet Tix, based in Phoenix, is a national nonprofit organization that provides free tickets to veterans and active-duty members and their families. Also families of those KIA. Founder and CEO Michael Focareto, a U.S. Navy veteran, developed the concept of Vet Tix in 2008 and since then the organization has given away more almost 1.6 million tickets to veterans nationwide.
All active and retired military veterans can create an account on VetTix.org to receive emails and reminders about when ATVMX tickets become available. More information about Vet Tix can be found at VetTix.org.
The 2016 ATV Motocross National Championship kicks off next March. The world's best four-wheel riders will compete over the course of 10 rounds of action on many of the most renowned motocross tracks in the country.
For more information on the 2016 ATV Motocross National Championship, visit the series official website at www.atvmotocross.com. Join the conversation on the series Facebook page, follow on Twitter and Instagram, and be sure to always hashtag #ATVMX.
About the AMA ATV Motocross Championship
The AMA ATV Motocross Championship is the nation's premier amateur and professional ATV motocross series, hosted at top motocross facilities nationwide. The 10-round series features the Nation's best racers, teams and sponsors, and is America's largest and longest-running ATV national motocross program. Since 1985, the series continues to expand and produce top talent from the amateur ranks, while premiering the professional class. For more information, please visit www.atvmotocross.com.
About Veteran Tickets Foundation
Veteran Tickets Foundation is a national 501 (c) 3 non-profit foundation supporting our military community. Vet Tix provides free event tickets to currently serving military, veterans and family members of KIA to sporting events, concerts, performing arts and family activities. Our military and veterans experience many difficult transitions as they reintegrate back into their families, their communities and eventually civilian life. Attending these events improves morale, strengthens family bonds through shared interests and encourages service members to stay engaged with local communities and American life. In gratitude for their service and to support their reintegration processes, Vet Tix is dedicated to giving back to those who gave us so much. Please visit our website www.VetTix.org.