Racing
Published on March 17th, 2017 | by Joe
0
Wood Wins GNCC Round 2 4X4 Lites ATV for KYMCO
Holeshot Good, Mud Hole Bad: Wood Wins Florida GNCC 4X4 Lites ATV for KYMCO
For immediate release: March 15, 2017
Spartanburg, South Carolina: At Round 2 of the 2017 Amsoil GNCC Racing series, at the Wild Boar event in Palatka, Florida, racer Justin Wood racked up win number two in the 4X4 Lites ATV class. With two wins in two races Wood has extended his lead and set the momentum for the moment or maybe for the season, from the woods of South Carolina to the sandy whoops of Florida.
Right from the race's start Wood's day went from awesome to unawesome and then back to awesome again, as he tested the differences in types of holes on the course. Wood said, "I got the holeshot then got buried in a mud hole up to the seat. The only one around me was my good buddy "Gator" Adam McGill. He helped me out but the left footboard was broken in the process and the battery wires damaged. This put us in last place. We put on a charge and got back to the top, only to then find that the course was badly marked, setting us back about a half mile."
Wood continued; "The charge was on again after we pitted and we soon took the lead for our second win in a row. The track was really whooped-out and tough. We are now looking forward to Georgia. I would like to thank my sponsors for putting together one heck of a program for us, and an awesome bike: KYMCO USA, CST Tires, DW Rims, Motorex, Fastt Flexx, Rox Speed FX, Golding Clutches, Fly Racing, MZM, Axis Shocks, Tireblocks, Spider Graphics, Vanilla Gorilla, McGill Mafia, GSE Performance, Kenny Vincent, The Sleep Temple, and Vigilant Vet Racing."
The next Amsoil GNCC Racing event is the Maxxis Cannonball in Sparta, Georgia, March 25-26. Can Justin Wood go three for three? Is the dirt in Sparta red?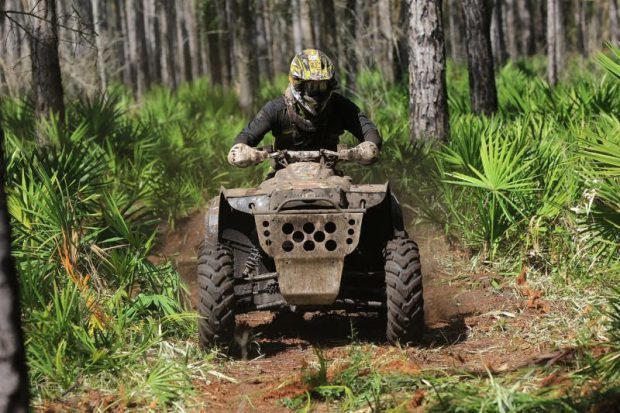 The KYMCO brand of scooters, motorcycles, ATV's, and side by sides, are exclusively distributed in North America by KYMCO USA. Founded in 1963, KYMCO manufactured products are today respected worldwide for their quality, value, and durability. KYMCO USA, wholly owned by Kwang Yang Motor Co. Ltd., has its sales, marketing, and distribution center in Spartanburg, SC. KYMCO USA serves over 500 dealers nationwide, building the KYMCO brand's reputation and market share through superior value, new products, excellent dealer support, enthusiast events, race support and sponsorship, and strategic industry partnerships with other quality brands. Learn more at www.KYMCOUSA.com.