Racing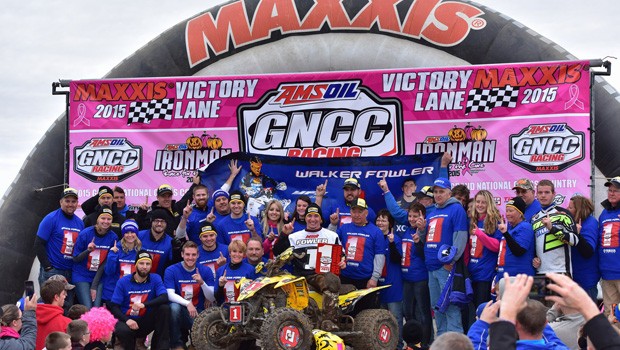 Published on November 3rd, 2015 | by Joe
0
Yamaha Celebrates 2015 Championships and 60th Anniversary at Ironman GNCC
Fowler Captures XC1 ATV Championship, Richardson Wins Another XC2 ATV Championship
CYPRESS, Calif. – November 2, 2015 – Yamaha Racing's Walker Fowler secured the overall ATV National Championship in Sunday's Grand National Cross Country (GNCC) season finale off-road event, dubbed "The Ironman", in Crawfordsville, Ind. aboard a YFZ450R sporting Yamaha's 60th anniversary yellow and black color scheme. Highlighting the event was Yamaha Motorsports USA's 60th Anniversary celebration commemorating and recognizing their history and heritage in motorsports and GNCC racing.
On Saturday, Fowler, a GNCC veteran who has raced his way up the ranks for more than a decade, captured his first ever XC1 Pro Championship over the weekend finishing the final race in fourth place at Ironman Raceway. Fowler's trophy room now includes titles in XC1 Pro, XC2 Pro-Am, College A, Schoolboy (13-15), and 90cc Mod. (12-15) classes dating back to 2006.
"I've been chasing this championship for years, and it's an incredible feeling to finally top the podium with my N-Fab/Am-Pro Yamaha team and the 60th anniversary Yamaha YFZ450R," Fowler said. "To finally take the win this year is a dream come true, and to do so alongside Yamaha's 60th anniversary makes it even more awesome."
In addition to Fowler's 60th anniversary YFZ450R, other racers under the Yamaha banner, including the 2015 XC2 ATV Champion and N-Fab/Am-Pro Yamaha rider Cole Richardson, Maxxis/SSI/Yamaha's Chris Borich and GBC/Fly/Fox/Yamaha's Johnny Gallagher, raced with Yamaha's black and yellow heritage colors and graphics.
The celebration was attended by past Yamaha GNCC racing legends including nine-time pro champ Bill Ballance and nine-time women's champ Traci Cecco. Ballance helped pit for Fowler, and Cecco competed alongside friends and fans alike, winning the WXC class at the Ironman.
"This has been another exciting year for Yamaha's off-road racing programs, and it's great to be celebrating current and past champions throughout our 60th anniversary," said Donnie Luce, Yamaha's Off-Road Racing Coordinator. "We're stacking up trophies this year in both MX and cross country thanks to the best machines and riders in the industry. A lot has changed in 60 years, but Yamaha has stayed consistent as the leading brand in motorsports racing."
Yamaha celebrated the 2015 season and 60th anniversary at the GNCC Ironman finale displaying a complete line of 2016 ATVs and motorcycles along with the all-new YXZ1000R – the world's first and only pure sport Side-by-Side (SxS). The YXZ1000R also made its debut appearance into GNCC racing at the Ironman in the XC1 SxS class, creating a lot of buzz and excitement around the model. The Yamaha tent took part in the GNCC's trick-or-treat festivities, giving out custom made "#1" Halloween candies, 60th anniversary collector's edition beanies, hot chocolate and popcorn. Yamaha additionally awarded the brand's top finishers in each class with a free congratulatory gift.
In addition to Yamaha's 60th anniversary celebration, the GNCC community recognized the concluding days of Breast Cancer Awareness Month to help raise funds and awareness for this important cause at the Ironman. Honoring the cause, Yamaha pledged to donate $60 for each Yamaha racer who won their class – the donation amount in conjunction with the manufacturer's 60 years in business. Yamaha funded over $1,200, with the weekend's contribution totaling $7,606.50 towards Breast Cancer Awareness in the local community.
Follow Yamaha racing at www.facebook.com/yamahamotorusa, www.twitter.com/yamahaatvracing and http://www.instagram.com/yamahamotorusa
About Yamaha Motor Corp., USA
Yamaha Motor Corporation, USA, (YMUS) a leader in the motorsports market, makes the toughest, most capable and versatile ATV and Side-by-Side vehicles. The company's ever-expanding product offerings also include motorcycles, outboard motors, personal watercraft, snowmobiles, boats, outdoor power equipment, accessories, apparel and much more. YMUS products are sold through a nationwide network of dealers in the United States.
Headquartered in Cypress, Calif., since its incorporation in 1976, Yamaha also has facilities in Wisconsin and Georgia, as well as factory operations in Tennessee and Georgia. For more information on Yamaha, visit www.yamahamotorsports.com.