Racing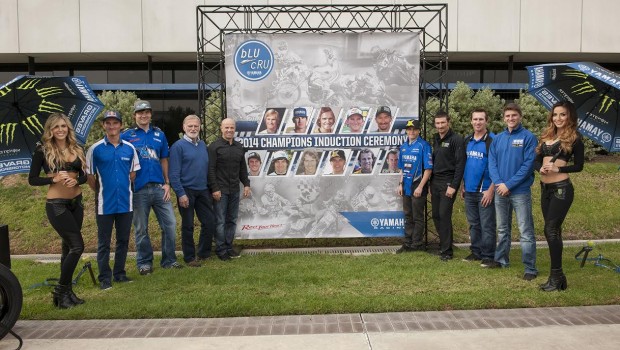 Published on December 17th, 2014 | by Joe
0
Yamaha Motor Corp., U.S.A., Raises More Than $80,000 for Feed the Children
Annual Employee and Star Touring Riders & Volunteers Event
Honors 2014 Racing Champions and Celebrates 20 Years of Feed the Children Donations
CYPRESS, Calif. – December 8, 2014 – Yamaha Motor Corp., U.S.A., held its annual employee and Star Touring And Riding (S.T.A.R.) event at the company's Cypress, Calif., headquarters last Friday. Throughout the special event, which has come to symbolize the company's successes and contributions from the race track to its local communities each year, Yamaha honored its 2014 motorsports racing champions as well as select past champions and celebrated 20 years of support for Feed the Children (FTC).
Yamaha inducted 11 current and previous champions to the Yamaha Racing Wall of Champions. This year's champions recognized at the event included: Paul Whibley, OMA Off Road National Champion; Dustin Nelson, QuadX Pro 450cc Champion; Chad Wienen, AMA Pro ATV MX Champion; Garrett Gerloff, GEICO Motorcycle Superbike Shootout Pro Sportbike Champion; Jeremy Martin, AMA 250cc MX National Champion; Jake Gagne, AMA Pro Daytona SportBike Champion; and Josh Hayes, AMA Pro SuperBike Champion and GEICO Motorcycle Superbike Shootout Pro Superbike Champion.
Past racing greats recognized with plaques during the day's event included Randy Mamola, AMA 250cc National Road Race Champion from 1978; Randy Cleek, AMA Formula 1 Road Race Champion from 1976; David Emde, AMA 250cc National Road Race Champion from 1977; and Pierre Karsmakers, AMA 500cc MX National Champion from 1973 and AMA 250cc Supercross Champion from 1974.
"Yamaha congratulates all of its 2014 and past racing champions and thanks them for representing the company and our employees, dealers and fans all across the country like true professionals and passionate competitors," said Bob Starr, Yamaha's general manager of motorsports communications. "The Yamaha Racing Wall of Champions posted here in our headquarters represents a commitment to excellence and dedication to being the best in our industry – on race day and every day."
Throughout the championship celebration, special emphasis was put on Yamaha's 20 years of support for the Feed the Children charity. Yamaha's commitment to FTC helped raise $82,000 this year through employee donations, special dealer fundraising activities and direct corporate donations from Yamaha's customer satisfaction team. The company's unique Customer Satisfaction Survey program makes a donation for each survey returned by a Yamaha street and off-road motorcycle, ATV, Side-by-Side vehicle, snowmobile or generator customer. This program alone raised $22,500 for 2014, and has raised more than $85,000 since it began in 2011.
"Regular customer interaction and satisfaction feedback is critical to the company's ongoing efforts to provide the best possible products and service in our industry," said Jill Hobbs, Yamaha's national motorsports marketing manager. "Yamaha thanks its dealers and customers for participating in this program and helping to support a great charity like Feed the Children."
Yamaha presented FTC with a big check at today's event symbolizing the financial donations, and the S.T.A.R. volunteers were on hand to help deliver donated food and supplies to the local FTC office at the end of the day.
"Yamaha has maintained a major commitment to Feed the Children from California to Georgia, and we again thank the company and its employees for their ongoing efforts," said Jessica Webb, of FTC, who was on hand to accept the Yamaha donation. "Thanks to Yamaha for supporting our local community especially as we head into the holidays."
Yamaha has helped raise more than $5 million in cash and supplies for FTC over the past 20 years. Feed the Children is an international and nonprofit relief organization that delivers food, medicine, clothing and other necessities to individuals, children and families who lack those essentials.
About Yamaha Motor Corp., U.S.A.
Yamaha Motor Corporation, U.S.A., (YMUS), is a leader in the motorsports market. The company's ever-expanding product offerings include ATVs and Side-by-Side vehicles, motorcycles, outboard motors, personal watercraft, snowmobiles, boats, outdoor power equipment, accessories, apparel and much more. YMUS products are sold through a nationwide network of dealers in the United States.
Headquartered in Cypress, Calif., since its incorporation in 1976, Yamaha also has facilities in Wisconsin and Georgia, as well as factory operations in Tennessee and Georgia. For more information on Yamaha, visit www.yamaha-motor.com.