Published on April 6th, 2020 | by Joe
1000cc 4X4 ATV Shootout: WITH VIDEO
1000cc 4X4 ATV Shootout: WITH VIDEO
Can-Am Outlander 1000R VS Polaris Sportsman XP 1000
Some enthusiasts continue to obsess about wanting more horsepower in the one-liter ATV segment, whether the machine's chassis or their talent level is capable of dealing with it.  We're happy to see that the horsepower war has cooled down a bit for the time being. Attention seems to have shifted to making the big machines more usable, versatile, and better handling. The 1000cc  4×4 class is where new technology like electronic throttles with different performance modes, high-performance suspension, and other features are most prevalent.
If you're going to buy a machine in this class, chances are it's going to either be a Polaris or a Can-Am. The Polaris Sportsman XP 1000 received its most recent round of significant updates in 2017 with minor updates each year since. Choosing between the Sportsman and its arch rival, the Outlander 1000R, used to be a bit easier. If you valued brutal acceleration over handling, you went with the Can-Am. If you valued handling and stability more greatly, you went with the Polaris. In 2019, Can-Am widened out the Outlander's track width, updated its suspension plus a number of other key updates including adding variable throttle modes on the 1000R, shuffling the deck quite a bit in the 1000cc class.
The Contenders
With this shootout in mind we asked Can-Am and Polaris to send us the top-of-the-line version of their 1000cc machines, neither of which has received performance enhancing upgrades for 2020.  Can-Am sent their Outlander 1000R XT-P edition. It features front and rear bumpers, a 3,000lb Warn winch, handguards, beadlock wheels, and premium FOX Podium 1.5, QS3 shocks. The Polaris Sportsman Premium edition from 2019 has been replaced by the Factory-Installed Trail Package for 2020. It shares a cut v and sewn seat cover with an added inch of foam for enhanced comfort, an upgrade from 26" CST to 27" Duro Powergrip tires, arched A-Arms and a Polaris 3,500lb winch. The trail package gains Lower LED lights, and color matched suspension springs, although the front bumper is now an accessory add-on. Sealed suspension bushings are a welcomed upgrade for 2020 Sportsman 1000 models.
Scoring System
For our shootout, the machines will be rated by our riders on a scale of 1-10 for Engine, Drive Train, Suspension, Handling, Braking, Fit and Finish, and Utility Performance. There's also two bonus points up for grabs based on four special tests:  Drag Race, Cross Country Race, Best utility, and Best initial value.
Special Test: Initial Value
Comparing two top-of-the-line machines, the Sportsman has a base price of $12,099 with the trail package adding $1000 for a total price of   $13,099.
One level down from the Outlander XT-P package we're testing is Can-Am's XT package which sells for $12,749. It  features arched front A-arms and color matched suspension springs like the Polaris Trail package. The Can-Am's standard ITP Terracross tires are superior to the Polaris' upgraded 27" Duros. Plus, the Outlander XT benefits from hand guards and tough front and rear steel bumpers for $350 less than the Trail Package equipped Sportsman.
The $14,449 Outlander 1000R XT-P builds on the XT Package adding beadlock wheels, high-performance Fox Podium 1.5 QS3 shocks, tapered aluminum handlebars, and race inspired wrap around handguards.
Although the XT-P package has a $1,350 higher retail price, upgrading your Sportsman with the equivalent features of the Outlander XT-P will easily cost over $2,000.
If the lowest retail price matters most to you, a base model Sportsman 1000 will set you back $650 less than the Can-Am XT package. However, we feel what you get for your money matters and that's why we believe the Can-Am Outlander 1000R XT or XT-P offer the best initial value.
Setting the Stage
Our riders include Evan Hartzel, who races cross country on 450cc sport quads; Aaron Meyer, a former pro ATV MX racer and farmer; and Chad Westcott, an experienced trail rider and a Sportsman 1000 owner with previous Outlander 1000. Our Shootout took place over 5 days at the privately owned Mayer Family farm and at East Fork MX in New Vienna, Ohio, featuring a cross-country race course designed by former Pro GNCC dirt bike champion, Scott Plessenger.
Custom Setup
For the head to head performance comparison of these machines, we outfitted both with a few aftermarket accessories to maximize engine performance and ensure reliability. First, we installed stainless steel, HMF Titan QS exhausts on both machines. HMF's Quiet Series exhausts help maximize power while keeping sound output, which do a respectful 1-2db of stock. Both systems demand more fuel to match the increased airflow so HMF Fuel Optimizers were also installed.  We richened both fuel tunes up a bit with their push button, on-board tuning. The complete setup provides notably more engine performance and cooler running temperatures from both machines.  Look for our review on HMF's Titan QS exhausts and Fuel Optimizers coming soon.
To help prevent flats, we used TireJect.  Engineered with liquid rubber, it contains active sealing particles and Kevlar fibers for a permanent seal of slow leaks or punctures up to 3/8". TireJect is far less expensive than run-flat tire systems and its low viscosity won't cause vibration like other tire sealants. Order online directly at TireJect.com.
Engine Performance
Engine configuration is very different on these machines. Polaris' 952cc, ProStar, parallel-twin-cylinder features four-valves and single-overhead-cams per cylinder producing a claimed 90hp. Can-Am's 976cc, Rotax, features a V-Twin design with four valves and single-overhead-cams per cylinder producing a claimed 91hp.
Fuel injection is used on both machines. They each feature electronic throttles with three different modes:  work modes to tame down the power for working or technical riding, standard modes offering full throttle with smoother initial delivery, and sport or performance modes, which get you into the gas sooner in the throttle throw.
Both top-ends mate up to automatic CVT transmissions featuring high and low ranges, plus neutral, reverse, and park. Polaris uses a larger, longer throw gear selection lever with the Can-Am using a lower profile gated shifter. Both machines feature engine braking standard with the Polaris featuring their four-wheel-drive Active Descent Control system, which, when engaged, works to keep the machine moving at a very slow, controllable pace on downhills.
Polaris: Smooth off-idle power and clutching allow you to accelerate from a stop with incredible precision and predictability, seeming mellow in comparison to the Can-Am. This allowed us to use the throttle's sport mode a majority of the time. Power delivery is totally smooth throughout, with an incredibly powerful midrange and top-end that never seems to run out of power or take you by surprise. The transmission responds well when you crack the throttle, but doesn't seem to snap quite as hard as the Outlander's clutching, making it less fatiguing to ride on long days in the saddle.
Engine braking is a bit overpowered for normal trail riding, especially when riding aggressively.  Lighter EPS would be nice with Active Descent Control for controlling speeds while loaded or towing.
The calmer, more controllable, Sportsman 1000 took second from all three of our riders due to its more mellow power delivery throughout the RPM range. Engine braking is a little strong for play riding. Both machines scored equally for transmission effectiveness for different reasons, the Sportsman for its manageability. Thanks to Chad and Evan, the Sportsman scored a bit higher in overall rideability due to its smoother power delivery; the reason why all of our riders agreed that the Polaris had the engine of choice for long rides. However, extremely aggressive riders may want to look into some more aggressive clutching.
vCan-Am: The Outlander has the engine and transmission tune for riders who want their 1000 to feel like a 1000. Even in work mode where the electronic throttle does well at filtering unwanted throttle inputs, it doesn't get rid of the minor jolt felt as the clutch engages. The Outlander is super responsive off idle, pulling very hard throughout the RPM range. Roll off the gas and the engine braking is pleasantly smooth. Crack the throttle and the engine responds quickly with lots of authority. The Outlander will keep you on your toes in normal throttle mode and is a beast in sport mode.  This is the most exciting sport 4×4 ATV engine on the market period;  great for racer types, but in spite of its fly-by-wire throttle maps, it delivers power and responsiveness that can be fatiguing on long rides.
The Can-Am takes top honors in engine performance. Our riders unanimously rated the Outlander's power output higher throughout the RPM range. They tied in transmission effectiveness  for different reasons, the Can-Am for its superb responsiveness. Aaron solely  preferred the overall rideability of the Can-Am for its hard hitting nature. It's the motor that seems best suited for racing or extremely aggressive riding, but it's going to require you to expend more energy to hold onto on the trail or job site.
Regardless of score, the best motor for you will depend on whether you prefer all day rides or having the most rowdy motor in the business. Both are more powerful than almost any rider can fully take advantage of.
| | | |
| --- | --- | --- |
| Engine | Polaris | Can-Am |
| Low End Power | 7 | 8.33 |
| Mid Range Power | 7 | 9 |
| Top End Power | 7.67 | 8.67 |
| Transmission Effectiveness | 7.67 | 7.67 |
| Engine Braking | 6.67 | 7.33 |
| Overall Ride Ability | 8 | 7.67 |
| Engine Total Score | 7.34 | 8.1 |
Drive Train
Both machine's feature two and four-wheel drive, offering the most recent and high-performance versions of their unique systems. Can-Am's Visco-Lok QE system has a limited slip front differential for lighter steering until one of the front tires begins spinning faster than the other creating hydraulic pressure in the front differential that quickly locks in both front wheels. When traction is restored, the Visco-Loc system progressively unlocks.
The high-performance AWD system on the Polaris operates in two-wheel-drive for lighter steering until the rear tires begin to rotate marginally faster than the fronts. After which, both front wheels quickly engage providing locked in four-wheel-drive until traction is restored to the rear wheels.
Can-Am: Can-Am's Visco-Lok QE newer system never left us wishing for a more traditional 4wd setup with a manually lockable differential. Both front wheels locked in pulling you out of low-traction situations with no detectable lag or traction loss from the Visco-Lok front differential. Its only drawback was the need to slow to very low speeds to switch from two to four-wheel-drive, a minor complaint among two 4wd systems that work very well.
Evan rated drivetrain performance a tie. Aaron and Chad rated Can-Am second because they had to slow down to engage 4wd so the Outlander's drivetrain took 2nd.
Polaris: Polaris' all-wheel-drive system is still considered non-conventional by many after all these years, but their latest high performance version of the system seems to have the front wheels pulling before you realize the rear end is braking traction. If you see an obstacle coming that requires AWD, you can remove your thumb from the throttle long enough to move the lever over to AWD, and get back in the gas without slowing way down.
We'd have to spend some serious time with the same tires to pick a winner in drivetrain effectiveness, however the drivetrain engagement on the Polaris scored unanimously higher  as you don't have to slow way down to engage all-wheel drive. This small detail was big enough to allow Polaris to take the win in drivetrain performance.
| | | |
| --- | --- | --- |
| Drive Train | Polaris | Can-Am |
| 4-Wheel Drive Engagment | 9 | 6.33 |
| 4-Wheel Drive Effectiveness | 8 | 8.33 |
| Total Score | 8.5 | 7.33 |
Special Test, Drag Race
At the end of the final day, we lined up both machines for repeated drag racing on a 150 yard drag strip. Whether they were piped or stock, the outcome remained the same, with the Outlander winning by one to two bike lengths regardless of rider taking the win in drag racing.
Handling and Suspension
The Sportsman is built on Polaris' XP steel chassis. Originally introduced in 2009, it's made for arguably the best handling big-bore 4×4 for years. Dual A-Arms are found at both ends with Polaris Rolled IRS out back to better absorb oncoming bumps. Arched A-Arms come on the Trail Package and 5-way preload adjustable shocks control 9" of suspension travel up front and 10.25" out back. The rear suspension features a sway bar to help control body roll.
The Outlander is built on Can-Am's G2, SST chassis, benefiting from a wider stance and a bit more suspension travel from 2019. Arched dual A-Arms are used up front with Can-Am's unique TTI rear suspension out back. There's 9.2" of suspension travel up front with 9.9" out back. 5-way preload adjustable shocks are used on the 1000R's XT package with an upgrade to Fox Podium 1.5, QS3 shocks on the XT-P. They provide threaded preload adjustment, selectable 3-way compression damping, and nitrogen reservoirs for cooler oil temps and more consistent damping. Sway bars are used on both ends for added stability.
According to the manufacturer's specs, the Outlander is 48" side with a 51" wheelbase. The Sportsman is 47.6" wide with a 2" longer wheelbase at 53". The Can-Am has an overall height of 49.5" with a 34.5" seat height and 11" of ground clearance with its 26" ITP Terracross tires mounted on 14" cast aluminum beadlock wheels. The Polaris overall height is 50.75" with a 37" seat height and 12" of ground clearance with 26" CST tires, not the 27" Duro Power Grip tires on 14" aluminum wheels the Trail Package is equipped with.
Both machines feature electric power steering with the Can-Am Tri-Mode system offering three different levels of assistance.
Polaris is claiming a dry weight of 801 pounds for the base model Sportsman 1000, not including the weight of the Trail Package. Can-Am is claiming 826lv for the Outlander 1000 XT. Add in the beadlock wheels and upgraded shocks on the XT-P, and the Can-Am's weight grows.
Suspension
Polaris: The Sportsman floats along the trail at a cruising speed, leaving you feeling nearly disconnected from all of the clutter on the trail's surface. Medium sized hits from ruts, logs, and small jumps are taken in stride remaining plush and composed. However, more than a couple feet of air will easily find the limits of the Sportsman's suspension. When riding aggressively, there's notable front-end dive braking into turns and the soft suspension allows for a notable, but easily controlled, amount of body roll. The Sportsman's lower seat height and narrower midsection allows the rider to move  around on the machine more easily for aggressive cornering, which helps greatly.
The Sportsman's shocks seem to be set up for maximum comfort at the speeds Polaris feels most riders ride at, rather than to deal with the performance capabilities of the engine. In addition to helping reduce bottoming, we maxed out the front shocks' spring preload to help fight front end dive and body-roll entering corners aggressively. We ran the rear shocks' preload in the middle  to help prevent excessive weight transfer to the front end under braking. This setup improves its composure for fast, aggressive riding, but the Sportsman could definitely benefit from firmer shocks for this type of riding..  For long days at a steady pace, the Sportsman's plush suspension will not leave you feeling beat up.
The Sportsman scored higher in small and uneven bumps, falling behind a bit in the whoops and more than 2.5 points on both big hits and tune ability. The Sportsman rated 2nd among all our riders. It's the plusher of the two, but when you're pushing the limits, its shocks run out of bottoming resistance long before the engine runs out of power.
Can-Am: The Outlander feels a bit rigid right out of the box. It does okay eating up trail junk, but you feel it more on the Can-Am. The firmer shocks, front sway bar, and  TTI rear end don't allow the Outlander to conform to uneven bumps quite as well. Medium size hits from holes, logs, and small jump landings are well dampened while leaving plenty of travel in reserve. You can find the limits of the suspension on big jump landings, although the impact never felt overly harsh. The shocks rebound fast enough for repeated hits without feeling as though the ATV is going to deflect on landing.
Suspension on the Can-Am is similar to the engine. The edges are a little more abrupt and it begs to be ridden hard. We initially went full soft on the three compression damping settings for more bump compliance but its taller feeling seat height and firm stock suspension settings made the Outlander feel a little top-heavy in corners in spite of having virtually no body roll. We backed off the spring's preload damping a couple of threads at both ends providing a bit more weight transfer allowing you to set the front end in a bit better in turns making the machine feel more planted. With the machine now behaving a little more softly sprung, we switched back to the compression damping's middle setting to regain bottoming resistance while enjoying a slightly plusher ride than stock. At 275lbs, Chad preferred the firmer stock settings, but then there's the rest of humanity. So you're aware, the XT edition's suspension is only a bit firmer than the Sportsman's initially, but has proven to soften up quite a bit over time. The XT-P's suspension is far superior.
The Outlander XT-P isn't quite as plush over small or uneven bumps, although it will easily eat up big bumps, jump landings and whooped out terrain that will have the Sportsman bottoming and wallowing in its travel.  Tune ability and big bump performance are on another level. The XT-P's suspension unanimously rated higher among our riders.
| | | |
| --- | --- | --- |
| Suspension | Polaris | Can-Am |
| Small Bumps | 9 | 8.67 |
| Large Bumps | 5.33 | 8 |
| Uneven Bumps | 8.33 | 7.33 |
| Whoops | 7 | 8 |
| Tune Ability | 5.67 | 8.33 |
| Total Score | 7.1 | 8.1 |
Handling
Polaris: The Polaris does a good job of going where it's pointed, although the Duro tires may have caused it the top spot in steering accuracy. Power steering is very effective at low to intermediate speeds reducing, virtually, bump feedback felt through the steering. It's a bit light at high speeds making the steering feel nervous with no other power steering modes to reduce assistance.. The lower narrower seat height more than makes up for the body roll in turns created by the soft shocks allowing you to counterweight in turns. Although you can more easily feel the Sportsman's weight when the front end starts diving or you have to hang off to fight body roll in corners, the light steering effort and good ergonomics provide a high feeling of control that the 1000's heft. The longer wheelbase and softer suspension had the Polaris framing out more often, although ground clearance wasn't an issue.
The Sportsman 1000 scored higher in cornering stability and weight feel and balance. It tied in power steering effectiveness due to its lighter steering at low to intermediate speeds, scoring a bit lower in high-speed stability and ground clearance. The Sportsman has lost its handling advantage by a thread. Firmer, sportier suspension and better tires could  have kept it on top.
Can-Am: The Can-Am steers pretty accurately for such a big heavy machine more so with the front end rather than the rear end due to the high grip ITP tires. The rear end tended to deflect off line a bit more according to Chad. The power steering drew praise for its various modes, although some riders wish that maximum-assist on the Can-Am was a bit more powerful and in line with the Polaris. Cornering and high speed stability are both rock solid on the Outlander, although Evan struggled to get comfortable on the Outlander in turns and at speed due to its taller seat and narrower midsection. The heavier steering, broader and taller midsection make the quad feel bulkier while the taller bars offer less leverage for taller riders. Traversing ruts and logs, the Can-Am's firmer suspension settings and shorter wheelbase had the Outlander framing out notably less often.
The Outlander scored higher on steering accuracy, high-speed stability and ground clearance, but its heavier steering makes it feel heavier. No matter how competently the ATV was handling, the taller broader seat detracts a bit from its stable feeling in corners. Evan and Chad both rated the Can-Am a bit lower while Aaron rated it more than two points higher. It's nearly too close to call, but the Outlander's 2019 chassis updates along with the XT-P's firmer suspension settings have allowed Can-Am to edge out Polaris in handling, if only by 7/100 of a point.
| | | |
| --- | --- | --- |
| Handling | Polaris | Can-Am |
| Steering Precision | 8 | 8.33 |
| Power Steering Effectiveness | 8 | 8 |
| Cornering Stability | 7.3 | 7 |
| High Speed Stability | 7 | 7.67 |
| Weight Feel and Balance | 8.33 | 7.67 |
| Ground Clearance | 8.33 | 8.67 |
|  Total Score | 7.83 | 7.9 |
Brakes
Both ATVs feature single lever, handlebar mounted, all-wheel-braking with a right side mounted rear brake pedal controlling the rear brake independently. Steel braided brake lines and parking brakes are also found on both. The Can-Am has dual hydraulic disc brakes up front with a single hydraulic disc brake used out back. The Polaris had hydraulic disc brakes at all four corners. Both machines take up a good amount of real estate to scrub off speed due to their 800lb plus dry weights.
Polaris: The Sportsman offers good braking power and feel through the hand lever. The foot brake is rather high forcing you to pick up your foot to engage it. The weight transfer under braking lightens the rear end significantly. Combined with the loose handling Duro tires, the back end tends to lock up rather easily on the sportsman during aggressive riding. This is good for brake sliding into turns, but hurts in terms of sheer braking power.
The Sportsman finished very close to the Can-Am in terms of all-wheel braking performance, but the rear brakes seemed to lock up too easily. Aaron and Evan rated it second with Chad rating the Sportsman's brakes higher due to its dual rear brakes' improved longevity.
Can Am:  The Can-Am offers good feeling through the handlebar mounted lever. Its shape is a bit more sport ATV like than the Polaris'. It's rear brake pedal is also a bit jacked up in the year making it more difficult to use than we'd like. The Can-Am stops better; however, the difference in performance may come down to the traction of its tires.
The Outlander scored a bit higher in all-wheel braking and significantly higher in rear braking. Racers understand the importance of braking more than most. Aaron and Evan both rated the Can-Am higher.
| | | |
| --- | --- | --- |
| Brakes | Polaris | Can-Am |
| Front / All | 7.3 | 8 |
| Brakes Rear | 6.67 | 8.33 |
| Total Score | 7 | 8.2 |
Fit and Finish
Can-Am: In ways, the Outlander 1000R stands out as the most refined and modern of the two machines although it has some imperfections. In Ergonomics, the seat is the more comfortable to sit on as it isn't overly soft like the Polaris. The seat feels notably taller, though, and the quad's midsection is wider making the Outlander harder to move around on for aggressive riding, especially for riders under six feet tall. Grippier foot pegs offer better control in all conditions, and the tapered aluminum handlebars offer a better bend and flex less. Their height puts you in a good position for getting aggressive, but taller riders might find them a bit short.
The hand brake lever and handlebars are nice as is the gated shifter. The digital throttle drew unanimous complaint for its action being too light and some felt its shape was uncomfortable. While neither machine vibrates excessively, Aaron complained of some vibration felt in the floorboard area. The instrument display is great in that it allows you to easily switch to an aftermarket handlebar, although,  our riders felt it was a bit more difficult to view the maximum amount of information and more difficult to view while standing.  Attention to detail seemed better on the Can-Am without all the star head bolts to strip out, plus the bodywork seemed easier to remove and reinstall.
The Can-Am took top honors in attention to detail, but fell behind in the other categories in fit and finish with all of our riders rating it a pretty close second.
Polaris: Ergonomics are one area where the Polaris really shines with its shorter seat to foot pegs ratio and narrower midsection really allowing the rider a lot more freedom to move more side to side on the machine, although the fenders are a bit limiting when moving in and forward or hanging off the back. The seat also drew unanimous complaint for being too soft allowing you to feel the seat pan at times. No one complained about the taller bars, which make taller riders feel in control of the Sportsman. Unfortunately, the boot pegs offer less traction than we'd like, even in the dry. When it comes to vibration on long rides, the Polaris drew zero complaints from our riders.
All of our riders seemed to prefer the throttle on the Polaris for its balance between light actions and decent resistance. ATV enthusiasts want precise control and don't want to have to be reliant on electronics to filter mistakes, although Polaris' work mode does that, too. Evan complained about hitting his knee on the Polaris shift lever, while Farmer Aaron liked how it easily allowed him to switch between transmission ranges. While the Polaris instrument display and light pod are going to be a hassle to relocate and remove when running aftermarket bars, our riders felt it did an overall better job of providing all of available information.
The Sportsman cleans up in every aspect of fit and finish except for attention to detail. Its superior ergonomics are a big asset, helping it in nearly every other category except engine performance. While it was competitive, the Polaris took the unanimous win in fit and finish.
| | | |
| --- | --- | --- |
| Fit and Finish | Polaris | Can=Am |
| Ergonomics | 8 | 7.67 |
| Control Operation | 8.33 | 7.33 |
| Lack of Vibration | 8.67 | 8 |
| Instrument Display | 8.33 | 7.33 |
| Attention to Detail | 8.33 | 8.67 |
| Total Score | 8.33 | 7.8 |
Special Test Cross Country Race
To test speed in the real world,  we ran an abbreviated portion of East Fork MX cross country loop combining wide open field sections, a log crossing obstacle, and two sections of tight trail. The course would send them out looping back riding the first 80% of the trail in reverse.  450cc sport ATV cross country racer, Evan Hartzel, went first.  Riding the Polaris first, his reaction times were a fraction of a second faster on the Can-Am; combined with snappier clutching, Evan got off the line a little quicker on the Can-Am. Racing through the field section, it seemed the Can-Am was pulling on the Polaris riding through and exiting tighter turns, resulting in a 1.5 second lead for the Outlander exiting the field section, entering the tight chicane.  Exiting the first tight trail, the Can-Am had more than a 2.5 second lead, a lead that grew to almost 4 seconds by the time Evan exited the log section. Exiting the second tight trail section, the Can-Am maintained around a 3.5 second lead. Upon reviewing the footage, we realized that Evan got a little confused on his first return trip on the Polaris forcing us to throw out the second half of his lap leaving the Can-Am with a 3.5 second lead for Evan's cross country race.
Prior to Aaron beginning his race, the East Fork MX crew watered the field section of the track, reducing traction for Aaron and Chad. Aaron had nearly identical reaction with the Can-Am taking a very small lead off the line. Half way through the field section, Aaron started pulling just a bit on the Can-Am with the Polaris tightening it back up to within 1/3 of a second entering the Chicane. By the time he exited the first tight trail section, the Can-Am had a roughly ½ lead, remaining under a second hitting the last log crossing on the first half of the lap. Exiting the second tight trail, Aaron had nearly a full second advantage aboard the Can-Am as he began the second half of his lap. Exiting the logs for the second time, the Polaris had closed to within little more than ½ second, with Aaron appearing to be working a little harder in the logs on the Polaris. The Can-Am maintained its lead exiting the first tight section of trail and the chicane for the second time. As the trail opened back up, the Polaris started making up ground. In the end, the Can-Am took a very scant 16/100 of a second victory over the Polaris.
Daylight was fading fast as Chad took to the track. His reaction time was almost identical on both machines with the snappier Can-Am taking a slight lead off the line. Within a few turns, though, Chad had the Polaris out front, leading by around a half second as he entered the Chicane. By the time Chad exited the first stretch of tight woods, the Can-Am was back out front with around a ¾ lead. Exiting the log section for the first time, the Outlander stretched its lead to 3.5 seconds maintaining just over a 3 second lead exiting the second stretch of tight trail, beginning the race back to the start finish line. Racing back through the logs, Chad had the Sportsman within 1.5 seconds of the Outlander entering the first tight trail section for the final time.  Exiting the Chicane and entering the field, the Can-Am quickly began pulling away, but on a long downhill straight, Chad was able to run down Outlander with the machines running in a virtual tie. A few turns later, Chad crossed the finish line first on the Outlander 1000 by a small 2/10 of a second.
The Polaris seemed to excel in faster turns and on long straightaways despite not being the all-out quickest accelerating of the two machines. Both have more power than you need, but the Polaris' smoother power delivery and longer wheelbase allows you to crack the throttle wide open with less fear that it is going to get away from you. The smoother engine and lower, slimmer ergonomics give you the confidence to hold the gas on a little longer as well as on long straights. Better tires, snappier clutching, and firmer suspension settings could easily put the Polaris on top in this test, and if you're a better rider than your buddy on an Outlander, chances are you'll be faster on the Sportsman.
The Outlander's responsive clutching and incredible low-end power get it moving more quickly. Responsive clutching at any speed or RPM combined with a V twin motor that never feels under load, the Can-Am's flat out rips! It rips so much, in fact, that it can be hard to fully commit to the throttle and keep it pinned down the longest straightaways . With less rider movement available, the Outlander leaves you wondering if you can hang off the ATV enough to save it if you overcook a turn.
When turns start to tighten up, the Outlander's sway bars, firmer suspension, and superior tires really shine, getting you through and out of them more quickly. Quicker steering and a shorter wheelbase allows the Outlander to slip through tight sections a bit more easily, plus its firmer shocks allow you to push harder everywhere.  With the basic shocks found on the Outlander XT, the outcome may have been different. High-end Fox shocks definitely help the Outlander XT-P when riding hard.
The Outlander benefits from a rider with a slightly higher skill set and fitness level. but rewards them with an ATV that's slightly faster on the trail.
Utility Performance and Best Utility
With power limit a non-factor on either of these machines, small details make a big difference when it comes to deciding which machine works harder. Both feature composite racks. The Polaris steel reinforced racks are rated to haul 125lbs front and 240lbs rear. They feature raised, removable tie down points, a claimed 44 tie down points total, and integrated bucket rings on the rear rack. The Can-Am is rated to haul 100lbs front and 200lbs rear with its racks featuring a high-grip, rubberized surface. Both machines' racks are designed to work with their brands' proprietary line of quick attach accessories.
Rubber sealed boxes are found under the racks on both ends of the Polaris, providing a combined six gallons of storage. The Can-Am features 5.7 gallons of storage, located behind and below the rear rack. The Sportsman is rated to tow 1,500 pounds with its 1 ½" hitch receiver. The Outlander is rated to tow 1,650 pounds with its full size, two-inch hitch receiver.
To put the machines to the test, we first stuffed the Polaris storage compartments to capacity then transferred all of the items to the Can-Am to see if they would fit.
We then strapped down 120lbs of concrete to the front racks, 220lbs to the rear racks, and took them for a spin. We also noticed the ends of the Polaris cargo box pulling up a bit if our riders weren't careful with the ratchet straps.
Finally, we attached a trailer to each machine, loaded up the competition, and pulled it around to see how towing capabilities compared. To make things more difficult, we loaded both ATVs on the front of the trailer to maximize torque weight.
Polaris
The Polaris storage boxes were easier to organize, although they can't be accessed with the racks loaded down.  The Sportsman's front storage box starts bowing upwards on the ends when strapping down a heavy load. The racks' surface is also slick, requiring more tie-down pressure. The Sportsman held its own when loaded down, but required us to max out the suspension's preload at both ends to resist bottoming and aid recovery from crushing hits. Handling was predictable; however, there was a bit more body roll on the Polaris than the Can-Am. We feel the Sportsman would benefit from slightly firmer springs when it comes to operating loaded down. The Sportsman's smooth clutching takes a little more throttle to get a heavy load moving, although the throttle proved to be easier to modulate regardless of mode. Suspension on the Sportsman is clearly more affected by a heavier torque weight with a squatting rear end and light front end that pushed a bit. Balancing the load if possible would help, as would softening up the front shocks for a little more weight transfer. Its engine braking drew praise for its ability to help control a heavy load.
The Sportsman scores a bit higher for its higher rack capacity rating, more laid out storage boxes and the engine's ability to more easily control a load while towing under acceleration or braking. However, it fell behind when it came to handling and suspension while loaded even with shock preload maxed out at both ends. Some also felt its engine, while loaded, was a bit too smooth off the bottom. A lack of rigidity on the front rack and their hard slick surface also hurt the Sportsman's rack effectiveness.  Our riders were split with Chad rating the Sportsman slightly ahead of the Can-Am, but overall, it took a pretty close 2nd.
Can-Am
The Can-Am's rear box can be accessed with the racks loaded, but it's harder to organize and couldn't hold quite as many items as the Polaris. We found the Can-Am's racks to offer more places to hook onto and their rubberized surface did better at keeping things from sliding around. The engine feels virtually unaffected while loaded. Stock suspension settings did well despite being overloaded a bit. The stock shock settings and sway bars helped keep body roll under control in turns and on off-cambers. It also did well at resisting bottoming on crushing hits without taking excessive time to recover. While towing, the Outlander's suspension had it riding more level and cornering more accurately. The snappy clutch engagement drew mixed reviews while towing; however, the lighter engine braking made you a bit more dependent on the brakes, which worked fine.
The Outlander takes a small hit in on-board storage, but remains very competitive in towing performance. When you start attaching things to the racks, the Outlander really begins to excel.  It wins in rack loading and effectiveness, engine, handling, and suspension while loaded.  Aaron and Evan both rated the Can-Am slightly better than the Polaris, allowing the Outlander 1000 to win best utility.
| | | |
| --- | --- | --- |
| Utility | Polaris | Can-Am |
| Storage Use and Capacity | 7.67 | 6.67 |
| Total Rack Capacity | 10 | 8.3 |
| Racks Loading and Effectiveness | 6.3 | 8 |
| Engine while Loaded | 7.33 | 8.33 |
| Handling while Loaded | 6.67 | 8.33 |
| Suspension Loaded | 7.33 | 8.67 |
| Towing Performance | 8.33 | 8 |
| Total Score | 7.67 | 8.04 |
The Points Winner
If you haven't been paying close attention, it might sound like a landslide for Can-Am. However, our riders found these machines to be very competitive, yet very unique with a mere 0.24 of a point separating them in the rider ratings.
| | | |
| --- | --- | --- |
| | Polaris | Can-Am |
| Overall Rider Rating | 7.62 | 7.86 |
Of course, when you factor in an added half point each for initial value, drag racing, best utility, and cross country race test wins, the Outlander XT-P appears to have an all-around advantage when pushing the limits of  performance and value giving the Outlander a 2.24 point advantage.
Some of these results would have varied had we used the more softly sprung Outlander XT or if Polaris offered a more sport focused version of the Sportsman.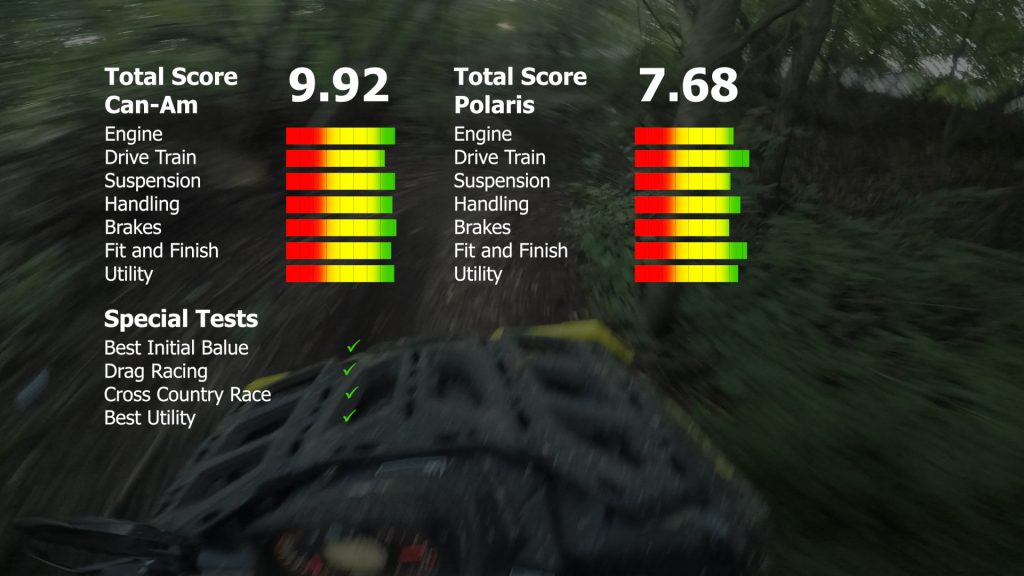 Rider's Choice
A points scale to rate performance is one thing; where you spend your dollars is the ultimate vote. Evan remained outspoken throughout our testing regarding his preference for the Polaris, primarily due to its ergonomics allowing him to get more aggressive on the quad. However, after racing the two machines back to back, the machine with the highest level of all-around performance won out, choosing the Can-Am.
Although Chad owns a Sportsman, he doesn't identify his self-worth based on his ATV of choice, like some of the commenters we'll see on this video. Chad can go nearly as fast on either machine. He also knows that his buddy's Outlander 1000 has needed less maintenance in its first 1000 miles. Still, he likes putting lots of miles at a good clip, which had a large effect on his decision. Chad would stick with the Sportsman preferring its more manageable power, ergonomics, and all-wheel drive system on the Polaris.
As a former pro MX racer, you'd expect Aaron Meyer to go with the sportier outfitted and unarguably slightly quicker Can-Am, but Aaron snapped an axle during our testing while jumping. Plus there were some minor knocking sounds coming from what seemed to be the front sway bar.  Besides Aaron's perceived higher level of durability for the Sportsman, he felt its all around performance made it a machine he could get along better with in the long run for trail riding at speed or just plunking around on the farm getting chores done.
Conclusion
To us, the results of this shootout seem pretty clear cut. The Outlander is a 1000cc ATV that makes no apologies for being overpowered. If you're interested in racing or enjoy pushing the limits of your machine's performance a majority of the time, the Can-Am Outlander 1000 XT-P is a real stand out.
In the end, two of our three riders chose the Polaris as the machine they'd rather own due to its more comfortable ergonomics and controllable engine. This leaves us wondering if the Sportsman 850 would be a good option that's more affordable for those not stuck on the status of having the 1000 sticker on their machine.
You could add clutching, tires, and shocks to the Polaris to close the small performance gap, but not without paying significantly more, while still giving up the Outlander's hand guards, beadlock wheels, and bumpers. However, no amount of money is going to make the Can-Am as comfortable to ride as the Polaris, due to its slimmer ergonomics.
Without equal offerings from both manufacturers, it's impossible for us to pick a winner. However, we hope this shootout has provided enough information and insight to help pick the right machine for you.