Sport Utility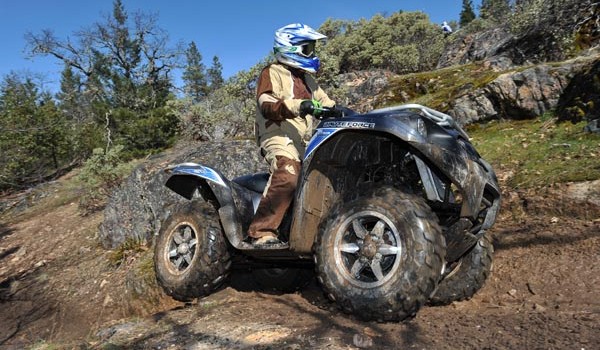 Published on April 1st, 2011 | by Joe
0
2012 Kawasaki Brute Force 750 4×4 I with Power Steering, First Test
We grabbed the hot-looking, Metallic Tungsten Gray special edition model and wasted no time hitting the trail. The Brute Force felt very familiar, yet, undoubtedly refined. The mountainous terrain we rode ranged from wide-open access roads to lots of tight, twisty trails, with the occasional gnarly, rocky section.  Racing up the mountain roads, the Kawasaki's engine feels flawless. Throttle response was crisp and the engine felt eager and willing even at 4000 feet of altitude.
Low-end power is superb, starting off with a powerful surge that builds as fast or slow as you request. Picking your way through tight sections at low speeds, the transmission always feels solidly engaged. Want more power while picking your way up a steep rocky climb? The Brute Force's engine and transmission respond instantly and in perfect harmony.
Big midrange power greets you when you crack the throttle at speed. A willingness to rev and instant throttle response make the 750 a blast to ride aggressively. If you're cruising along at 25 or 30 MPH, and you reach a slight rise in the trail, or come across a water hole you don't want to plow through, lean back and stab the gas. The Brute Force will easily and predictably raise the front wheels.
Despite giving up around 200cc to the largest of the big bores, the lighter, more agile Brute Force feels as though it could hang with larger machines in terms of acceleration up to around 40 or 45 mph. For trail riding, most riders will run out of talent long before the Brute Force run- out of power.
We tried the transmission's low range on a few occasions just to see how it performed. You can crawl up steep climbs with no concern for momentum, as long as there is available traction. The very effective engine braking allows you to crawl down steep decants in low range, without even thinking about the brakes. Low range seemed to allow a decant top speed keeping you from having to constantly switch between ranges while towing or plowing.
At 693 pounds, we believe the Brute Force has the lightest curb weight of any power-steering equipped v-twin. It is a bit lighter than the Can-Am 800 and is around 120 pounds lighter than the Polaris XP 850 or Arctic Cat's 1000 LTD, which is actually a 950. When you ride the other twin cylinder big bores, you feel as though you are long for the ride. The Brute Force feels lighter and more maneuverable. This is due, in part, to its lighter curb weight, lower seat height of 35.8 inches, and well laid-out ergonomics , which aid in control.
We found the steering on the old Brute Force 750 to be a bit stiff. Now, with the advantage of EPS and the other front-end changes, the 750's steering is much lighter, adding to the ATV's overall lighter feeling. Kawasaki's EPS system eases steering effort and reduced bump feedback, while still providing enough feedback that you don't feel disconnected from the trail. Corners strewn with rocks or roots have little effect on your ability to hold a line thanks to the EPS.  On one rocky trail, we ran the left front wheel smack dab into a boulder, without having the bars ripped from our hands. As we switched between two- and four-wheel drive, it was nearly undetectable through the steering. We felt the power steering was well-calibrated for most situations. However, like most systems, we wish it offered a bit more assist while sitting still or crawling along.
With a compact width of 46.5 inches and wheelbase of 50.6 inches, the Brute Force snakes through the trees, steering quickly and precisely. Although its steering is responsive, it's still predictably stable at speed. Thanks to its sway bar, the 750 can either steer or slide its way through most turns. On steep climbs, the Brute Force feels sure-footed and solid; however, we did notice a small amount of front-end body roll on off-camber, downhill turns. Fortunately, it's easy to move around cockpit makes counterbalancing easy. It's worth noting, the Brute Force felt equally comfortable whether we were cruising in the saddle or riding aggressively in the attack position.
Sport-tuned suspension complements the rest of the machine. The shocks feel firm, while still doing a very good job of taking the square edge hit out of rocks and big roots. The shocks work well at slow speeds, crawling over rocks, logs, or whatever. They're also up to some airtime, providing a plush landing from a few feet of air. We noticed a tendency for the rear end to kick at high speeds in whoops on big rolling bumps. Adding a bit of preload to the front end, and/or removing preload from the rear shocks could tame this somewhat and would also help reduce its modest front end dive.
Suspension travel, 6.7 inches front and 7.5 inches rear, along with 9.4 inches of ground clearance, are all between 1 and two inches less than many of its competitors. While it hurts the Brute Force on paper, it results in a machine that rolls less in most corners, and has far less weight transfer under hard acceleration and braking, adding to its lighter, sporty handling.
Separate front and rear brakes offer very good stopping power. The front brakes work well and provide a positive feel at the lever. The sealed rear brake works fine, but trades some feeling at the lever for virtually maintenance free operation.
The wheels look hot and the tires offered pretty consistent performance on the slimy, rock-strewn Oregon trails.
Conclusion
If you're sitting on the fence about buying a new machine, it's time you get off. Days of riding and views like this are made possible by machines like the Brute Force 750.  For 2012, Kawasaki has breathed new life into a proven design. So many details about the Brute Force have been improved upon, most notably its handling. Despite all the improvements, it is still very much the same machine. It doesn't possess the largest displacement engine, but it is much lighter. It's not the smallest, lightest big bore 4×4 on the market either, but it produces a lot more power. Knockout power, reasonably lightweight, and more agile handling makes the 2012 Kawasaki Brute Force 750 4×4 I with power steering, a stand out, light, heavyweight contender capable of hard work or play.
For more information on the 2012 Kawasaki Brute Force 750 4×4 I with Power Steering, log on to www.kawasaki.com
2012 Kawasaki Brute Force 750 4x4
Summary: For 2012, Kawasaki has breathed new life into a proven design. So many details about the Brute Force have been improved upon, most notably its handling.