Sport Utility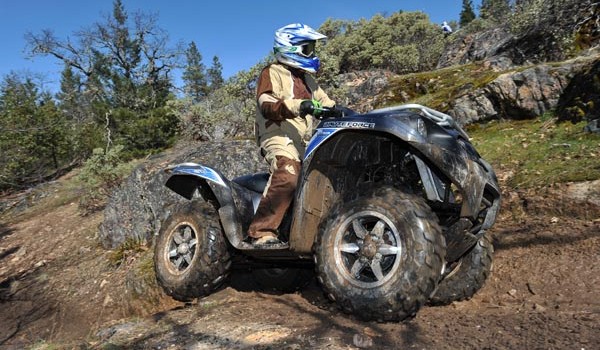 Published on April 1st, 2011 | by Joe
0
2012 Kawasaki Brute Force 750 4×4 I with Power Steering, First Test
Kawasaki started the high performance 4×4 craze back in 2002 when they introduced the Prairie 650. Its powerful v-twin engine started the displacement wars that seem to finally be settling down. The Prairie also featured longer travel, sport-tuned suspension, lighter weight; but, most importantly, it played as hard as it worked.
The updated Prairie lives on today as the Brute Force 650, but no longer resides at the top of Kawasaki's 4×4 lineup. For some time, that job has belonged to the Brute Force 750 4×4 I. The Brute Force 750 is kind of like a light, heavyweight prizefighter, lighter with the speed of a middleweight, possessing knockout power nearly on par with a true heavyweight.
Over the past few years, the competition has grown fiercer. Three other brands now offer twin cylinder models ranging in displacement from 800 to 950cc! Power steering has also changed the way we ride big bore ATVs, a feature not found on a Kawasaki ATV until now.  Kawasaki has updated their proven Brute Force 750, with a large number of subtle and not so subtle changes, like the incorporation of power steering. Overall refinement, with more power and improved handling are all on the ticket for 2012.
Technically Speaking
Power steering is definitely the headliner for the new Brute Force. Kawasaki's EPS ECUuses input from a vehicle speed sensor and torque sensor to determine the amount of steering assist required. The torque sensor senses forces being placed on the steering by the rider and by impacts with trail obstacles. This allows the EPS to act as a steering stabilizer, reducing bump transfer to the handlebars.  The system was set up to offer greatest assistance while stopped or crawling along, reducing aid as speeds increase and less assistance is needed.
The bottom of the steering shaft was relocated so that it no longer directly connects to the front differential. Now, movement of the differential due to changes in throttle no longer affects the steering assembly in 4×4 mode.
Along with adapting the chassis to accept power steering, Kawasaki strengthened and stiffened the frame in a number of areas. The front A-arm mounts, rear sway bar mounts, engine mounts, and footrest mount all received additional reinforcement.
Kawasaki revised the Brute's suspension at both ends. The dual A-arm front end received a new geometry for lighter steering. The A-arms and shocks were revised, mounting the shocks at a more splayed angle. This is claimed to minimize sag thus maintaining more ground clearance with the rider on board. The shocks received new single rate springs, are preload adjustable, and feature 6.7 inches of travel.  Rubber bushings are now used on the front control arms to reduce maintenance.
The rear shocks received new single rate springs as well in an effort to reduce sag and maximize ground clearance with the rider on board. The rear shocks are preload adjustable and control 7.5 inches of travel. The rear sway bar helps minimize body roll, and now features thicker tubing for increased internal stability.
Kawasaki made a number of changes to their fuel injected, water-cooled, 749cc, 90 degree v-twin engine, to enhance performance without adding displacement. The four-valve, single-overhead-cam heads feature a new design raising compression from 8.8 to 9.3:1. New camshaft profiles feature revised timing and increased valve lift. New fuel injection settings were added to complement the other changes, which were aimed at extracting more power and responsiveness throughout the RPM range, with an emphasis on low-end, out-of-the-hole power.  After removing the recoil backup starter a few years back, Kawie changed out the left side engine cover for 2012, narrowing it up a bit.
Additional cooling is provided by a larger radiator and cooling fan. Larger diameter hoses and pipes enhance coolant flow and the radiator is mounted high in the chassis helping protect it from mud and other debris. Other engine updates include a rubber-mounted, stainless steel exhaust; stronger starter gear; a new 33.5 Amp alternator; plus lots of other small details.
The CVT transmission features revised weight and spring settings to enhance acceleration characteristics and improve control at low speeds. CVT's duct layout and placement were revised for better waterproofing. The tranny features both high and low ranges, plus neutral, and reverse. A right-side, handlebar-mounted switch handles selecting between two- and four-wheel drive. While in four-wheel drive, the 750 features a limited-slip front differential to keep steering light. The front differential can be progressively locked with Kawasaki's unique left handlebar-mounted lever.
The Brute Force's styling is all new, yet  very familiar. The body is constructed of a scratch-resistant plastic to help it stay looking good for a long time to come. Larger wheel-well flaps help keep mud out of the engine compartment and revised shielding protects the intake and electrical equipment from the elements.  There is a new storage box in the hood, in addition to a netted storage compartment in the right front fender and water-tight storage box in the left front fender. The racks now feature 25.4mm tubes, which are 25% larger than the old racks, providing greater stiffness. Along with larger tubing, Kawasaki added new anchor points to the racks making it easier to secure tie downs.
Another notable styling change is the Brute Force's six spoke cast aluminum wheels. The old steel wheels looked bland. The new ones look sweet. Mounted on the new wheels are 25×8-12 front and 12×10-12 rear Duro tires.
Updating the cockpit is a new, easier-to-read instrument panel. New half-waffle sport-style grips are designed to help reduce vibration felt through your hands and have safety wire channels built in. The seat features a new cover made of a more stretchy, rubber feeling material that is said to enhance traction and offer better compliance in cold temperatures.
The brakes remain the same for 2012 with dual piston calipers up front and Kawasaki's sealed, oil-bathed,
multi-disc rear brake. Braking assistance is also provided by Kawasaki's electronically controlled engine braking system.
The standard EPS equipped unit is available in Scout Green or Super Black for $9,999. The special-edition model with its metallic tungsten gray color scheme with painted plastic is available for $10,349. A camo version featuring Real Tree APG HD camouflage is available for a bit more at $10,399. Don't need power steering? You can get the Brute Force 750 with all of the updates minus power steering for $700 less than the base model at $9,299.
The Test
To put their power steering equipped Brute Force to the test, Kawasaki hauled us up to a beautiful mountainous trail system belonging to the Motorcycle Riders Association, located just outside of Medford, Oregon.  The day started off on a party bus with a 20-minute drive to our ride site. Unfortunately, our first off-road excursion of the day was when the bus driver of the "night club on wheels" drove it into a ditch!  After taking a few minutes for a photo op, we headed up to Kawasaki's staging area.
2012 Kawasaki Brute Force 750 4x4
Summary: For 2012, Kawasaki has breathed new life into a proven design. So many details about the Brute Force have been improved upon, most notably its handling.