First Looks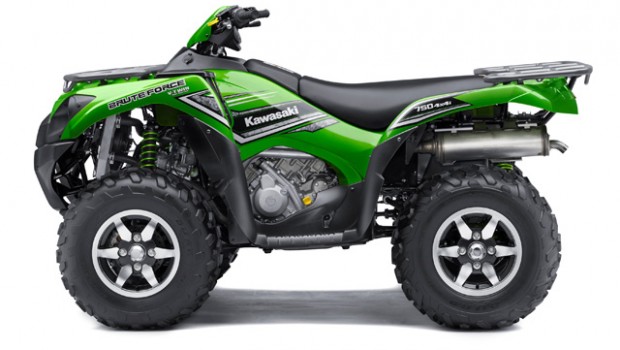 Published on June 3rd, 2015 | by Kawasaki
2016 Kawasaki ATV Lineup First Look
Story by: Kawasaki
The Kawasaki Brute Force® ATV family boasts STRONG features that include Electric Power Steering (750 4x4i EPS and EPS Camo models), either a 749cc V-twin or a 271cc single-cylinder engines and all models are designed to suit a variety of needs and budgets. The Brute Force 750 4x4i models also feature four-wheel drive to help ensure you reach your destination, even in tough conditions, while the price-friendly Brute Force 300 is available in rear-wheel drive only.
All Brute Force ATVs are constructed around a sturdy frame that is built Kawasaki STRONG. Along with dependable engines and proven Kawasaki performance, the Brute Force family is the perfect transportation for a fun weekend ride, a fishing trip or getting around the work site.
KAWASAKI BRUTE FORCE® 750 4x4i EPS & 750 4x4i EPS CAMO
Powered by a fuel injected 749cc V-twin engine, the Brute Force 750 4x4i EPS and EPS Camo can be ridden in either two- or four-wheel drive modes, which are selected at the touch of a button on the handlebar. It also has the benefit of Variable Front Differential Control for the limited-slip front differential, ensuring plenty of traction when it's needed.
Power is transmitted through the Kawasaki Automatic Power-Drive System (KAPS) for the Continuously Variable Transmission (CVT) to ensure smooth power delivery and always the right amount of torque for the task at hand. These models also feature Electric Power Steering (EPS), making it easy to maneuver off-road, and allowing riders to stay in the saddle longer by reducing fatigue.
Equipped with powerful disc brakes and double wishbone independent suspension with 6.7" of wheel travel, the 2016 Kawasaki Brute Force 750 4x4i EPS and EPS Camo are ready for rough or tough conditions.
Not only can they handle the rough stuff, but these Brute Force ATVs look the part thanks to the rugged styling and attractive six-spoke cast aluminum wheels. The vehicle is also equipped with durable cargo racks with integrated tie-down loops.
New for 2016 for the Brute Force 750 4x4i EPS is the inclusion of Bright White and Candy Lime Green, in addition to Super Black. The Brute Force 750 4x4i EPS Camo continues to be offered in Realtree Xtra Green camouflage for outdoorsmen and hunters who want their vehicle to blend into the scenery.
Color:
Brute Force 750 4x4i EPS: Super Black, Bright White, Candy Lime Green
Brute Force 750 4x4i EPS Camo: Realtree Xtra Green
MSRP:
Brute Force 750 4x4i EPS: $9,999
Brute Force 750 4x4i EPS Camo: $10,599
Availability: Now
KAWASAKI BRUTE FORCE® 750 4x4i
The Brute Force 750 4x4i has the same powerful V-twin engine, flexible four-wheel drive system and limited-slip front differential as the 750 4x4i EPS models, although it does not have Electric Power Steering. It also uses the same sturdy frame and rugged bodywork, with the front cargo rack able to carry an identical 88 lb, with a capacity for up to 176 lb on the rear rack. Furthermore, all Brute Force 750 4x4i models are capable of towing up to 1250 lb thanks to an integrated truck-style 2" receiver.
The Brute Force ATV family can be equipped with many Kawasaki Genuine Accessories that include snowplows (not available for the Brute Force 300), underbody protection, storage boxes, a winch and much more.
Color: Timberline Green
MSRP: $8,999
Availability: Now
KAWASAKI BRUTE FORCE® 300
The third and most popular member of the Brute Force ATV family is powered by a capable 271cc single-cylinder, four-stroke engine that is tuned to deliver torque at low RPM for precise maneuvering. It is mated to a continuously variable transmission that provides responsive performance, smooth power transfer and useful engine braking.
Equipped with sturdy front and rear racks, the versatile Brute Force 300 can carry tools, animal feed or hunting gear into the backwoods and beyond. As with the Brute Force 750 4x4i models, the vehicle can also be equipped with a full range of Genuine Kawasaki Accessories.
Color: Super Black, Bright White
MSRP: $4,299
Availability: Now
2016 KAWASAKI KFX® ATV MODEL RANGE
The Kawasaki KFX® ATV family gives younger riders and novices two entry-level models with a number of parental safety features aimed at helping riders safely gain ATV riding experience at lower speeds. These vehicles represent an ideal entry into powersports, and are the perfect stepping stones to the larger off-road vehicles and motorcycles in the Kawasaki range.
KAWASAKI KFX® 90
Younger riders looking to experience the thrill of all-terrain vehicles can ride the KFX90 with its air-cooled 89cc single-cylinder, four-stroke engine that gives them performance to grow into. This is thanks to parental controls that include a keyed ignition to avoid unsupervised starting and a throttle-limiting screw to restrict throttle movement. Once the rider becomes more experienced, a collar in the CVT transmission can be easily removed to increase speed, allowing the KFX90 to grow with the rider.
Other thoughtful features include a wide stance for greater stability, as well as two front drum brakes and a rear disc brake, which are activated by handlebar-mounted brake levers. Convenient electric starting gets the KFX90 fired-up and ready for fun, with a kickstart available as a back up. The KFX90 also has full floorboards for secure foot placement, as well as a tail light so other riders can easily spot the vehicle when it is in use.
Color: Lime Green
MSRP: $2,599
Availability: Now
KAWASAKI KFX® 50
As the baby of Kawasaki's ATV range, the KFX50 is where many young riders get started – with a fun, 49.5cc, air-cooled, single-cylinder, four-stroke engine that delivers smooth power, predictable performance and rock-solid reliability.
The KFX50 has all the features of its big brother, KFX90, including a smooth CVT transmission that allows engine braking in certain situations, electric start, two front drum brakes and a rear disc brake, which are activated by handlebar-mounted brake levers. It has the same keyed ignition, throttle screw and CVT collar to help provide parental control of vehicle usage and performance.
Add its good looks, full floorboards, the wide and stable stance, plus its distinctive Lime Green color scheme, and the KFX50 is a fun, predictable and controllable vehicle that children love to ride.
Like all Kawasaki ATVs, it comes with a 12-month limited factory warranty, which can be extended by up to another 48 months with the optional Kawasaki Protection Plus™ Plan.
Color: Lime Green
MSRP: $1,999
Availability: Now
View full specifications for the entire Kawasaki lineup at www.kawasaki.com/
View our latest Brute Force 750 test video
View our latest Brute Force 300 Test Video