Racing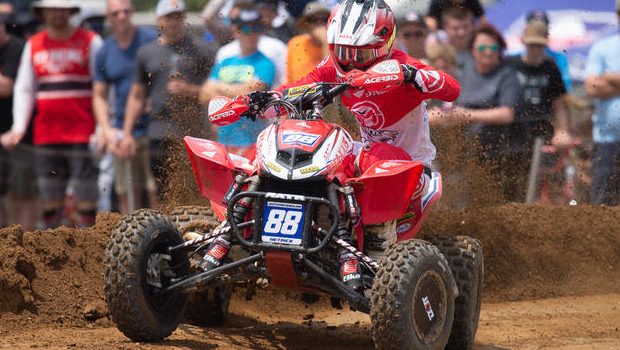 ATV Motocross Nationals Round 4 2019 Race Report
Joel Hetrick Goes 1-1 at Round Four in South Carolina
Chad Wienen Holds Onto Championship Points Lead
HAMER, S.C. (May 13, 2019) – South of the Border MX (SOBMX) in Hamer, South Carolina, set the stage for round four of the AMA Pro 2019 ATV Motocross National Championship (ATVMX) Series, an AMA National Championship. Phoenix Racing Honda/Maxxis Tires/Elka Suspension's Joel Hetrick was determined to get through this round with the win and put the troubles of Ironman behind him. Hetrick accomplished any goal he may have set prior to the event taking both moto wins and claiming both SSi Decals holeshot awards on a track that offered him everything he needed to race out front virtually unchallenged from gate drop to the checkered flag.
Several changes to the SOBMX track offered up increased challenges and with weather not being an issue, temperatures climbed into the mid 80's with plenty of soil drying sunshine combined with a slight breeze that helped. With a very unusual off cambered turn two and several modifications to the jumps, dialing in the track remained a challenge. For Hetrick however it was hard packed and fast which suit his style giving him a blank canvas to hammer out the days win in commanding fashion. While entering the race with a very low pressure attitude, Hetrick seemed to do what he does best and had fun with the dominating performance.
For Wienen Motorsports/Yamaha/Maxxis' and defending champion Chad Wienen, winning was not something that had to be done to keep his points lead intact and after getting off to a mid-pack start in moto one, Wienen would be forced to work his way through the pack. Wienen would find himself having to earn a spot inside the top three, which was not going to come ease, and by the end of moto one Wienen had worked his way into second. Wienen would then have a repeat in moto two after a much less demanding fight for the second place position, giving him a well-earned second overall on the day. From the podium, Chad expressed how he never really felt like he found his groove and he was happy to have been able to finish strong and that he is looking forward to the upcoming rounds to try and put himself back in the center of the podium.
Moto one action was very intense for TBrown84 Training/CST Tires' Thomas Brown as he the track found himself battling hard for second place during the majority of the moto. Brown stated before the moto that he hoped the track would get rougher and possibly slower however that never happened as an incredible high speed battle played out over the SOBMX track. After securing second and expending a ton of energy through the early and mid-portion of the moto, Brown would face a charge by Wienen who was able to get past Brown and run to the checkers pushing Brown back to third. Moto two was another solid effort by Brown who was using every skill set he had to shave time and make up ground. By the end of moto two, he would again be in third which is where he would finish overall on the day, providing the fans two classic Thomas Brown moto's.
Jeff Rastrelli Land Grading/Baldwin Motorsports' Jeffrey Rastrelli came out on fire in the first moto and was setting a blistering pace for himself and Brown, as the pair went bar-to-bar several times fighting for position. Lap after lap of intensive racing took its toll as the energy spent seemed to open the door as Wienen took full advantage and went from fourth to second as he rode past Brown and Rastrelli. The speed Rastrelli showed was impressive and if he can find the endurance to run a full moto at that speed, he should be back on the podium and looking for wins.
GennUSA RACING/CST Tires/Corrosion Specialties' Nicholas Gennusa would claim the fifth position in both moto's after a solid day on a demanding track. Gennusa found himself slugging it out in both moto's as he worked through the field from a mid-pack start. He was having to really push to overtake positions on a track that allowed plenty of speed making passing difficult especially early in the moto's.
AMA Pro Rookies, Corrosion Specialties/Londerville Steel/Maxxis Tires' Brandon Hoag and Nine6Nine/Barker's Exhaust/Walsh Race Craft's Alan Myers finished sixth and seventh overall after a rough day battling throughout each moto. The pair finished 8-6 and 6-8, swapping moto positions and working their way to another top 10 overall finish on the day.
Ford Brothers Racing/Fly/Maxxis' Cody Ford, Koster Racing/Quadified Racing Engines/Walsh Race Craft's Wes Lewis and Phoenix Racing Honda's Haedyn Mickelson rounded out the top 10 overall from round four, South of the Border ATVMX National.
The series heads next to Muddy Creek Raceway in Blountville, Tennessee over the May 25th and 26th weekend. This is another venue that can be super-fast and should provide another weekend of intense racing action as the world's fastest ATV motocross riders go for it all in the beautiful eastern Tennessee countryside.
For more information on the 2019 ATV Motocross National Championship, visit the series official website at www.atvmotocross.com or call (304) 284-0101. Join the conversation on the series social media channels, along with receiving the most up-to-date news and exclusive content.
South of the Border ATVMX National
Hamer, South Carolina
Round 4 of 10
Saturday, May 11
2019 AMA Pro Class Event Results:
Joel Hetrick (1-1)
Chad Wienen (2-2)
Thomas Brown (3-3)
Jeffrey Rastrelli (4-4)
Nicholas Gennusa (5-5)
Brandon Hoag (8-6)
Alan Myers (6-8)
Cody Ford (10-7)
Wes Lewis (9-10)
Haedyn Mickelson (11-9)
Overall National Championship Standings:
Chad Wienen (156)
Thomas Brown (142)
Jeffrey Rastrelli (136)
Joel Hetrick (133)
Nicholas Gennusa (103)
Brandon Hoag (96)
Alan Myers (93)
Westley Wolfe (92)
Haedyn Mickelson (82)
Samuel Rowe (81)
SSi Decals Holeshot Award Standings:
Joel Hetrick (5)
Dylan Tremellen (4)
Thomas Brown (1)
DirtNation.com Top Qualifier Award Standings:
Joel Hetrick (3)
Chad Wienen (1)
About the ATV Motocross National Championship:
The ATV Motocross National Championship, an AMA National Championship, is the nation's premier amateur and professional ATV motocross series, hosted at top motocross facilities nationwide. The 10-round AMA Pro and 8-round amateur series features the Nation's best racers, teams and sponsors, and is America's largest and longest-running ATV national motocross program. Since 1985, the series continues to expand and produce top talent from the amateur ranks, while premiering the professional class. For more information, please visit www.atvmotocross.com.
About the American Motorcyclist Association:
Founded in 1924, the AMA is a not-for-profit member-based association whose mission is to promote the motorcycle lifestyle and protect the future of motorcycling. As the world's largest motorcycling rights and event sanctioning organization, the AMA advocates for riders' interests at all levels of government and sanctions thousands of competition and recreational events every year. The AMA also provides money-saving discounts on products and services for its members. Through the AMA Motorcycle Hall of Fame in Pickerington, Ohio, the AMA honors the heroes and heritage of motorcycling. For more information, visit www.americanmotorcyclist.com. Not a member? Join the AMA today: www.americanmotorcyclist.com/membership/join.