Racing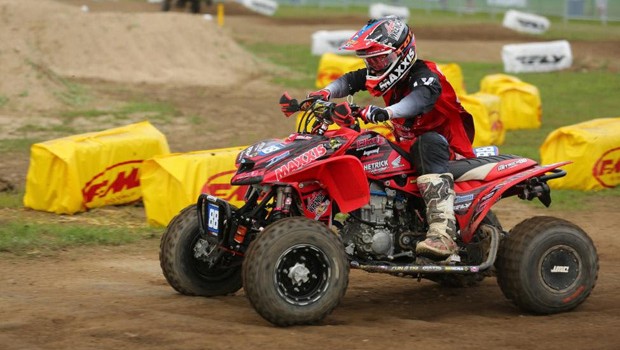 Published on September 12th, 2016 | by Joe
ATV MX Nationals Round 12 2016 Race Report
Hetrick Ends 2016 ATVMX Season Victorious at Edge of Summer MX
Wienen Clinches Fifth Straight National Championship
Photos by: Harlen Foley
MOUNT PLEASANT, Mich. (September 9, 2016) – The 2016 ProX ATV Motocross National Championship (ATVMX) presented by CST Tires, an AMA National Championship, concluded today, September 9, after the twelfth and final round was held at the Soaring Eagle Casino and Resort (SECR) in Mount Pleasant, Michigan. Sunny conditions made for a great day of racing as Wienen Motorsports/Yamaha/Maxxis/SSi Decals/Walsh Racecraft/FLY Racing's Chad Wienen and Maxxis/Liquid Wrench/Elka Suspension/Honda's Joel Hetrick went head-to-head for the coveted National Championship.
With only 16 points separating the pair heading into the season finale, the 2016 National Championship remained anyone's game. The inaugural Edge of Summer MX was full of excitement and anticipation as the riders took to the track this morning for practice and timed qualifying. Wienen set the early pace when he claimed the ATVriders.com Fastest Qualifier Award, proving that he was ready to fight for the title.
Once Moto 1 got underway the four-time defending champion Wienen was nowhere to be found, while Hetrick lead the way into the first turn earning the SSi Decals Holeshot Award. The Honda mounted rider quickly capitalized on the early lead and began pulling a gap on the rest of the field. Hetrick's teammate, David Haagsma, found himself in a favorable position and continued to ride behind Hetrick until he began to feel pressure from JB Racing/Root River Racing/Gold Speed Tires' Jeffrey Rastrelli, who was able to work his way around Haagsma once the race reached its halfway point. Wienen was busy pushing through the competition until approaching Rastrelli who spent the latter half of the moto fending off Wienen. Hetrick would see the checked flag first, followed by Rastrelli and Wienen.
As the gate dropped signifying the last moto of the 2016 season, Hetrick repeated his success in the first moto and once again came out with the early lead to grab the SSi Decals Holeshot Award, but this time he was accompanied by Wienen. As the 20-minute moto wore on Hetrick would begin to start pulling away, while Wienen rode a comfortable race in second. Rastrelli secured the third place position early on and continued to ride the rest of the moto virtually unchallenged. Hetrick would end up crossing the line victorious and took home his eighth overall win of the season.
Wienen's 3-2 moto tally scored him second overall, but most importantly his fifth straight National Championship. With 52 straight overall podiums and 30 overall wins within the last five years, Wienen has proven that he is a force to be reckoned with. Consistency has remained a fixture in Wienen's success and he continues to set records in ATV Motocross.
Maxxis/Root River Racing/JB Racing's Thomas Brown returned after missing the past three rounds due to injury. Brown put in a more than impressive ride to not only come from behind and finish fourth in the second moto, but also to place fourth overall (5-4), right behind Rastrelli who rounded out the overall podium in third (2-3).
Haagmsa would retrieve fifth overall (4-5) after he got untangled with Brown in the second moto. Savage Motorsports/Maxxis/Walsh Racecraft/Elka Suspension/BCS Performance's Ronnie Higgerson followed in sixth overall (7-6) with AGX Designs/Walsh Racecraft/Maxxis-back Nick Gennusa behind him in seventh (6-8). SSR/FTR/Maxxis/Corrosion Specialties' Wes Lewis had his season best finish in eighth (9-7) and class rookies Parker Wewerka and Cole Sepesi rounded out the top ten overall at the Edge of Summer MX.
For more information on the 2016 ProX ATV Motocross National Championship, visit the official series website at www.atvmotocross.com. Join the conversation on the series Facebook page, follow on Twitter and Instagram, and be sure to always hashtag #ATVMX.
Edge of Summer MX
Mount Pleasant, Michigan
Round 12 of 12
Friday, September 9
2016 AMA Pro Class Event Results:
Joel Hetrick (1-1)
Chad Wienen (3-2)
Jeffrey Rastrelli (2-3)
Thomas Brown (5-4)
David Haagsma (4-5)
Ronnie Higgerson (7-6)
Nick Gennusa (6-8)
Wes Lewis (9-7)
Parker Wewerka (8-13)
Cole Sepesi (11-11)
Overall National Championship Standings:
Chad Wienen (532)
Joel Hetrick (524)
Jeffrey Rastrelli (379)
David Haagsma (351)
Nick Gennusa (333)
Josh Upperman (324)
John Natalie (307)
Ronnie Higgerson (276)
Thomas Brown (249)
Brett Musick (220)
SSi Decals Holeshot Award Standings:
Joel Hetrick (13)
Chad Wienen (10)
John Natalie (7)
David Haagsma (3)
Brett Musick (3)
Jeffrey Rastrelli (1)
ATVriders.com Top Qualifier Award Standings:
Joel Hetrick (6)
Chad Wienen (6)
About the ProX ATV Motocross National Championship
The ProX ATV Motocross National Championship presented by CST Tires, an AMA National Championship, is the nation's premier amateur and professional ATV motocross series, hosted at top motocross facilities nationwide. The 12-round series features the Nation's best racers, teams and sponsors, and is America's largest and longest-running ATV national motocross program. Since 1985, the series continues to expand and produce top talent from the amateur ranks, while premiering the professional class. For more information, please visit www.atvmotocross.com.
About ProX
Whether on the track, in the woods or on the street, riders trust OEM quality engine components from ProX Racing Parts. Specializing in high quality components for powersports applications, all parts are manufactured to highest quality standards at state of the art manufacturing facilities around the world. As the industry evolves, so does ProX. By stocking over 9,000 part numbers and with so many products continually being added, you won't go anywhere else! For more information please visit www.pro-x.com.