Racing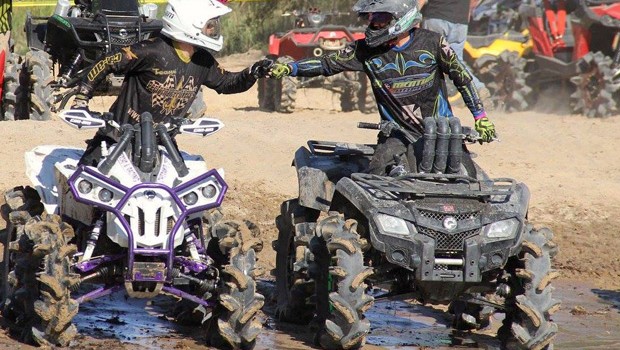 Published on October 27th, 2015 | by Joe
0
Can-Am ATV Mud Racers Win Four CMR Titles
alcourt, Québec, Oct. 23, 2015 – Can-Am ATV mud racers won four Championship Mud Racing (CMR) titles and had four runner-up finishes after wrapping up their season Oct. 10, 2015, at River Run ATV Park in Jacksonville, Texas.
"Our Can-Am mud racers did outstanding at the Championship Mud Racing finals and ended up with four season championships," said Jeff Leclerc, Racing Project Leader, Can-Am. "Can-Am, a pioneer in the mud racing segment, continues to innovate and expand its already industry-leading lineup of factory-built mud vehicles. These competitive results not only reinforce that message, but also serve as a reminder that dedicated mud enthusiasts choose, and win on, Can-Am."
Robert Parker won two class titles on his Team Momentum Racing-prepped Can-Am ATVs. The Outlander ATV racer easily won the Super Modified (Open) division, notching four straight wins to start the year and two other podiums on his way to amassing 820 points for the title. With five victories, Parker also took home the Pro B class aboard his TMR Outlander MAX. Finishing in the runner-up spots in those classes were Renegade racer Seth Russell (Super Modified) and Casey McGinnis (Pro B) on his 2014 Outlander X mr 1000.
Russell (Russell Racing / Can-Am) captured a CMR title of his own in the Pro A ranks, which allows V-Twin powered ATVs with a wheelbase of less than 53 inches. In one of the closest battles of the year, Russell, on his Outlander ATV outran fellow Can-Am pilot Jace Cheramie (Team Performance Powersports / Cheramie Racing & Offroad) for the championship. Russell, with two wins and four podiums, tallied 710 points to the 690-point total earned by Cheramie, who also had two victories and three other podiums on the year. S3 Racing / Can-Am Outlander racer Nick Burnham finished third overall.
Team Gorilla Axle powered by Can-Am racer Julia McGinnis won the CMR Women's class aboard her Can-Am Outlander X mr 1000. She won five of seven rounds and made the podium at every event, winning by 120 points. Her teammate, Caroline Russell, notched one win, four second-place runs and six total podiums on her Renegade 4×4 to earn second.
Photos by CMR, Jenny Bordelon, Julia McGinnis and Team Performance Powersports
About BRP
BRP (TSX:DOO) is a global leader in the design, development, manufacturing, distribution and marketing of powersports vehicles and propulsion systems. Its portfolio includes Ski-Doo and Lynx snowmobiles, Sea-Doo watercraft, Can-Am all-terrain and side-by-side vehicles, Can-Am Spyder roadsters, Evinrude and Rotax marine propulsion systems as well as Rotax engines for karts, motorcycles and recreational aircraft. BRP supports its line of products with a dedicated parts, accessories and clothing business. With annual sales of over CA$3.5 billion from 107 countries, the Company employs approximately 7,600 people worldwide.
Ski-Doo, Lynx, Sea-Doo, Evinrude, Rotax, Can-Am, Spyder, E-TEC, G2, Maverick, Renegade and the BRP logo are trademarks of Bombardier Recreational Products Inc. or its affiliates. All other trademarks are the property of their respective owners.