First Looks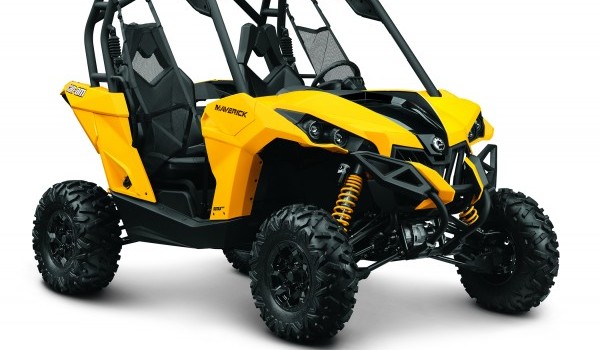 Published on September 17th, 2012 | by Joe
0
Can-Am Unveils Maverick 1000R, Side by Side Family
Introducing the Can-Am Maverick 1000R, 1000R RS, and 1000R MAX!
Story By: Can-Am
The new-from-the-ground-up Can-Am® Maverick™1000R is built to offer industry-leading performance, precision-engineered handling and a driver-focused design unlike any sport side-by-side vehicle to date. The innovative Maverick 1000Rnot only offers the most powerful engine within the industry, but also leads its class in torque, acceleration and power-toweight ratio. The Maverick side by side's muscular setup is complimented by a unique, sport-tuned front-and-rear suspension,a rigid frame with a centralized mid-engine layout and advanced ergonomics that make it stand out in a crowd. Andthe Maverick is sure to please the most dedicated hardcore off-road sport enthusiasts with its unmatched and aggressive styling and its rider-friendly cockpit, both of which unquestionably reflect the Can-Am brand.
Powering the Maverick 1000R family of side-by-side vehicles is a proven Rotax® 1000R V-Twin powerplant that isunrivaled in the side-by-side vehicle market. The 101-horsepower engine rests in a sport-tuned frame that is designedespecially for the Maverick. The steel frame was engineered in way that it offers supreme traction, athletic agility and confidence-inspiring handling, while at the same time offering improved rigidity versus the competition.
A revolutionary and compact Torsional Trailing A-arms (TTA) independent rear suspension improves traction while also reducing unsprung weight and eliminating bump steer for extremely predictable handling. A strategically designed exteriorgives the Maverick side-by-side vehicle its own look, while the innovative and purpose-built performance package reward owners with unmatched comfort, convenience and safety. The Maverick side by side is made for recreational enjoyment,but also caters to true adventurists with its mulit-function rear rack with LinQ system compatibility.
Maverick 1000R Family Highlights
Industry-leading Performane
» 101-hp Rotax 1000R V-Twin engine
» High-flow dynamics
» Intelligent Throttle Control (iTC™)
» Dual exhaust
» Continuously Variable Transmission (CVT) with Zylon†-reinforced belt
» 10-gallon (37.8 L) fuel tank
Precision-Engineered Handling
» Double A-arm front suspension
» Torsional Trailing A-Arms (TTA) independent rear suspension
» FOX Podium X† Performance 2.0 piggyback shocks
» Mid-engine layout
» High frame rigidity
» 13 in. (33cm) of ground clearance
» Front and rear dual 214mm ventilated disc brakes
» 12-inch center-less cast-aluminum wheels
» 27-inch (68.6cm) Maxxis Bighorn† 2.0 tires
» Visco-Lok front differential
Driver-Focused Design
» Driver and passenger advanced ergonomics
» Premium fit and finish
» Optimal seating position
» Removable free-standing seats
» Adjustable driver seat and tilt steering
» Passenger handhold and grab bar
» 2-inch (51mm) diameter, high-strength steel, ROPS-approved cage
» Quick-attach side nets
» 3-point seatbelts with anti-cinch
» High-strength, multipurpose rear rack with LinQ quick-attach accessory system
» 31.6 liters of cockpit storage
» Dual cup holders
» Multi-function digital gauge
» Digitally Encoded Security System (D.E.S.S.) anti-theft system, with 2 different keys
» 240-watt lighting
» 625-watt magneto
» Easy-to-use maintenance center
» Yellow plastic (base)
can-am Maverick 1000R X RS Package
Outfitted with graphics, premium shocks, beadlock wheels and other custom features, the Maverick 1000R X rs will satisfy the appetite of any high-performance side-by-side enthusiast. Starting with the base Maverick 1000R, the X rs Package goes above and beyond the call of duty by offering the most highly advanced side-by-side piggyback shocks ever found on a stock side by side. Throw in dynamic racing-inspired graphics, lightweight 12-inch (30.5cm) aluminum beadlock wheels and other specialty add-ons and the 1000R X rs is as pleasing on the eye as it is on the trail.
FOX Podium X Performance RC2.5 piggyback shocks
Developed in collaboration with FOX, the high-grade FOX shocks make their first appearance on a factory-built side-by-side vehicle. The re-buildable shocks sit at all four corners and are fully adjustable for Dual-Speed Compression and rebound. The 2.5 Podium shocks offer a high-volume 6-inch piggyback oil reservoir and specially formulated oil for improved flow
and heat dissipation. Proven technologies such as upper and lower spherical bearing mounts, velocity-sensitive damping control and a high-flow piston, optimize performance in varying terrain. They are designed to be extremely durable with a hard-anodized 2.5-inch aluminum body, forged aluminum piggyback body cap and a 5/8-inch(16mm) hard chrome-plated,
heat-treated shaft. To maintain supreme control, the FOX shocks' extension velocity after compression can be fine-tuned to optimize vehicle control.
12-inch Aluminum Beadlock Wheels

The Maverick 100R X rs has12-inch aluminum center-less, computer-optimized true beadlock wheels. This mechanical fastener makes it nearly impossible for the tire to break its bead from the wheel during heavy acceleration or cornering.
Analog / Digital Gauge
The gauge on the Maverick 1000R X rs has an upgraded gauge over the standard model. Featuring state-of-the-art instrumentation with an analog tachometer and speedometer combined with an advanced digital information center.
Custom Steering Wheel
The three-spoke steering wheel is outfitted with molded grips and a brushed aluminum centerpiece to add to the Can-Am side-by-side's performance looks.
X-package seat trim and graphics
The Maverick 1000R X rs has its own seat design and colors to match its exclusive configuration. Stitched with the X Package logo and highlighted with white and yellow highlights, the seats on the Maverick look like they were taken right out of a race car. The Can-Am Maverick 1000R X
features a premium X-Package design with a nod to off-road racing. The Can-Am X-Team-inspired Can-Am black-and-yellow plastic with new white highlights produces a performance-oriented finish that's bound to turn a few heads.
Can-Am Maverick 1000R X rs Package Includes:
» FOX Podium X Performance RC2.5 piggyback shocks
» 12-inch aluminum beadlock wheels
» Analog / digital gauge
» Custom steering wheel
» X-package seat trim and graphics
2014 Can-Am Maverick MAX 1000R
The 2014 Maverick MAX 1000R is an all-new four-seat side-by-side from Can-Am designed to raise both the performance and comfort levels of the modern multi-passenger off-road vehicle. The MAX configuration includes all the same class leading performance (101-horsepower), handling and ergonomic influences of the two-seat Maverick 1000R, as well as the industry-exclusive Can-Am design elements, however, the four-seat vehicle receives its own specialized engineering to accommodate multiple passengers. The MAX platform will be available in both a standard model and the X rs performance package, which includes FOX Podium X Performance RC 2.5 Piggyback Shocks, beadlock wheels, graphics and more.
Maverick MAX 1000R
Can-Am Maverick MAX 1000R ADDS:
» 29.5-inch(75 cm) longer wheelbase than the standard Maverick
» Ergonomics design for rear passengers comfort
» Stadium-style rear seats
Can-Am Maverick MAX 1000R Family
Features and Benefits
29.5-inch(75 cm) Longer Wheelbase
With 29.5-inch(75cm) longer wheelbase over the standard Maverick, the interior space of the rear cab was built to offer both comfortable and spacious seating area for two full-sized adults. The Maverick MAX has a total wheelbase measurement of 113.8 inches(289cm), also contributing to a more comfortable ride. Offers more room than other four-seater sport side-by-side — 6.4 in.(16.3cm) more than the Polaris RZR XP-4 900.
Ergonomics design for rear passengers comfort
The rear seats feature the same ergonomics as the front passenger seat, in terms of both lumbar and shoulder support as well and the overall seat design. The rear passenger area also includes a total of four handholds for the rear passengers. There is a grip bar on the center console for each passenger as well as an additional grab bar near the cage. The spacious rear section was also configured to improve the entry and exit of the vehicle. Full-length, easy-clip side nets can be opened with one hand and offer a clear line of sight for the rear passengers.
Maverick MAX 1000R
Stadium-style Rear Seats
Raised 3.5 inches(9cm) higher than the front seats, the rear passenger seating features stadium-style positioning for increasing passengers visibility while riding. This design element not only improves the rear passenger's sight lines, but also helps create a more interactive environment.
Availability
The Maverick MAX 1000R will be available summer 2013.