Vintage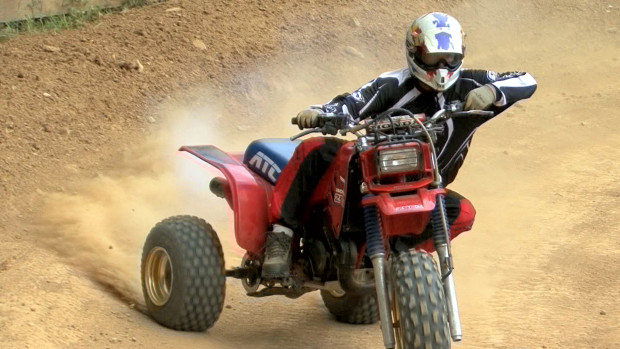 Published on March 12th, 2014 | by Joe
0
Classic Test, 1985-1986 Honda ATC250R, with VIDEO
The machine that revolutionized a sport and changed a nation.
Throughout history, perhaps no other vehicle was surrounded with the fun, freedom, controversy, and tragedy of the long departed three-wheelers. To the sport of ATV riding and racing, the 1985-1986 Honda ATC250R represented five years of rapidly improving performance and design in a sport that was still in its infancy. For our nation, it's symbolic of cultural shift from rugged individualism, to a culture of individuals unwilling to accept responsibility for their personal decisions and actions.
The Evolution
1981-1982
When Honda released the 1981 ATC250R, it was the first and only pure performance ATV produced by a major manufacturer. The 81-82's specifications seem lacking by today's standards, but were unrivaled at the time. Until the release of the 250R, ATC110s and 185s were primarily the ATV racing weapons of choice.
The 248cc air-cooled two-stroke was fed by a small 27mm slide valve carburetor. The transmission was a manual clutch five-speed.
The 81 ATC250R was the first fully suspended three-wheeler, with 6.7 inches of travel up front and 4.3 inches of travel out back. Extra cushion was provided by the high flotation, 22in. knobby tires. Its wheelbase was 47.1 inches long with a narrow 42.3-inch width, which allowed the machine to negotiate the dirt bike dominated world it lived in.
1982 was a year of minor updates for the R with the addition of a rear hydraulic disc brake and drilled rotors at both ends. It also received a new headlight design and engine shutoff switch.
Honda was the first major manufacturer to jump into factory sponsored ATV racing. Their first appearances date back to late 1980 and 81 at certain outdoor races in southern California and at select Supercars' events. Honda's racing debut of the ATC250R was at the 1981 Baja 1000, where Honda promptly began their winning ways. Dean Sundahl, Mark Wexaldorpher, Mike Chester, and Curtis Sparks were Honda's first generation stars.
1983-1984
Along with all new styling for 1983, Honda worked hard to close the performance gap between the 250R's two-stroke engine and its handling. Along with a brand new chassis, suspension travel was increased to 8.7 inches up front and 8.1 inches out back. The new rear suspension was the first to benefit from Honda's Pro-link rear linkage and a compression and rebound adjustable shock. The 83's wheelbase was extended to 49.6 to improve high-speed stability, and a narrower 8-inch wide front tire improved steering accuracy. The engine was pepped up a bit as well with a new head pipe and an increase in carburetor size to 30mm, resulting in a claimed 25hp. Other improvements included a larger front disc brake, larger fuel tank, and folding foot pegs. For 1984, Honda performed only minor updates to the ATC250R.
83-84 Honda racers included Mike Coe, Steve Wright, Tommy Gian, Mickey Dunlap, and Marty Hart. With the machines getting better, the sport grew with more local and amateur national competitors getting involved.
With the release of the 1984 Tecate 3, Kawasaki became the second manufacturer to jump into ATV racing with racers Jimmy White, Donny Loose, and Chris White.Team green went head-to-head with Honda at motocross and TT races across the United States.
1985-1986
Honda released the third generation ATC250R in 1985, which was bigger, wider, faster, had better suspension, and was, most notably, water cooled. Looking back, Team Honda racing legend, Mickey Dunlap, told us, "Honda always led in performance, but if you weren't riding an ATC250R in 1985, you were struggling to compete."
While there were some work parts available to the factory Honda three-wheeler racers, they primarily raced built production machines, like today's top pros. The 1985 250R was the ultimate platform for building a race winning machine for top level national competitors, and it's out of the box performance was nearly all that was needed to win races locally.
Factory three-wheeler racing was going strong in 1985. Honda's factory team was streamlined a bit this year with Marty Hart and Mike Coe headlining their 250cc efforts, dominating the racing scene as Honda had each previous season. With the launch of the new 1985 Tri-Z 250,Yamaha became the third major manufacturer to sponsor factory ATV race team with Traci Dixon, Brit Drisco, and Dean Sundhal. Yamaha primarily focused on desert racing, making select appearances at TT and Motocross events.
1985 brought about the ATC250R's most fears on track rival, the Suzuki QuadRacer LT250R. While they were two different types of machines, they were both classified as ATVs and sometimes found themselves racing together.The four-wheeled configuration of the Quad Racer made it far more stable and predictable entering corners, on rough sections, and practically any time you weren't hard on the gas. The Honda ATC250R enjoyed a better engine, lighter weight, and better suspension action than the LT250. Still, to compete against the new QuadRacer, ATC pilots had to ride harder and take bigger risks.
Honda jumped into the high-performance four-wheeled segment in 1986 with the iconic TRX250R. Despite the new four-wheelers hitting the market, 1986 was a big year for three-wheeler fans. Kawasaki released a brand new Tecate 3. The new Tecate had a fast motor that could outrun the Honda at high RPMs; midrange power was greatly improved, but low-end was lacking. The new Tecate's suspension was improved but still too soft, and it didn't handle as well as the Honda. Honda racers needed a little motor work to make their ATCs as fast as the Tecates for TT style tracks. However, the more rough the track, the more it favored Honda.
A number of refinements were made to the 1986 ATC250R. Rather than trying to make the ATC as fast as the Tecate, Honda focused on improving handling and ergonomics, raising the R's level of refinement over the competition. 1986 was the last production year for the ATC250R. With the disappearance of the Tri-Z after 1986 and the Tecate virtually unchanged in its final year of production in 1987, racing history; magazine tests; and the test of time have proven the 1985-1986 Honda ATC250R to be the greatest high-performance three-wheeler ever mass produced, and a Classic we knew we had to put to the test.
)
The Test
To put the legendary machine to the test, we needed a good running 250R in nearly stock condition, and a rider willing to push the old machine to its limits. We found both with Rob Ray, and his 1986 Honda ATC250R. The machine was bone stock, with the exception of a set of stock size Kenda Scorpion tires, which date back to the 3-wheeler era, and a set of Maier plastic. The entire machine was in tight, good running order. We rode the machine at Haspin Acres in Laurel Indiana, home of Trikefest, the largest annual gathering of three-wheeled enthusiasts in the country, if not the world. Haspin's tracks were dry and hard packed, perfect for sliding around on a three-wheeler. We also raced the machine at Earlywine Indoor Motocross In Maysville, Kentucky for additional track time.
Along with a totally redesigned chassis and suspension, the engine was brand new and water-cooled in 1985. The all-new cylinder, head, and piston combo featured 8.0:1 compression ratio, compared to 6.7:1 on the 84 model. Along with a new head pipe, the carburetor was increased in size from 30 to 34mm. The transmission went from a five-speed to a six-speed gearbox, and the engine was claimed to produce an astounding 40% more horsepower than its 1984 predecessor. Then, in 1986, the 34mm carburetor went from a round slide to an oval slide design for better throttle response.
The 250R's stock motor is fast enough to get around a motocross at a good clip, and is nearly perfect for the trail, as two-strokes go. Low-end power is surprisingly good, with enough grunt to lug its way up steep hills, or pull you out of corners a gear high. With almost four-stroke like low-end, the 250R's motor is very forgiving of mistakes, and its smooth shifting six-speed gearbox seems well spaced with an ideal gear for any situation.
Sliding is the fastest way to corner a three-wheeler. The R's midrange power rushes in with a strong surge that makes breaking the rear tires loose easy. There's enough power to get you out of corners in a hurry on the feather weight machine, and most riders will run out of talent before the engine runs out of power for big jumps.While riding a three-wheeler fast might require more guts, skill, and determination, the R's power-to-weight ratio gives it acceleration that quads of the time couldn't touch.
The engine is most effective through the upper midrange. The engine doesn't seem to fall flat on its face on top, but keeping the power in the broad midrange is the fastest way around the track. A good exhaust, jetting, and air box lid removal will awaken the top-end.
The 250R's chassis grew in every way in 1985. The wheelbase was stretched 1.4 inches to 51 inches; it was widened 1.8 inches to 44.1 inches. Seat height went up one inch to 29.9 inches, and suspension travel was increased 1.1 inches up front and 1.7 inches out back, with 9.8inches of travel at both ends–– an impressive amount of suspension travel by modern ATV standards. The rear shock was fully adjustable and thei 39mm forks were 4mm larger than the 84's In 1986, the forks went to a single spring design to allow more oil capacity.
To further improve handling, 85 utilized smaller tires all the way around. The 23×8-11 front was ½ inch smaller, while the 20×10-9 rears were two inches smaller. They enjoyed a lower profile design and a new tread pattern. The new gas tank was designed to carry fuel lower. Both it and the smaller tires worked to lower the machine's center of gravity. The 85 received an adjustable width rear axle for different track conditions. Unfortunately, it wasn't wide enough for motocross racing even at that time. In spite of all of the improvements, Honda managed to strip 2.2 pounds off the machine in 85 with a dry weight of 291.1 pounds.
In 1986, the head angle was changed from 21 to 21.5 degrees, its wheelbase was stretched .4 inches to 51.4 inches, and its width was increased 1.4 inches to 45.5 inches, all for a minor improvement in stability. Still, Honda managed to take another couple pounds off the R, reducing its dry weight to 289 pounds.
The 85-86 ATC250R handles as predictably as can be expected from a stock three-wheeler, thanks to its third generation chassis and suspension, which is surprisingly good by today's standards. The R is light and nimble feeling whether you're pitching it into a corner, making a mid-flight correction, or floating the front-end through whoops. Ample engine power and good weight balance make the 250R feel predictable and consistent launching into the air. Raising the front end for wheelies is easy, yet you can surprisingly tackle some steep inclines on the trail.
Despite steering a bit slower than the 85, the 86 250R's responsive steering and snappy, broad powerband make breaking the rear tires loose and pitching the back end out for slides a simple, repeatable task. A wider aftermarket axle is necessary to get the most out of the R on a motocross track and was a common mod back in the day.The stock axle is adjustable but only wide enough for trail use, letting you choose between two levels of instability. Straight-line, high-speed stability is good for a three-wheeler, where its trail width lets you more easily pick your way through uneven bumps. Of course, all of the machine's good handling traits are dependent on your ability to ride a three-wheeler well. If you try and ride as fast as you do on a quad or dirt bike without sufficient practice, expect to wind up on your head in a hurry.
Quads hit twice as many bumps as dirt bikes. Three-wheelers hit 33% more bumps than quads. Impacting more bumps with less stability, suspension is essential to the handling of a three-wheeler. Our 250R's recently freshened up suspension held its own on the track and provided a supple ride on the trail.
Both ends felt fluid absorbing sharp, square-edged impacts with rocks and trail debris. Hammering the rollers on Haspin's big track, the nearly 10 inches of travel at both ends did a good job soaking up the hits and recovering quickly enough to keep the suspension from pacing up and kicking. You can go surprisingly big on a modern motocross track without bottoming hard, as long as you nail the downside of the jumps.There is enough bottoming resistance for lighter, or beginner to intermediate level riders, but heavier or expert level riders will need stiffer springs, especially on a modern track. The forks reach their limits a little easier than the rear shock; however, suspension action is well balanced overall. The setup seemed to be a little more plush than on a modern machine, sacrificing a little big-hit resistance in order to gain control and go faster everywhere else on the track. We can see how trail riders and motocross guys alike loved this suspension back in the mid 80s.
The brakes received dual piston calipers at both ends in 1985. In 1986, the rear brake holder's design was improved. At the time, the brakes were top notch, and in spite of the aged stock brake hoses, they deliver good stopping power to this day. They do a good job of slowing you for corners, or bringing you to a halt in a hurry. Be careful, though. Using too much brake and too many bumps are what made three-wheelers famous with lawyers.
After a complete ergonomic makeover in 1985, Honda added .8 inches to the seat height in 1986, raising it to 30.7 inches. The foot pegs are considerably narrower, less comfortable, and feel less secure than today's pegs.The relationship between the bars, seat, and foot pegs seem best suited to riders under 6 feet tall. You sit very low on the machine, which helps for sliding around TT tracks, but it makes getting in and out of the saddle more difficult on the trail or on a rough motocross track. Leg strength and good hip flexibility are required to ride the ATC aggressively.
Conclusion
With the onset of the 1986 racing season, race team budgets were being diverted to legal teams to fight the mounting number of lawsuits and increasing legal pressure from the CPSC.
Four-wheeled ATVs may have very well replaced three-wheelers, simply due to their more stable, predictable nature. But, unfortunately, mounting pressure from the U.S. Department of Justice led to the Consent Decree of 1988, where ATV manufacturers agreed to stop producing and selling three-wheelers to help alleviate government pressure on the sale of four-wheeled ATVs.
Today, the 1985-1986 Honda ATC250R continues to dominate its vintage rivals on trails, in the dunes, and at a growing number of racing events around the country. The sheer number of these machines still around today is a testament to its build quality.
After three decades of aftermarket two-stroke technology and suspension development, it may be possible to build an ATC250R today that would rival Marty Hart's factory Honda race machine from the 80s.
If you want the most capable vintage racer for the track, to recapture your youth on the trail, or would like to own one of the most historically impactful machines of all time, the 1985-1986 Honda ATC250R is a classic machine worth picking up and restoring.
1986 Honda ATC250R
Summary: If you want the most capable vintage racer for the track, to recapture your youth on the trail, or would like to own one of the most historically impactful machines of all time, the 1985-1986 Honda ATC250R is a classic machine worth picking up and restoring.
4.2
Modern Performance Rating