Riding Gear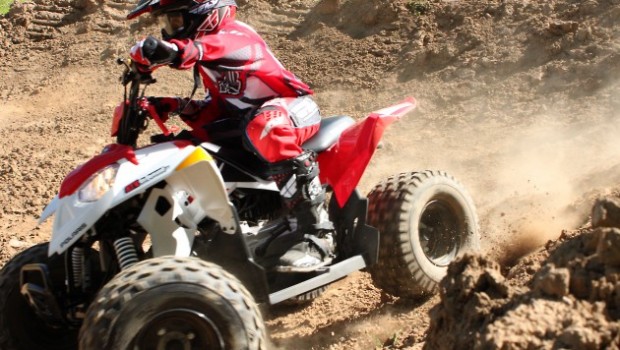 Published on June 14th, 2012 | by Joe
0
Fly Racing Maverik MX Boots Test
The most talked about boots we've used to date.
We've taken Fly Racing's Maverik boots out on several shoots with youth test rider, Ethan Wingate. Sure, people where we tested wanted to know about the Polaris Outlaw 90 and RZR 170 he was riding, but what surprised us, was how many people commented on his Fly Racing, Maverik boots. Drawing so many comments, we thought these boots deserved a more in-depth look.
Construction.
Fly Racing's Maverik boots come in adult sizes featuring a four-buckle enclosure, youth sizes with three-buckle closures, and mini sizes (for the little guys and gals) with two-buckle closures.  They are available in Black, Vapor, or Arsenal styles, depending on the size you need.
The boots are primarily constructed of leather. Fly's 3D Shin Protection features molded plastic designed to be comfortable and boost impact protection. Flexible plastic inner panels are designed to protect your ankles and boots from the elements, while keeping you close to the bike. A grooved, textured, molded plastic panel on the top of the foot area boosts protection and is designed to aid in shifting proficiency. Leather heat shields guard against engine heat and won't melt.   The sole features an internal steel shank laminated into the length of the sole providing the rigid strength needed to deal with the high impact and stress of hard off-road riding. Should you wear the soles out, they can be replaced by a boot or shoe repair shop, allowing you to maintain the use of your comfy, broke in boots.
The boot's inner lining is soft and offers a good amount of padding. A soft gator wraps around your calf at the top of the boot, helping keep dirt and water out. Fly's adjustable quick lock buckles are designed to provide a solid locked-in feel, while their open design keeps dirt from hindering their function.
The Test
We have been using the Fly's eye catching Arsenal style, Maverik boots, whose graphics feature bombs of all sizes, skulls, gas masks, United States Air Force airplane wing insignias, peace signs, explosions, and lots of other fun, aggressive stuff. Older dudes dug them, although their positive comments came with disclaimers like, "What kind of boots are those? Man, those look cool. I mean, I wouldn't wear them, but I bet kids love them."  Riding is about getting aggressive and having fun; the design of these boots does a good job of expressing both.
The boots' performance was impressive as well. They are comfortable, even when new, with no annoying pressure points. While new, they are a bit lacking in freedom of movement, compared to some manufacturers' high dollar models. We expect they will limber up a bit as they break in. We loved the ease of use provided by the buckle system. Ethan was able to close them easily, without the difficulty often found on other, more commonly used closures. We will need more time to see how they hold up, but their function is ideal for any rider who wants to keep suiting up drama free.
Conclusion
We continue to be impressed with the amount of features and refinement Fly Racing builds into their products. If you want a more conservative look, with the same features, the Black or Vapor models, may better suit your taste. At $109, Fly Racing's Arsenal style, Maverik boots offer function and style that help them stand out in a crowd of low-priced, look-alike riding boots.
Manufacturer: Fly Racing
Product: Maverik, Arsenal Boots
Price: $109.95
Fly Racing Maverik MX Boots
Summary: At $109, Fly Racing's Arsenal style, Maverik boots offer function and style that help them stand out in a crowd of low-priced, look-alike riding boots.