Racing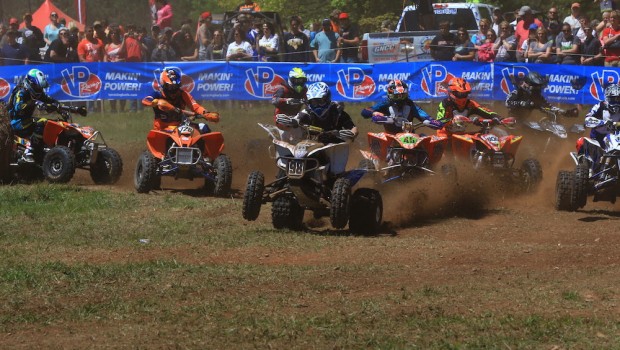 GBC Motorsports Racers Pickens, Blinkiewicz and Taylor Bring Home Wins at Big Buck GNCC
Anaheim, Calif. – April 21, 2016 – More than 1400 racers converged on Big Buck Ranch in Union, South Carolina for Round 4 of the 2016 Grand National Cross Country Series. Greeted by perfect temperatures and prime track conditions, the team of GBC Motorsports racers put in impressive rides to earn a handful of class wins and podium finishes.
Landon Wolfe continues to impress in his first season as a GBC-supported athlete. Despite being under the weather in the days leading up to the race, Wolfe dug deep to earn an 8th place finish amongst the world's best racers in the XC1 Pro class. Johnny Gallagher continued his streak of top 10 finishes with a 10th place at Big Buck.
The XC2 Pro-Am class is proving to be one of the most exciting battles on the track week in and week out, and Round 4 was no different. Kevin Yoho used the grip of his XC-Racer tires to launch off the line quickly and was out at the front of the pack within a few miles. Yoho would lead the race all the way to the final moments before ultimately finishing in 2nd. Marty Christofferson was also in the battle for the win during the final lap and was able to secure a spot on the podium with his 3rd place finish.
Jeff Pickens earned his second Vet A class win despite a first lap mishap that sent him to the back of the pack. Cory Blinkiewicz grabbed the top spot in the Vet B class after narrowly missing a win at Round 3.
Adding to the class win tally for GBC racers, Richard Taylor put in a stellar ride to top the Masters 50+ class. Three wins on the season have Taylor comfortably in the lead in the points standings.
Ronald Varndell continues to stretch his 4×4 A/B class points lead with a solid 2nd place finish in South Carolina. Bryan Filicky has been working hard on and off the machine and it paid off with a 2nd place finish in the Junior B class.
The GNCC returns to action April 30-May 1 for the inaugural Camp Coker Bullet in South Carolina. Learn more about GBC Motorsports ATV and UTV tires at www.GBCMotorsports.com, and follow us on Facebook, Instagram and Twitter for the latest updates.