Racing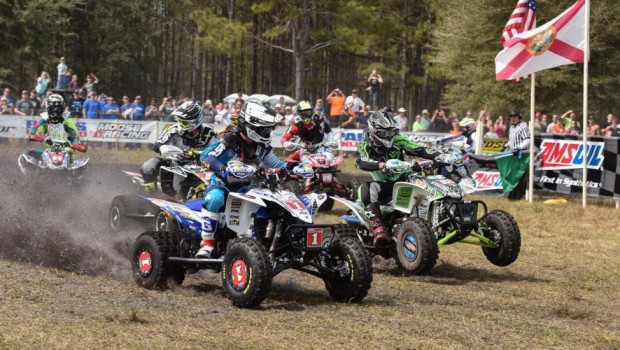 GNCC Round 1 Race Report
Fowler Picks Up Where He Left Off by Claiming Overall Victory at Moose Racing Wild Boar GNCC Today
Covert Wins XC2 Pro-Am Division
Photos By: Ken Hill
MORGANTOWN, W.Va. (March 5, 2016) – The 2016 AMSOIL Grand National Cross Country Series (GNCC) presented by Maxxis, an AMA National Championship, kicked of the 2016 season today, March 5, at the Moose Racing Wild Boar GNCC. Following a four month off-season, it was not long before N-Fab/AmPro Yamaha/Maxxis/Lonestar/MXP's Walker Fowler returned to his winning ways.
Fowler jumped out to an early lead grabbing the $250 Wiseco XC1 ATV Holeshot Award. As the XC1 Pro class headed into the woods it looked as if the new season was setting up to be a repeat of 2015. CST/LSR/Induction Solutions/DeRisi/SG/Tire Blocks-backed Adam McGill was right on Fowler's back fender as they took to the Florida woods.
"When we got through the first turn and I saw McGill beside me I was just thinking we were going to pick up right where we left off," said Fowler. "Once I saw that Neal was behind me I tried to keep just enough of a gap so that he wouldn't see the exact lines I was taking. Neal kept me honest, but it feels good to take the early points lead."
Fowler would end up leading every lap of the race with Coastal Racing/MSR/Maxxis' Brycen Neal behind him in second. Throughout the entire race there was a consistent 20 second gap between the two where Neal would eventually earn the silver.
"This off-season was a learning experience," said Neal. "Everything started clicking this past month and today really proved that I can be a championship contender."
Off the start, six-time GNCC National Champion Chris Borich had issues getting off the line, where he was forced to make his way through the pack on the opening lap. Borich and McGill battled throughout the middle of the race, but Borich would eventually pass McGill and take the last podium position.
"I was hoping to get a good start, but my bike didn't fire up and I was pretty much dead last," said Borich. "After we got in the woods it was a struggle, but as the race continued I started feeling better and was able to work my way to third."
JMR/ATVriders.com's Jarrod McClure was able to sneak his way past McGill on the last lap where he crossed the checkers in fourth with McGill right on his tail in fifth.
BNR/Moose Racing/Maxxis-backed Josh Merritt came in an impressive sixth, followed by GBC/HMF/FLY Racing/Yamaha's Johnny Gallagher in eighth, N-Fab/AmPro Yamaha's Cole Richardson in ninth and Show Hauler/Canyon Motorsports/GBC-backed Landon Wolfe rounded out the top ten overall.
Higer Suspension/Waynesburg Yamaha/FLY Racing/Moto-Xperts/Spider Graphics' Greg Covert recently made the switch to XC2 Pro-Am where he quickly adjusted to the ultracompetitive class. The New York native had to work quickly to pass Ye Olde Cycle Barn/Walsh/Hetrick Racing's Westley Wolfe who led the first lap. As the race wore on the track became rough and rutted, Wolfe slipped back to second but was able to hold on to second as he crossed the finish line. Independent Cycles/Shockworx Motorsports/Variom's Matthew Lindle finished the race in third.
"All my off-season training paid off," said Covert. "Getting my first win feels great and I can't think my team enough for working so hard to get me here."
Fast Traxx/Spider Graphics/MTM/Pierce Performance's Levi Coen took home the $100 All Balls Racing XC2 Pro-Am Holeshot Award, but unfortunately suffered some issues on the first lap and ultimately finished 14th in the XC2 Pro-Am class.
Ithaca Recreation Sports/Maxxis/Seat Concepts/Quad Tech's Hunter Hart not only won the College A (16-21) division, but also finished 13th overall where he was named the top amateur.
The ATV Youth racers officially kicked off the 2016 season with their 8 a.m. race. At the end of the hour it was Georgia's Dylan Walraven in first, Yamaha rider Joey Ocel in second and New York native Mikey Nickels in third.
Team UXC Racing's Michael Swift's hard work paid off during the offseason where he found himself sporting gold on the podium following the two-hour 10 a.m. race. His teammate, Kevin Trantham, followed in second and Indiana native Kevin Cunningham rounded out the top three 4×4 Pros.
Schoolboy Sr. (14-17) competitor, John Glauda Jr., rode an excellent race where he not only won his class but also finished third overall. His impressive finish earned him the $125 GT Thunder ATV Amateur Overall Award.
New York's Kara Frederick found herself on the top spot of the box in the WXC class followed by Honda rider Kamren Bobb and West Virginia native Tori Fryer.
The 2016 AMSOIL GNCC Series resumes next weekend, March 12 and 13, at the brand-new Maxxis Cannonball GNCC in Sparta, Georgia.
For more information on the series, visit the official website at www.gnccracing.comor call (304) 284-0084. Join the conversation on the series Facebook page, follow us on Twitter and Instagram, and be sure to always hashtag #GNCCLIVE.
Moose Racing Wild Boar GNCC
Palatka, Florida
Round 1 of 13
Saturday, March 5
XC1 Event Results:
Walker Fowler (YAM)
Brycen Neal (YAM)
Chris Borich (SUZ)
Jarrod McClure (HON)
Adam McGill (HON)
Josh Merritt (YAM)
Johnny Gallagher (YAM)
Cole Richardson (YAM)
Landon Wolfe (HON)
Jay Shadron (YAM)
*Overall National Championship Standings:
Walker Fowler (30)
Brycen Neal (25)
Chris Borich (21)
Jarrod McClure (18)
Adam McGill (16)
Josh Merritt (15)
Greg Covert (14)
Johnny Gallagher (13)
Cole Richardson (12)
Landon Wolfe (11)
*Indicates that the Overall National Championship Standings will determine the 2016 National Champion.
XC2 Event Results:
Greg Covert (YAM)
Westley Wolfe (SUZ)
Matthew Lindle (HON)
Marty Christofferson (HON)
Michael Lancaster (HON)
Cody Collier (YAM)
Dwight Pollard (HON)
James Green (HON)
Rylan Johnson (HON)
Randy Hamilton (HON)
XC2 Series Standings:
Greg Covert (20)
Westley Wolfe (19)
Matthew Lindle (18)
Marty Christofferson (17)
Michael Lancaster (16)
Cody Collier (15)
Dwight Pollard (14)
James Green (13)
Ryland Johnson (12)
Randy Hamilton (11)
About GNCC Racing
The AMSOIL Grand National Cross Country Series presented by Maxxis is America's premier off-road racing series. Founded in 1975, the 13-round championship is produced exclusively by Racer Productions. Cross-country racing is one of the most physically demanding sports in the world. The grueling three-hour GNCC races lead as many as 2,000 riders through tracks ranging in length from eight to 12 miles. With varied terrain, including hills, woods, mud, dirt, rocks and motocross sections, GNCC events are tests of both survival and speed. The series draws talent from all over the U.S., Europe, Japan, Australia and New Zealand. GNCC Racing is televised weekly on NBC Sports and RacerTV.com. For more information, please visit www.gnccracing.com.