Racing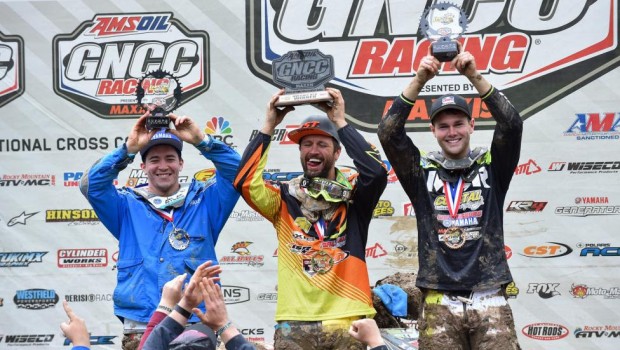 Published on May 16th, 2016 | by Joe
GNCC Round 6 2016 Race Report
McGill Makes It Three-In-A-Row with Limestone 100 GNCC Overall Win
Fowler and Neal Round Out Overall Podium
Photos by: Ken Hill
MORGANTOWN, W.Va (May 14, 2016) – The sixth round of the 2016 AMSOIL Grand National Cross Country (GNCC) Series presented by Maxxis, an AMA National Championship, took place today, May 14, with the Limestone 100 GNCC in Springville, Indiana. With an abundance of rain taking place prior to the race, the track conditions were muddy creating the ultimate GNCC event. After battling the rough and rugged circumstances it was CST/LSR/Induction Solutions/DeRisi/SG/Tire Blocks' Adam McGill who would cross the finish line first after making a last turn pass for the overall win.
Once the green flag waved for the 1 p.m. Pro race it was N-Fab/Maxxis/AmPro Yamaha/Lonestar/MXP's Walker Fowler who jumped out to the early lead earning himself the $250 Wiseco XC1 Holeshot Award. However, Maxxis/Fly Racing/HMF/Ye Olde Cycle Barn/Suzuki's Chris Borich was right on his rear tires.
Coastal Racing/MSR/Maxxis-backed Brycen Neal would suffer from a dead last start, but worked his way into third by the time they entered the woods. As they checked through timing and scoring for the first time, Fowler continued to hold the lead with his teammate Cole Richardson following in second and Borich in third.
Fowler would continue to lead throughout the second lap, but would quickly begin to feel the pressure from Borich. While the battle for the lead was shaping up, McGill was busy working his way up from a ninth place start. By the second lap McGill found himself in the mix for the lead with Fowler and Borich. As the race wore on, Borich would finally work his way around the defending champion Fowler as he lead the pack.
"I was riding really cautious with the track conditions," said Fowler. "The whole race you just had to pick a section and go fast to avoid getting stuck. There were lappers everywhere with lines going all over the place. It was a game of picking and choosing, but luck was on my side and it all paid off today."
Once the white flag came out, the entire XC1 field stepped up their game. With multiple lead changes between Fowler, Borich and McGill the racing action was nothing short of exciting. Neal was sitting just a few seconds behind in fourth. As the top three came through the pro pits for the last time it would be Borich and McGill battling it out for the top spot with Fowler right behind them. Borich would end up heading into a turn too fast and clipping the berm, ultimately flipping him off the quad. McGill saw the open rut and capitalized on Borich's mistake taking the inside line and the overall win.
"I didn't actually lead the race until the last lap," said McGill. "I just had to ride a smart race and my bike setup was just perfect from the tires to the motor. Once Chris' back end picked up I saw the inside line and just drove it through for the win."
While Borich was busy getting back on the quad, Fowler and Neal would end up passing him to take the remaining two spots on the podium. By the time Borich recovered he would cross the line in fourth.
"There was a three way battle on the last lap, and I was able to grab the lead around the five mile marker," said Borich. "I figured I would be able to keep it from there, but right before the finish I drove it right into the berm and basically flipped the quad and went from first to fourth."
JMR/ATVriders.com/DWT's Jarrod McClure crossed the line in fifth with Richardson following in sixth. GBC/HMF/FLY Racing/Yamaha's Johnny Gallagher had one of his best finishes thus far with eighth overall, and Show Hauler/Canyon Motorsports/GBC's Landon Wolfe finished just behind him in ninth overall.
In the XC2 Pro Lites division, Pierce Performance's Cody Collier put in an impressive ride coming from eighteenth on the first lap to take the win. The Ohio native also finished inside the top ten overall with seventh. West Virginia's James Green had his season best finish in second, with Hygear Suspension/Waynesburg Yamaha/FLY Racing/Moto-Xperts/Spider Graphix's Greg Covert taking the last podium position in third. Dillinger's Celtic Pub & Eatery/GBC Motorsports/Moose Racing's Marty Christofferson and ITP/Ye Olde Cycle Barn/Walsh Racecraft's Westley Wolfe rounding out the top five in fourth and fifth. Pierce Performance/Waynesburg Yamaha/Greg's ATV's Bryson Hoppes took home sixth but also the $100 All Balls Racing XC2 Pro-Am Holeshot Award.
Vet A (28+) class champion Dustin Hendershot took home the Top Amateur honors with his fourteenth overall finish.
The 10 a.m. race was dominated by the 4×4 Pro class where Phillip's Racing Jordan Phillips took home his second class win of the season and first overall win. BNR Motorsports/Can-Am's Robert Smith made his first podium appearance of the season in second and Team UXC Racing's Kevin Trantham followed in third.
The Overall Amateur was awarded to Pennsylvania native Robbie Pecorari who took home an extra $125 courtesy of GT Thunder. Pecorari took home the class win in 4×4 A/B and ninth overall.
In the WXC division, Teixeira Tech/Kahart Racing/Yamaha's Kylie Ahart was the fastest lady on the track earning her first WXC win of the season. Ahart was followed by New York native Katelyn Osburn in second and Houser Racing/Maxxis/Ye Olde Cycle Barn's Kara Frederick in third.
The 8 a.m. youth race took to the Indiana woods to begin the day. Wilson Racing's Tim Sroka made it three-in-a-row claiming the overall win. Indiana native Daulton Keyes and Yamaha rider Haden Nicholson rounded out the overall podium.
The 1 p.m. race race was broadcast LIVE in their entirety on RacerTV.com and can be viewed as archived video online by visiting the GNCC LIVE page online.
The 2016 AMSOIL Grand National Cross Country Series resumes May 28 and 29 with the Wiseco John Penton GNCC to be held at the popular Sunday Creek Raceway in Millfield, Ohio.
For more information on the series, visit the official website at www.gnccracing.comor call (304) 284-0084. Join the conversation on the series Facebook page, follow us on Twitter and Instagram, and be sure to always hashtag #GNCCLIVE.
Limestone 100 GNCC
Springville, Indiana
Round 6 of 13
Saturday, May 14
XC1 Pro Event Results:
Adam McGill (HON)
Walker Fowler (YAM)
Brycen Neal (YAM)
Chris Borich (SUZ)
Jarrod McClure (HON)
Cole Richardson (YAM)
Johnny Gallagher (YAM)
Landon Wolfe (HON)
Tucker Wyatt (HON)
Jay Shadron (YAM)
*Overall National Championship Standings:
Walker Fowler (156)
Adam McGill (149)
Brycen Neal (129)
Chris Borich (118)
Jarrod McClure (89)
Cole Richardson (86)
Landon Wolfe (77)
Josh Merritt (66)
Greg Covert (63)
Johnny Gallagher (55)
*Indicates that the Overall National Championship Standings will determine the 2016 National Champion.
XC2 Pro-Am Event Results:
Cody Collier (YAM)
James Green (HON)
Greg Covert (YAM)
Marty Christofferson (HON)
Westley Wolfe (SUZ)
Bryson Hoppes (YAM)
Kenny Shick (YAM)
Wes Kinsley (SUZ)
Michael Lancaster (HON)
Dwight Pollard (HON)
XC2 Pro-Am Series Standings:
Greg Covert (137)
Marty Christofferson (119)
Westley Wolfe (117)
Cody Collier (96)
Randy Hamilton (94)
James Green (94)
Bryson Hoppes (81)
Matthew Lindle (80)
Kevin Yoho (58)
Dwight Pollard (53)
About GNCC Racing
The AMSOIL Grand National Cross Country Series presented by Maxxis is America's premier off-road racing series. Founded in 1975, the 13-round championship is produced exclusively by Racer Productions. Cross-country racing is one of the most physically demanding sports in the world. The grueling three-hour GNCC races lead as many as 2,000 riders through tracks ranging in length from eight to 12 miles. With varied terrain, including hills, woods, mud, dirt, rocks and motocross sections, GNCC events are tests of both survival and speed. The series draws talent from all over the U.S., Europe, Japan, Australia and New Zealand. GNCC Racing is televised weekly on NBC Sports and RacerTV.com. For more information, please visit www.gnccracing.com.