First Looks
Published on June 9th, 2019 | by Honda
0
Honda Updated 2020 ATV Lineup First Look: WITH VIDEO
Honda Unveils Updated 2020 ATV Lineup
More power, utility and convenience for America's favorite ATV family
MIDLOTHIAN, Texas (June 3, 2019) – During Power Lab 2019, Honda's powersports dealer experiential event held south of Dallas at TexPlex Park, Honda unveiled its 2020 ATV lineup, which includes important updates to the FourTrax® Foreman®, Foreman Rubicon and Rancher® multipurpose models. Additional multipurpose models making a return are the Recon® and Rincon®, while the TRX®250X and TRX90X sport models also return for 2020.
Made in Timmonsville, South Carolina, Honda's ATV lineup is the industry's most popular, offering models that are ready for hard work and serious play, and that are so user-friendly that riders won't want to climb off. For 2020, the Foreman, Rubicon and Rancher all get an improved reverse lever, making the process of changing directions easier than ever. In addition, all three now come with racks that readily accept Honda's new Pro-Connect line of modular cargo accessories. And significantly, the Foreman and Rubicon both get larger engines for increased power.
"Honda's history in the ATV market is unmatched, thanks in part to a consistently strong lineup of capable, versatile models," said Chris Cox, American Honda's Manager of Experiential Marketing/Public Relations. "For 2020, we're excited to offer significant improvements to our three most important models, which now perform better than ever."
FourTrax Foreman Rubicon
For 2020, Honda's extremely popular, do-it-all 500-class FourTrax Foreman Rubicon benefits from more of the very qualities that have long made this model such a popular choice with customers. All Rubicon models still come standard with Independent Rear Suspension (IRS) for exceptional traction and comfort, and they now get a 43cc displacement increase to 518cc, adding power where it's used most, in the low- and middle-rpm ranges. On non-manual models, engaging the reverse gear is now a simple operation accomplished electronically via a single lever that fits a wide range of hand sizes and can be operated easily and quickly, without the need to engage neutral. Four Rubicon models are offered, three of which come with a high-tech Dual Clutch Transmission (DCT), and those three now feature manual-shift override capability so that riders can command gear changes at will, even in automatic mode—enabling use of engine braking for situations like corner entry and descents. (Automatic mode takes over again a few seconds after manual inputs.) The Rubicon models' front and rear cargo racks now have expanded planar surfaces for more carrying options, and they integrate with Honda's new Pro-Connect line of modular accessories. Off-road-legal in all 50 states, all Rubicon models get a new front grill, as well as an updated 50-watt LED assist headlight and a 1.9-liter front utility box that can be accessed from the rider cockpit when stopped.
FourTrax Foreman 4×4
The real workhorse in Honda's multipurpose ATV lineup, the FourTrax Foreman 4×4 is ready to tackle any job—now more than ever thanks to a displacement increase to 518cc that delivers stronger acceleration and improved towing performance. All three Foreman models have swingarm rear suspension that keeps weight low and provides a great, unsprung platform for a tow hitch. For 2020, they have the same new assist light, front utility box, and front and rear Pro-Connect-compatible racks as the Rubicon, and the flagship Foreman 4×4 ES EPS gets the new, simpler reverse lever, which is particularly welcome for jobs like plowing that involve frequent transitions between forward and reverse motion.
FourTrax Rancher
No ATV is offered in more variations than Honda's FourTrax Rancher, and no ATV has been sold in greater numbers. With no fewer than eight different models offering myriad combinations of transmission (automatic DCT, Electric Shift ProgramTM and manual), rear suspension (swingarm and independent dual arm) and steering types—plus two- and four-wheel drive—the 420cc Rancher family packs maneuverability and muscle into a tough ATV that is ready for any activity. All Ranchers receive the new Pro-Connect-compatible racks and front utility box, and the two automatic transmission types (DCT and ESP®) get the improved reverse lever and manual-override capability.
FourTrax Rincon
Powered by a liquid-cooled, fuel-injected 675cc single-cylinder engine, the FourTrax Rincon is Honda's largest-displacement ATV. Noted for the plush ride delivered by its Independent Rear Suspension, the Rincon is also capable of hard work. The engine is mounted longitudinally to align the crankshaft with the vehicle's direction of travel for more direct connection with the rear axle, and an automatic three-speed transmission with hydraulic torque converter is standard.
FourTrax Recon
Even Honda's smallest multi-purpose ATV is up to the big jobs. The air-cooled, overhead-valve 229cc engine brings legendary reliability and user-friendly power delivery. Combine that with a lightweight and supremely nimble chassis and you've got a great-handling, fun, hardworking, machine. Transmission options include manual foot shifting or Honda's ESP handlebar-mounted push-button gear selector.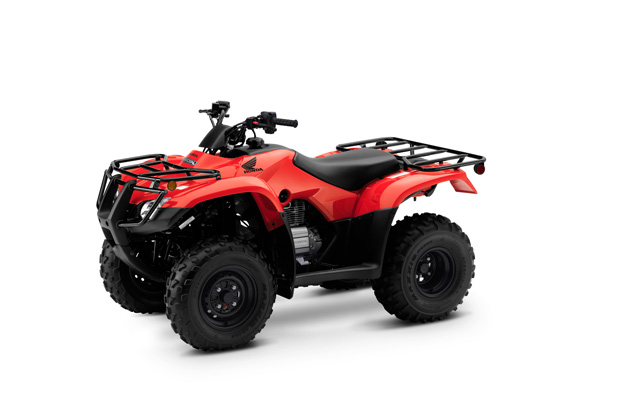 TRX250X
When enjoyment is on the agenda, sign up Honda's friendly, fun TRX250X and see where the trail leads. This popular sport model's longitudinally mounted, air-cooled overhead-valve 229cc engine helps to keep vehicle weight low for nimble handling, and the SportClutch™ boasts the best of both worlds—anti-stall technology but with manual-override capability. Independent double-wishbone front suspension and a rear swingarm keep things smooth during spirited riding.
TRX90X
The ideal choice for getting young riders started on a lifetime appreciation of the great outdoors, Honda's dependable, fun TRX90X sport ATV is great for learning riding skills while having a ball. The 86cc single-overhead-cam engine possesses enough torque to keep up with the bigger ATVs on family rides yet has Honda's trademark user-friendly power delivery. Best of all, Honda quality means the TRX90X can bring multiple generations of new riders into the sport.
###
ABOUT AMERICAN HONDA
American Honda Motor Co., Inc., is the sole distributor of Honda motorcycles, scooters, ATVs and Side-by-Sides in the U.S. American Honda's Powersports Division conducts the sales, marketing and operational activities for these products through independent authorized Honda retail dealers. For more information on Honda products, go to powersports.honda.com.