Racing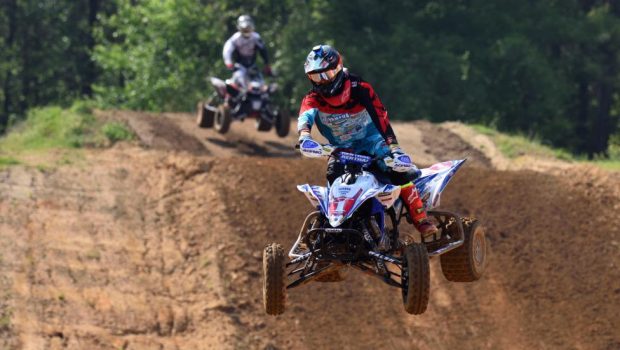 Motocross Nationals Round 3 2017 Race Report
Chad Wienen Earns His Third Consecutive Win at
The Monster Mountain ATVMX National
Wienen Maintains Points Lead After Third Round
TALLASSEE, Ala. (April 16, 2017) – Hot and humid weather conditions returned for the third round of the Wiseco ATV Motocross National Championship (ATVMX) presented by CST Tires, an AMA National Championship. Wienen Motorsports/SSi Decals/Walsh Racecraft/Yamaha/Maxxis/7240's Chad Wienen would walk away with the overall win after going 2-1 at the famed Monster Mountain MX Park in Tallassee, Alabama.
GennUSA Racing's Nick Gennusa kicked off the day setting the fastest lap time in the first session, but it would ultimately be Maxxis/Elka/Liquid Wrench/Honda's Joel Hetrick who earned the ATVriders.com Top Qualifier Award at the conclusion of the second qualifying heat.
Hetrick kept the momentum rolling into the first moto gate drop, where he claimed the SSi Decals Holeshot award. Just as previous rounds, Wienen was upfront as well, where he was able to apply the pressure to Hetrick. With the front runners engaged in their own battle, much of the focus was turned the next four riders after Root River Racing/CST Tires/Pro Motorsports' Thomas Brown who rode in third.
Root River Racing's Josh Upperman, Gennusa, Savage Motorsports/Maxxis/Walsh Racecraft/Elka Suspension/BCS Performance's Ronnie Higgerson and JB Racing/Root River Racing's Jeffrey Rastrelli were engaged in a four-way battle. As the race wore on Rastrelli charged through the pack one-by-one in an attempt to score a podium finish, but would have to settle for fourth at the conclusion of the race. Wienen, Hetrick and Brown filled the Moto 1 podium. Rastrelli would finish just off the podium in fourth, with Higgerson and Upperman following in fifth and sixth.
345 Motorsports' Cole Sepesi jumped out to the early lead in Moto Two grabbing his first ever SSi Decals Holeshot Award. Sepesi's quick work helped him avoid a first turn pile-up that took Root River Racing's Dylan Tremellen and Londerville Steel/Janssen Motorsports-backed Cody Janssen as victims. Hetrick would also face some bad luck and go down on the first lap.
After placing second in the first moto, Wienen was on charge and moved to the lead position by the conclusion of the first lap. With a clear track, the five-time champion continued to build a lead while Rastrelli and Gennusa kept him in check. Gennusa trailed Rastrelli until the mid-way point of the race, where he was able to make the pass.
Gennusa continued to gain on Wienen, but would still lack four second as the checkered flag came out. Wienen improved his first moto finish, taking the top spot on the box in Moto 2. Gennusa and Rastrelli rounded out the second moto podium Higgerson rode a consistent race for fourth, and Hetrick recovered from his crash to finish fifth.
With a pair of 2-1 moto finishes Wienen took home the Monster Mountain National win, followed by Hetrick (1-5) and Rastrelli (4-3). Gennusa's stand-out ride in the second moto placed him just off the overall podium in fourth, with Brown finishing behind him with another impressive ride for fifth overall (3-6).
Higgerson continued his success going 5-4 for sixth overall. Walsh Racecraft/Honda's Parker Wewerka followed in seventh overall (8-7,) with Upperman behind him in eighth (6-10). Ford Brother's Racing's Westley Wolfe (9-8) and Koster Racing's Brett Musick (10-9) rounded out the top ten overall.
The ATVMX circuit travels north in two weeks, April 29, for the ATV Stampede at High Point Raceway in Mt. Morris, Pennsylvania.
For more information on the 2017 Wiseco ATV Motocross National Championship, visit the official series website at www.atvmotocross.com. Join the conversation on the series Facebook page, follow on Twitter and Instagram, and be sure to always hashtag #ATVMX.
Monster Mountain MX Park
Tallassee, Alabama
Round 3 of 12
Saturday, April 15
2017 AMA Pro Class Event Results:
Chad Wienen (2-1)
Joel Hetrick (1-5)
Jeffrey Rastrelli (4-3)
Nick Gennusa (7-2)
Thomas Brown (3-6)
Ronnie Higgerson (5-4)
Parker Wewerka (8-7)
Josh Upperman (6-10)
Westley Wolfe (9-8)
Brett Musick (10-9)
Overall National Championship Standings:
Chad Wienen (119)
Joel Hetrick (104)
Thomas Brown (97)
Nick Gennusa (88)
Jeffrey Rastrelli (82)
Ronnie Higgerson (77)
Josh Upperman (71)
Parker Wewerka (68)
Westley Wolfe (53)
Brett Musick (48)
SSi Decals Holeshot Award Standings:
Joel Hetrick (4)
Cole Sepesi (2)
Chad Wienen (1)
ATVriders.com Top Qualifier Award Standings:
Joel Hetrick (2)
Chad Wienen (1)
About the Wiseco ATV Motocross National Championship
The Wiseco ATV Motocross National Championship presented by CST Tires, an AMA National Championship, is the nation's premier amateur and professional ATV motocross series, hosted at top motocross facilities nationwide. The 11-round series features the Nation's best racers, teams and sponsors, and is America's largest and longest-running ATV national motocross program. Since 1985, the series continues to expand and produce top talent from the amateur ranks, while premiering the professional class. For more information, please visit www.atvmotocross.com.
About the American Motorcyclist Association:
Founded in 1924, the AMA is a not-for-profit member-based association whose mission is to promote the motorcycle lifestyle and protect the future of motorcycling. As the world's largest motorcycling rights and event sanctioning organization, the AMA advocates for riders' interests at all levels of government and sanctions thousands of competition and recreational events every year. The AMA also provides money-saving discounts on products and services for its members. Through the AMA Motorcycle Hall of Fame in Pickerington, Ohio, the AMA honors the heroes and heritage of motorcycling. For more information, visit www.americanmotorcyclist.com. Not a member? Join the AMA today: www.americanmotorcyclist.com/membership/join.