Chassis/Suspension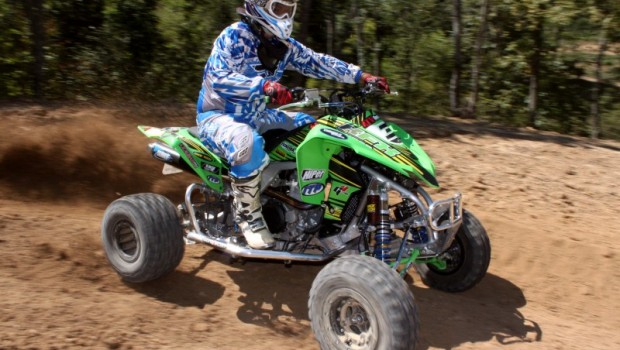 Published on March 11th, 2013 | by Joe
0
Precision Racing, Pro Steering Stabilizer Review: with VIDEO
While products new to the market may require a, "test" or "review", there are some products like Precision Racing's steering stabilizer, where results make critiquing virtually unnecessary. The original Precision Stabilizer hit the market back in 2005. Its first big public appearance was at Glen Helen raceway, where Tim Farr won the opening round of the ATV Nationals. Precision Racing owner, George Athanasiou, pointed out to us, " There were four guys who started using the Precision Stabilizer early in 2005. Those were the guys who were doing all of the winning. Joe Byrd didn't get his first win of the year until he switched to our stabilizer. Doug Gust, who won 8 out of 10 rounds of the Nationals in 2004, didn't get a win in 2005. He was one of the few hold-outs who didn't switch to the Precision's stabilizer, due to contractual agreements."
Since then, the Precision has won nearly every title in ATV racing, including motocross, cross-country, flat track, and desert. Precision estimates that around 90% of the ATVs in any given pro class are equipped with one of their stabilizers. Every test rider who has ridden for ATV On Demand used one on his or her personal machine. No product in the history of ATV racing, that we are aware of, has had the level of success and durability of the Precision Racing steering stabilizer.
Technical Stuff
Precision Racing is a subsidiary of a company that builds components for high-tech military hardware, so they came to the ATV industry with an advantage over their competitors when it came to manufacturing technology. The Precision Steering stabilizer was the first to use the shaped puck design, mounted low on the machine.  Having the ability to control the center and sides of the stabilizers damping separately was another huge benefit of their original design. The stabilizers are constructed of billet aluminum and come with a mounting kit specific to your machine. Should you choose to move your stabilizer from one type of machine to another, you can simply order a different mounting kit from Precision.
Pro Model Updates
Housed in a sleek new housing, Precision's new Pro model benefits from a built-in reservoir to compensate for thermal expansion, preventing fade in extremely hot temperatures.  While riding, Precision stabilizers run about 10 degrees warmer than the ambient temperature. Out West where one hundred plus degree days are common, a stabilizer can reach temperatures around 120 degrees Fahrenheit. At these temperatures, the standard stabilizer can reach internal pressures of 1500psi. As the Pro model stabilizer heats up, the internal reservoir provides a place for the heating oil to expand into keeping internal pressure around 100psi.
With an ambient temperature of around 70 degrees, the internal pressure will be similar on the standard and Pro models, between 40 and 50psi. At these temperatures, the performance of the two stabilizers will be very similar.
The Test
Each Precision Stablilizer comes with installation instructions specific to your ATV, which makes installation pretty straightforward on most models. Included in Precision's instructions are their recommended base line settings for various types of riding. We had luck starting with their settings and fine-tuning from there.
Precision's steering stabilizers do a phenomenal job of keeping uneven hits to the wheels from transferring back to the handlebars. This reduces fatigue and improves control by helping filter out bumps to the steering that would normally deflect you off line. This played a huge role in helping us improve control on our stock KFX450R's aggressive steering and somewhat nervous front end.
If you accidentally clip an immovable trailside object, it can result in having the bars ripped from your hands, or even worse, a broken wrist. With the stabilizer installed, one of our riders clipped a small tree hard enough to kick the rear end out, while maintaining a grip on the handlebars. We're not saying that the stabilizer will save you every time, but we sincerely believe it improves control and decreases the chance of a serious wrist injury.
It's surprising how the Precision stabilizer allows you to fine tune your ATV's traction while cornering. By increasing or decreasing the stiffness of the outer thirds of your steering, you can help the rear end of your ATV hook up better, or break loose and slide more easily. We ran the same corner repeatedly in third gear with the outer thirds of our Precision Pro Model set to full stiff. Try as we may, we could not get the rear end to come around as we powered into the corner. We almost drove the KFX off the trail on two wheels at one point. Next, we did a series of runs with the outer thirds of the steering set to fill soft. The first time Dave Trimble came around the corner with the new settings it was in a perfect power-slide.
With stiffer settings, the Precision stabilizer can offer enough resistance to prevent the rear end from pivoting around the front, keeping the rear end in line and hooked up. With less resistance, the rear end can break loose and pivot around the front. This allows you to control your machine's traction with tire type, tire pressure, plus your Precision stabilizer's settings. Being aware of this traction tuning ability can really come in handy when you are trying to balance traction for starts with a willingness for the rear end to come around when needed.
Conclusion
If you already own a Precision stabilizer, then you know you can ride harder, longer, and more safely.  If you haven't yet discovered the way it can help you tune your cornering traction, then you haven't fully taken advantage of its performance yet. Precision's steering stabilizers are one of the few products that seem more and more perfect, the longer we spend exploring its capabilities and benefits.
If you often ride or race in higher temperatures, Precision's Pro Model steering stabilizer gives you something to trade up to. Fortunately, their stabilizers do a great job of retaining their value, so you should be able to sell your original Precision model for a healthy down payment on the Pro Model. If you haven't purchased one yet, we would recommend going ahead and paying the difference for the Pro Model, unless you live in Alaska. We think Precision makes choosing a brand of steering stabilizer easy. Deciding on which model to buy pretty much comes down to the temperature where you ride.
Manufacturer: Precision Racing Products
Product: Pro Model Steering Stabilizer
Price: $559
Precision Racing, Pro Steering Stabilizer, Test
Summary: We think Precision makes choosing a brand of steering stabilizer easy. Deciding on which model to buy pretty much comes down to the temperature where you ride.