New Product
TCX Boots COMP EVO Motocross and Off-Road Line Now Available
COMP EVO MICHELIN® in US dealerships today
March 5, 2016 – Encinitas, CA – The boot that takes comfort and protection beyond today's industry standard, the TCX COMP EVO MICHELIN®, is now available for purchase in the United States.
"We're pumped that the 2016 TCX line, including the all-new COMP EVO and COMP EVO MICHELIN® motocross and enduro boots, is shipping daily to dealers across the US," said sales manager, Randy George. "During the next month customers will have access to our complete off-road, adventure, sport, touring, cruiser and 24/7 products."
While TCX has many American fans, it's a little known fact that the Montebelluna, Italy based company is one of the world's largest manufacturers of high-end motorcycle boots. In addition to their own brand, TCX produces collections for major brands like BMW and Ducati.
Designed with an aggressive modern look, the all-new TCX COMP EVO MICHELIN® motocross boot is a showcase of TCX tech that begins with a unique Michelin MX Hybrid sole. A TCX exclusive, the MX Hybrid sole gained a reputation for confidence building control and long-lasting wear under rigorous testing by pro-level riders including RCH Soaring Eagle Factory Suzuki's Broc Tickle and MXGP Monster Energy MX2 Kawasaki rider Dylan Ferrandis. Other features include:
TCX D.F.C. Double Flex Control System – ankle joints improve and protect forward and rearward flexibility. The system offers a full-range of fluid, natural movement yet limits hyperextension. No other motocross boot on the market today delivers better performance or comfort for the rider.

A rugged polyurethane exterior with soft internal upper incorporates dual Velcro® closures and four quick-release aluminum buckles for added comfort and ideal fit. An elastic upper collar provides additional comfort while at the same time it keeps gravel, sand and mud from entering the boot top.

The Calf Adjustment System features an easy to adjust polyurethane shin plate to accommodate knee braces, calf size and range of movement requirements. A rubber heat shield in the inner calf area increases rider control and protection.

The toe box is slim and streamlined for more precise control, fast shifting and braking without compromising foot volume needs, fit or comfort.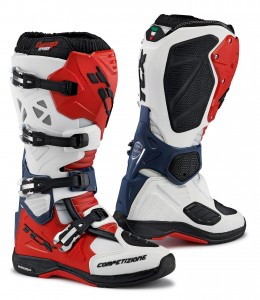 "Make no mistake about it, the TCX designers and engineers really are "focused on boots" and we did our homework. We asked riders what they wanted, what they needed and what they hated. The results are amazing products like the COMP EVO, the COMP EVO MICHELIN®." Said George. "Today riders have lots of choices but crazy colors and designs don't do a thing when a rider needs protection. Our COMP EVO and COMP EVO MICHELIN® have a fantastic look PLUS they perform far better than anything out there. Far better."
For more information about the entire 2016 TCX Boots line or to find a TCX dealer in your area visit www.ridetcxboots.com