Racing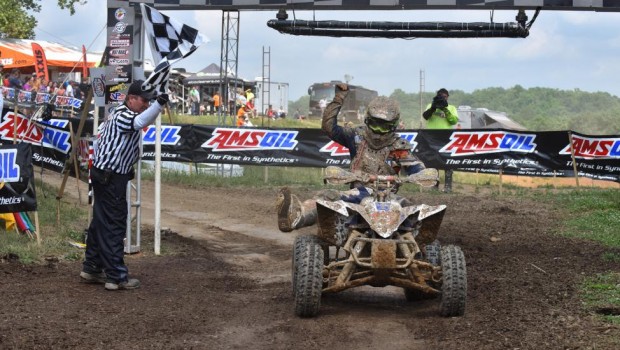 Walker Fowler Earns Fourth Win at GNCC Round 8
Walker Fowler Earns Fourth Win at 26th Annual Wiseco John Penton GNCC
Cole Richardson continues XC2 Pro Am Domination
Photos By: Ken Hill
MORGANTOWN, W. Va. (June 7, 2015) – After working his way through the XC1 pack, N-Fab/AmPro Yamaha/Maxxis/Lonestar Walker Fowler would come from behind to claim his fourth win at round eight of the 2015 AMOSIL Grand National Cross Country Series presented by Maxxis, an AMA National Championship.
Fowler currently holds the second place position in the points championship, and now sits 22 points behind CST/PirateMX.com/LSR/DeRisi/Tireblocks/SG's Adam McGill. Current points leader Adam McGill didn't have the start he was looking for. He was involved in a crash in the first turn and headed into the woods deep in the XC1 Pro ATV pack.
Bithell Racing/Maxxis/Precision's Chris Bithell earned another $250 AMSOIL Holeshot Award, and led the pack into the woods. Bithell held the lead for the first two laps of the race before falling to the pressure of Fowler, and suffering a mechanical issue on lap four causing him to drop back to 12th for the remaining laps.
Fowler pulled away from the rest of the XC1 Pro pack, holding the lead for the last half of the race and taking the checkers after five laps. McGill would cross the finish 31 seconds after Fowler in second place followed by Maxxis/B.Neal Motorsports' Brycen Neal. Neal would start the race in about sixth, and work his way through the pack ultimately passing Team Maxxis' Chris Borich on the last lap.
Showhauler/Maxxis/Cycle Barn's Landon Wolfe had his best finish of the season with a fourth in XC1. Wolfe would start the race in seventh and worked his way through the pack coming from sixth to fourth on the last lap. Borich would come across the line in fifth after working his way up from an eighth place start. It appeared Borich had some difficulties on the last lap, dropping two positions before the checkered flag.
Fasttrax/Wolf Racing's Brian Wolf had a great jump off the line and started the race in second place. Wolf would run up front throughout the first half of the race before swapping positions back and forth with GBC/Yamaha/HMF's Johnny Gallagher. Gallagher would finish the race seventh in XC1 and eighth overall.
Maxxis/BNR/Moose's Josh Merritt, JMR/ATVRiders.com's Jarrod McClure and BNR/GBC's Kevin Yoho round out the XC1 Pro top 10.
In the XC2 Pro Am class, N-Fab/AmPro Yamaha/Maxxis/Lonestar's Cole Richardson continued his dominance at the Wiseco John Penton GNCC. RYCO Racing's Cody Collier had another impressive ride in Ohio, finishing second in XC2 and 11th overall. Coastal/Waynesburg Yamaha's Blake Tornes had his best finish of his season with a third in the XC2 and a 14th overall.
The 1 p.m. race was broadcast LIVE in its entirety on RacerTV.com and can be viewed as archived videos now online by visiting the GNCC LIVE page online.
The 2015 AMSOIL Grand National Cross Country Series resumes June 20 and 21 with the AMSOIL Snowshoe in Snowshoe, WV. For more information on the series, visit www.gnccracing.com.
Stay up-to-date with exclusive content from the AMSOIL GNCC Series by following the series Facebook, Twitter and Instagram.
XC1 Event Results:
Walker Fowler (YAM)
Adam McGill (HON)
Brycen Neal (YAM)
Landon Wolfe (YAM)
Chris Borich (YAM)
Brian Wolf (HON)
Johnny Gallagher (YAM)
Josh Merritt (YAM)
Jarrod McClure (HON)
Kevin Yoho (YAM)
*Overall National Championship Standings:
Adam McGill (202)
Walker Fowler (180)
Jarrod McClure (137)
Brycen Neal (126)
Chris Borich (126)
Chris Bithell (114)
Cole Richardson (107)
Brian Wolf (89)
Jay Shadron (84)
 Johnny Gallagher (82)
*Indicates that the Overall National Championship Standings will determine the 2015 National Champion.
XC2 Event Results:
Cole Richardson (YAM)
Cody Collier (HON)
Blake Tornes (YAM)
Randy Hamilton (HON)
Martin Christofferson (HON)
Thomas Koontz Jr (YAM)
James Green (HON)
Cameron Bruce (YAM)
Bryson Hoppes (YAM)
Jonathan Fugate (HON)
XC2 Series Standings:
Cole Richardson (203)
Cody Collier (175)
Martin Christofferson (169)
Randy Hamilton (135)
Blake Tornes (110)
Brycen Hoppes (85)
James Green (84)
Michael Lancaster (83)
Thomas Koontz (80)
Jonathan Fugate (79)
About GNCC Racing
The AMSOIL Grand National Cross Country series presented by Maxxis is America's premier off-road racing series. Founded in 1975, the 13-round championship is produced exclusively by Racer Productions. Cross-country racing is one of the most physically demanding sports in the world. The grueling three-hour GNCC races lead as many as 2,000 riders through tracks ranging in length from eight to 12 miles. With varied terrain, including hills, woods, mud, dirt, rocks and motocross sections, GNCC events are tests of both survival and speed. The series draws talent from all over the U.S., Europe, Japan, Australia and New Zealand. GNCC Racing is televised weekly on NBCSN and RacerTV.com. For more information, please visit www.gnccracing.com.