First Looks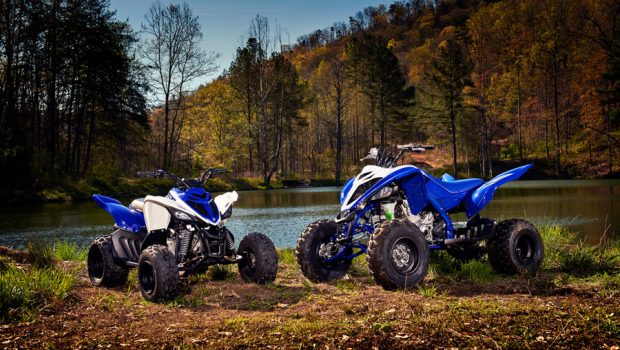 Published on June 15th, 2017 | by Yamaha
Yamaha Announces 2018 Sport and Youth ATV Models!
Unrivaled Raptor 700R and YFZ450R Continue Dominance of Sport ATV Market
KENNESAW, Ga. – June 12, 2017 – Yamaha Motor Corp., USA, the best-selling sport ATV brand in America*, announces its 2018 sport ATVs including the top-selling big bore Raptor 700R and the championship-winning YFZ450R.
As the definitive leader in offering Proven Off-Road sport ATVs, Yamaha incorporates its legendary racing performance into the most durable and reliable machines on the market, which are also proudly built the USA at Yamaha's state-of-the-art manufacturing facility in Newnan, Georgia, for worldwide distribution. The Raptor 700R and YFZ450R are the top-selling and highest performing models in the world of sport ATVs, and epitomize ATV performance and dominance on the track, trail and dunes.
2018 Raptor 700, Raptor 700R and Raptor 700R Special Edition (SE) Models
For 2018, the Raptor 700 (MSRP $7,999) gets a new Graphite color scheme, while the Team Yamaha Blue / White Raptor 700R (MSRP $8,499) gets a Team Yamaha Blue seat, color-matched A-arms and frame. The 2018 Special Edition Raptor 700R (MSRP $9,099) comes in a new White color with both a GYTR front grab bar and heel guards.
As the best-selling sport ATV in America*, the Raptor 700R brings the best combination of power, lightweight handling and trail / dune-conquering performance in sport ATVs. The Raptor's hybrid steel aluminum frame is complemented by a controlled-fill aluminum sub-frame and cast aluminum swing-arm, all combining to produce a supremely-strong structure and the lightest ATV in its class.
Utilizing Yamaha YZ-style fully adjustable piggyback shocks, the Raptor is a versatile machine capable of handling any terrain – from tight, twisty trails to wide open deserts. Lending to the terrain-taming prowess, front wheel travel is 9.1 inches, with 10.1 inches in the rear.
A plush seat, dual counter-balancers, electric start, and reverse are added features on Raptor 700R for all-day riding comfort and convenience.
Check out out ATV on Demand's latest Review of the Raptor 700R
2018 YFZ450R and YFZ450R SE Models
As America's best-selling 450-class sport ATV** and reigning MX and GNCC champ, the unrivaled, race-inspired YFZ450R also gets a new SE in White (MSRP $9,299) with a GYTR front grab bar. The Team Yamaha Blue / White YFZ450R (MSRP $8,999) now comes with a Team Yamaha Blue seat and color matched A-arms and frame.
The YFZ450R is the most technologically advanced sport ATV in the market, combining a high-tech, quick-revving, titanium-valve 449cc fuel-injected engine with a lightweight, professional-caliber cast aluminum / steel chassis.
MX-ready, the YFZ's no-weld frame is designed from lightweight aluminum with a tension-steel bottom frame, allowing low engine placement for optimal mass centralization. Suspension components and settings reduce weight while providing agile, performance-pointed handling and rider comfort.
The YFZ's bodywork is designed for ideal ergonomics and rider comfort with a T-shaped seat and maximum knee room permitting riders to easily move around the machine and attack corners to the finish line. An assist-and-slipper clutch reduces clutch lever effort for less fatigue, while simultaneously increasing clutch plate pressure for positive engagement. This clutch system also reduces engine braking effect, which allows for faster cornering, particularly when downshifting.
Check our our most recent Review of the YFZ450R
Youth Models
2018 YFZ50 and Raptor 90 Offer Confidence-Inspiring ATV Experience For Novice Riders
KENNESAW, Ga. – June 12, 2017 – Yamaha Motor Corp., USA, announces the popular YFZ50 and Raptor 90 youth ATVs to its 2018 model year lineup. The YFZ50 introduces the fun and exciting world of sport ATVs to riders ages 6 and up, while those age 10 and up can continue to hone their ATV skills aboard the Raptor 90. With sporty styling based on the championship-winning YFZ450R and top-selling Raptor 700R, these entry-level ATVs bring Yamaha's Proven Off-Road sport ATV performance, legacy and quality to the entire family and next generation of budding motorsports enthusiasts.
Designed to meet Yamaha's style and industry-leading performance standards, the electric-start YFZ50 mounts a 49.4cc engine and continuously variable transmission (CVT) on a lightweight chassis, resulting in an entry-level machine that combines an exciting acceleration feeling, with a comfortable ride to help first-time riders develop their off-road abilities. Parents can feel confident introducing their 6-year-old to ATV riding with supervisory controls integrated into the machine, including adjustable RPM and throttle limiters, as well as a tether switch capable of shutting off the engine from a pull-string if or when needed.
The Yamaha Raptor 90 is also equipped with a CVT transmission, yet steps up the fun with an 89.9cc engine, providing versatility on the trails while maintaining a smooth, linear power delivery. Additional features include single A-arm front suspension, mono-shock swing-arm rear suspension, and 18-inch tires with lightweight matte black wheels to optimize performance and styling for advancing riders.
Both youth ATV chassis incorporate a comfortable and roomy rider position to allow young, developing enthusiasts the ability to grow and adjust their riding posture and position while affording years of enjoyment.  Specially designed shocks, with youth skills and weight in mind, provide superior handling and comfort, increasing the fun and performance of the ride.
The 2018 YFZ50 comes in Team Yamaha Blue and White at a $2,099 MSRP. The 2018 Raptor 90 comes in two color options: Team Yamaha Blue / White, and White, both at a $2,899 MSRP.
View additional details on all of Yamaha's new 2018 ATV models at www.YamahaMotorsports.com. Follow Yamaha at www.facebook.com/YamahaMotorUSA, www.twitter.com/YamahaMotorUSA or www.instagram.com/YamahaMotorUSA. #Yamaha #YamahaRaptor #YamahaYFZ #ProvenOffRoad
About Yamaha Motor Corp., USA
Yamaha Motor Corporation, USA, (YMUS) a leader in the motorsports market, makes the toughest, most capable and versatile ATV and Side-by-Side vehicles. The company's ever-expanding product offerings also include motorcycles, outboard motors, personal watercraft, snowmobiles, boats, outdoor power equipment, accessories, apparel and much more. YMUS products are sold through a nationwide network of dealers in the United States.
Headquartered in Cypress, Calif., since its incorporation in 1976, Yamaha also has facilities in Wisconsin and Georgia, as well as factory operations in Tennessee and Georgia. For more information on Yamaha, visit www.YamahaMotorsports.com.