Shootouts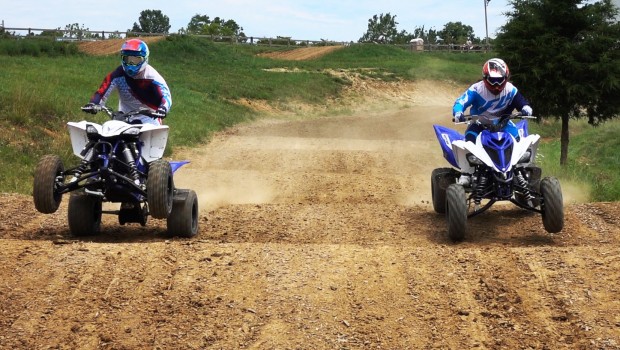 Published on September 6th, 2016 | by Joe
Yamaha YFZ450R VS Raptor 700R Shootout: WITH VIDEO
The top two Sport ATVs go head-to-head to help you pick the right machine for you!
A sport ATV provides a thrilling and unique experience that no other four-wheeled machine can. Riding machines like side-by-sides, jeeps, and trucks are more like video games. You sit there in your chair and manipulate some buttons, pedals, and a steering wheel. At the end of the day, if you play well, you'll make it further down the trail.
When you ride a sport ATV, in addition to acceleration, braving, and directional inputs, the rider affects handling providing counterweight and balance for the machine. Standing to traverse rough terrain, the rider is part of the suspension. With their good power-to-weight ratios, a skilled rider on a sport ATV is still the fastest four-wheeled machine on many trails and tracks.
With the 2017 hitting the market, Yamaha looks to continue dominating the sport segment with their YFZ450R, Raptor 700R, Raptor 90, and all-new YFZ50. Meanwhile, the other manufacturers have tucked their tails and run, suffering from a lack of sales due to varying reasons such as releasing machines three years too late, an economic recession, attacks from the EPA, and, finally, for trying to continue selling 10-year-old machines at ever increasing prices. If you want to buy one of the top sport ATVs on the market these days, it's going to be a Yamaha. The Raptor 700R is a great trail machine that can play on the MX track. The YFZ450R is a nearly race-ready motocrosser that comes setup from the factory to also perform on the trail. If you're a motocross racer, choosing the right machine is simple: buy the YFZ450R, add a few parts, and go racing. If you are a recreational rider, choosing the right machine between the two could be a bit more perplexing. With this in mind, we took our YFZ450R and Raptor 700R test units to beautifully prepped and ATV friendly Nickota MX in Bedford, KY, and the diverse trails of Haspin Acres in Laurel, Indiana to see how these machines compare in the woods and on the track. Our Riders included 44-year-old Rob Ray, a highly experienced motocross rider and vintage ATV racer, and 29-year-old Michael Palmer, who at the time of our test was leading the points in the Vet A class in the Cross Roads and Mid-West Cross-Country Racing Series.
Engines
Both the Raptor and the YFZ450R utilize liquid-cooled, fuel-injected, four-stroke engines with manual five-speed transmissions. The Raptor benefits from reverse well worth a few extra pounds out on the trail. The YFZ450R features a five-titanium-valve equipped, double-overhead-cam head, 11.8:1 compression ratio, and a 95.0mmx 63.4mm bore and stroke, measuring in at 449cc. The engine weighs a bit less, and is more compact measuring in around 2 inches shorter. The 700R features a four-valve, single-overhead-cam head, 10.0:1 compression ratio, and a bore and stroke of 102.0mm x 84.0mm, measuring in at 686cc.
According to Fuel Custom's Dyno, the stock YFZR produces 39.5hp and 28.5 foot-pounds of torque. The Raptor produces 42 hp and 36 foot-pounds of torque. Add in a Fuel Customs intake, exhaust, and fuel manager and the YFZR grows to 48hp and 30.5 foot-pounds of torque, while the Raptor jumps to 54 hp and 48 foot-pounds of torque.
Both engines are fast, effective, but very different. Power delivery is smooth on both, but the Raptor starts pulling hard much lower in the RPM's. The YFZ450R runs decently at lower RPM's, but lacks the torque and responsiveness of the Raptor. Attacking hills with little momentum or accelerating through technical jump sections, gear selection was much more important on the 450. The Raptor can pull a taller gear almost anywhere on the track or trail making its engine feel virtually mistake proof.
Entering the midrange, the YFZ really comes to life. From the midrange up it feels lively, willing, and fast revving. Going fast on the 450 requires you to keep the engine spun up a bit. From the midrange up, the YFZ builds RPMs notably faster. While it takes more skill and concentration to keep it in the best part of the power, its lighter, faster-revving engine gives the YFZ a slight edge in getting off corners quickly and timing rhythm sections where responsiveness means more than torque.
The Raptor's midrange horsepower and torque are potent and as impressive as its bottom end providing excellent throttle response for a big four-stroke. Power continues building throughout the midrange and while it doesn't abruptly fall off on top, our riders were upshifting the Raptor sooner than the YFZ, keeping it in the best part of the power.
We drag raced both machines a number of times on Nickota's fourth-gear start straight, switching riders several times. While body positioning and clutch control were more important on the Raptor to keep the front end down, the Raptor's engine proved to be the holeshot king winning a majority of the time. If the start straight had been longer, the Raptor's wins would have been even larger.
The mighty 700 engine is fun and effective virtually anywhere you ride it. With its broader power curve more focused on the low end and midrange, the Raptor is easier to ride, especially when you've been riding for hours. The Raptor's strong, usable torque and potent midrange allow it to remain quiet in noise-sensitive areas without seemingly sacrificing engine performance.
The lighter weight, shorter height, and less rotating mass of the YFZ450R's engine yield a power plant that revs fast and keeps the machine's center of gravity down. Its faster revving midrange and top-end power require a touch more skill and concentration to keep the engine in the meat of the power although the 450's slick shifting and lighter clutch pull help you keep gear selection and RPMs dialed. An aftermarket exhaust and fuel manager really bring this engine to life for closed-course racing, making it faster, more effective, easier to ride and upping the fun factor. If chasing championships on the track is your thing, the YFZ450R's engine is designed first and foremost with winning in mind. While not as forgiving as the 700, the YFZ450R is still one of the most manageable 450s ever produced.
Suspension and Handling
Both machines feature hybrid aluminum and steel chassis, removable aluminum subframes, dual-a-arms up front, and a lightweight cast aluminum swingarm out back. Fully adjustable shocks with spring preload, high and low-speed compression damping, and rebound damping are used on both ends on both machines. The YFZ enjoys an edge in suspension travel with 9.8 inches front and 11 inches rear, compared to the Raptor's 9.1 inches front and 10.1 inches rear. The YFZ's KYB shocks are a bit higher-tech with low friction Kashima Coating, and notably larger, longer stroke shocks used up front.
The machine's dimensions tell the story of their different intended uses. The 700R is optimized for narrower trails measuring in at 45.5 inches wide, with a 50.4-inch wheelbase, an overall height of 43.9 inches, and a seat height of 32.7 inches. The YFZ450R is clearly more focused on the track and more wide open spaces. It's 3.3 inches wider at 48.8 inches. Its wheelbase is .4 inch shorter at 50 inches, its seat height is .8 inches lower, 31.9 inches, and the R is 2 inches lower overall at 41.9 inches.
Both machines utilize aluminum wheels and Maxxis tires. The Raptor uses 22×7-10 fronts and a 20×10-9 rear. The YFZR'S fronts are an inch shorter at 21×7-10 with lower profile, yet still trail friendly 20×10-9 rears. Nearly race ready, the YFZ450R has a claimed wet weight of 405 pounds. With the 450's weight in mind, the Raptor defies the overweight big-bore stereotype weighting just 17 pounds more than the 450 at a claimed wet weight of 422 pounds.
Each machine does well in its own environment yet works surprisingly well when crossing over. In the woods, our riders preferred the Raptor's suspension. It was plush, eating up all of the small high-speed hits from roots and rocks. The stock settings weren't bad; however, Rocket Ron managed to extract a notable improvement in performance with a few turns of the clickers. If you want the lightweight and nimble feeling only a true sport ATV delivers and shocks that deliver all-day comfort, look no further than the Raptor 700R.
At Nickota MX, Rob and Mike were immediately asking for more bottoming resistance from the front end. Ron added a healthy dose of preload to the front shocks, set low-speed compression five clicks out from full stiff, and fine-tuned the rear yielding a machine that worked surprisingly well on the track. The Raptor tracks straight through whoops, especially when you're on the gas. The Raptor gobbles up small to mid-size jump landings with ease. It can handle big air, as long as you land precisely on the down side of jumps. The front shocks do sacrifice a bit of bottoming resistance on big hits in trade for smaller bump compliance. The rear end seems to handle everything you throw at it equally well.
The YFZ450R was clearly more focused on the track or more wide-open, high-speed, whooped out trails. Backing off on the compression damping allowed Ron to make the YFZ more compliant on small bumps, but was never as silky smooth as the Raptor. On the trail, the YFZ works better the harder you ride it. To make this race bike plush enough for GNCC style racing, it would probably require some aftermarket suspension work, in addition to narrowing it up a bit with different A-Arms and an axle. For fast, rough, desert trails, these shocks are good to go.
If you are a 180-220 pound rider, the YFZ450R's shocks are pretty dialed for local motocross racing. Ron had the shocks working beautifully on the track. They absorb small bumps and chop than most other 450s of years past. They feel super plush when you stick a landing on the down side, and rarely bottom or deflect if your come up short or overshoot a landing.
Both machines steer pretty precisely. All of our riders felt the Raptor is the quicker steering machine aiding it in tight turns on the trail. If the YFZ could take an inside line on the Raptor in the woods, it was usually in an off-camber turn where its lower, wider stance offered a notable advantage over the slightly taller, narrower, and plusher Raptor, which required you to take a smoother outside line to maintain speed and stability. In high-speed trails or fast sections of the track, the Raptor's quicker steering makes its front end feel a bit more nervous. It's nothing serious; the Raptor just trades a touch of high-speed stability for added agility. Its narrower width is also a benefit on tight 50-inch wide ATV trails, allowing you to carry more speed through tight spots. If you ride on narrower trails, it's a big plus.
The YFZ's steering is a little slower and slightly stiffer than the Raptor's. It doesn't feel quite as maneuverable in the tightest turns out on the trail, but it offers a more settled feeling at high-speeds. As the trail opens up a bit, or you hit the MX track, the 450's handling shines. Honestly, with all the UTVs hitting the market, tight trails are becoming more and more uncommon and a YFZ4580R has plenty of room to maneuver on 60-inch wide trails. Tight turns on the track aren't that tight for the YFZ. Its added width, lower height, and firmer initial suspension settings let you carry more speed through turns with less body English required, offering the freedom to pick whichever line suits you best.
The taller, narrower Raptor might not be as fast in the turns as the YFZ, but that doesn't mean you can't get out of turns fast. Its front shocks do an acceptable job of keeping body roll in check. Its massive, high-torque motor allows you to choose between railing the berm to maintain momentum and pitching the rear end out carrying a drift. It's not a motocross racer, but the Raptor is still surprisingly fun on the track.
Braking Performance
With separate, hydraulic disc brakes and dual piston calipers at both ends, our riders felt the braking performance of both machines was outstanding and pretty much a toss-up. The lower height, firmer suspension, and less nervous front end of the YFZ give it a slight edge in braking control coming down from warp speed.
Ergonomics
The ergonomics of the YFZ450R were designed with maximum speed in mind not to say that it is an uncomfortable machine. If you're pushing the edge of control on a motocross or cross country course, the YFZ's lower seat height gets your center of gravity down, a comfortable feeling when you're riding the ragged edge, or if you are a shorter rider. Long days in and out of the saddle will be a bit harder on taller, heavier riders on the YFZ.
The Raptor's seat is a little plusher. Its 2-inch taller seat to footpeg relationship place your hip joint farther above your knee joint making the transition from sitting to standing easier and far less fatiguing on long rides. The Raptor's taller seat height could be a slight hindrance to shorter, lighter riders in corners. Taller, heavier riders, who can more easily hang off the side and counterweight for turns, will probably feel a little more at home on the more spacious Raptor.
Maintenance
Most of the basic maintenance chores such-as air-filter maintenance and chassis lubrication will share a similar schedule on both machines. Cleaning and maintenance that requires you to remove the plastic is easier on the 450, thanks to its quick release fasteners, something we'd like to see on the 700 going forward.   The manuals list identical frequency for oil changes and we feel neither is frequent enough. For maximum engine longevity, CT Racing Engines recommends changing the oil in the YFZ450R every 10 hours for casual riding or every race weekend for motocross or cross-country racing. The lower-revving Raptor could go a bit longer between oil changes for casual riding. If you are looking for the machine that will go the longest with the least amount of maintenance, we'd bet on the lower-revving Raptor.
The Bottom Line
If you are planning on going racing, the YFZ450R will be a better choice for most riders, not to say that you couldn't turn a Raptor 700 into a viable race machine. For recreational and even somewhat aggressive riding, these machines are surprisingly well matched, but they reach their performance levels in different ways. If you like to push the outer boundaries of speed, suspension, and control a majority of the time and you don't ride on tight trails, the YFZ450R may very well be the machine for you. The YFZ's ergonomics, engine, firmer suspension, and squattier rider position aren't as adept to long casual rides. Its focused primarily on going fast and it does it well.
If you like extended rides and enjoy everything from a casual cruise to riding at a near race pace, the Raptor really shines. Its handling and suspension are optimized for tight to intermediate trails while offering predictable handling and performance on faster trails, the dunes, or even the track, up to a point. Its motor pulls holeshots, has a faster top-speed, and will conquer bigger sand dunes. Its handling and ergonomics work best for bigger riders though smaller riders may like the cockpit if comfort is a top priority.
Results in sales numbers and championships on the track have proven that both of these machines are winners in their own right. If you're addicted to the speed, light-weight, superior handling, and thrills that only a sport ATV delivers, one of these machines is sure to be a winner for you.