New Product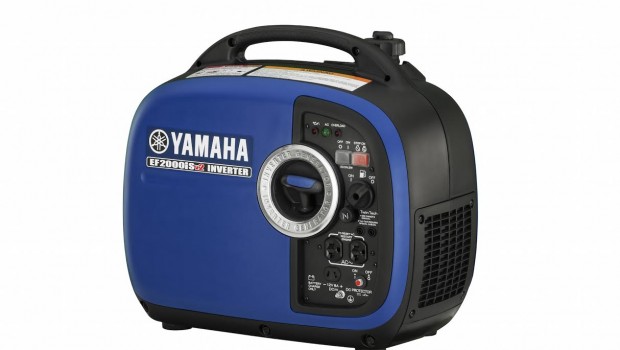 Published on February 2nd, 2016 | by Joe
0
2016 Yamaha EF2000iSv2 Portable Generator Offers Compact & Versatile Power
New Advanced Programming Controller Powers Wider Range of Applications
CYPRESS, Calif. – February 1, 2016 – The 2016 Yamaha EF2000iSv2 is a lightweight, fuel-efficient and versatile portable generator featuring a new controller with advanced programming that can power a wide range of equipment in the field.
Designed and engineered to bring quiet, durable power to the outdoors, the new EF2000iSv2's increased versatility and 2000 watts of power can easily handle higher load applications like hair dryers, microwaves, tire warmers, heaters, and much more. And at only 44 pounds, the lightweight generator is a mobile and efficient power source that will run for up to 10.5 hours on a single gallon of gas.
The EF2000iSv2 is a great option for recreational and small utility use – and by combining two units, you can increase your power for larger jobs. Yamaha's TwinTech capability allows two EF2000iSv2 units to be connected in parallel to provide up to 30 amps of power and run air conditioners and larger appliances in a travel trailer, hunting cabin or around the house during a power outage.
While power is the priority, the EF2000iSv2 inverter is also fitted with Yamaha's most technologically sophisticated muffler with a USFS-approved spark arrestor, a Smart Throttle and Noise Block technology producing excellent noise reduction at 51.5 – 61dBA – ¼ rated to rated load. Yamaha designed this inverter to be so quiet that it is easy to have a conversation nearby without realizing it is running.
"Yamaha's EF2000iSv2 is more versatile than ever before with a completely new controller that is programmed to power a wider range of applications," said Kevin Reed, Yamaha Outdoor Power Equipment group business planning manager. "The parallel function allows two EF2000iSv2 generators to connect for up to 30 amps and is parallel compatible with the prior EF2000iS model."
The EF2000iSv2 includes many features not available on competitive units, including a standard fuel gauge, an auto-warm up feature that helps cold starting, and an independent fuel petcock, which allows users to shut off the gas to run the carburetor dry preventing stale gas problems and costly carburetor cleaning and repair.
Yamaha's leading line of generators comes standard with a 3-year factory warranty and offers the same high quality engineering and technology that goes into all of Yamaha's ATVs, motorcycles, and outboard motors.
The EF2000iSv2 is available at Yamaha Power Products dealers nationwide. MSRP is $1,099.00. To see Yamaha's entire generator line and to find the closest dealer, visit www.yamahamotorsports.com/powerproducts or call 1-800-88-YAMAHA.
About Yamaha Motor Corp., USA
Yamaha Motor Corporation, USA, (YMUS), is a leader in the motorsports market. The company's ever-expanding product offerings include ATVs and Side-by-Side vehicle, motorcycles, outboard motors, personal watercraft, snowmobiles, boats, outdoor power equipment, accessories, apparel and much more. YMUS products are sold through a nationwide network of dealers in the United States.
Headquartered in Cypress, Calif., since its incorporation in 1976, Yamaha also has facilities in Wisconsin and Georgia, as well as factory operations in Tennessee and Georgia. For more information on Yamaha, visit www.yamahamotorsports.com.