Published on August 1st, 2019 | by Joe
2019 Polaris XP 1000 Test Review: VIDEO
2019 Polaris Sportsman XP 1000 Test Ratings
Summary: The fact that the Sportsman is such a capable worker gives you an extra reason to purchase a machine that most want for its virtually unrivaled fun factor. It should certainly be a top choice for the power hungry rider looking for a comfortable ATV to put in lots of miles on.
2019 Polaris Sportsman XP 1000 Test Review
A couple of years back we reviewed the highly updated 2017 Sportsman XP 1000, prizing it for its revised styling, enhanced engine performance and drive by wire throttle offering various modes. The ergonomics were also updated with a dual-zone shaped seat, deeper foot wells, and shorter front end bodywork for an improved sight line. We came away enamored with the engine's performance and manageability, stable, plush ride, and surprising versatility for various riders and uses.
The past two seasons have brought about a number of small but significant changes, along with a rival that has been dramatically improved. Have Polaris' updates been enough to keep the Sportsman competitive? Watch on and find out.
2019 Options
Polaris is offering three versions  of the Sportsman 1000 for 2019, in addition to the outstanding fun and capable Outlaner 1000 High Lifter mud Edition we tested earlier this model year. There's a not so basic base model, the Hunter Edition, which comes decked out with nearly everything you need to head out in search of game. And our test unit, the Sportsman XP 1000 Premium Edition, new for 2019. We selected as it is most comparable model to our Limited Edition 2017 test quad, making evaluating updates easier. The Premium Edition features an upgrade from 26" to 27" tires, LED, 3rd brake light, cut and sewn seat cover, and painted plastic like our 2017 LE model. The premium edition also features a front bumper, and 3,500 HD winch.
Engine
The 1000 is powered by a Polaris Pro-Star, parallel twin-cylinder engine producing a claimed 90hp. It displaces 952cc with four-valves, and single-overhead-cams per cylinder. EFI delivers fuel, regulated by an electronic throttle featuring 3 different settings. Work mode notably reduces total throttle available, spread across the entire throw of the throttle. Standard mode offers full throttle, tuned for manageability at lower speeds. Performance mode is tuned for aggressive riding getting you on the gas sooner.
The top end is paired with a CVT style Polaris Variable Transmission with high and low ranges, plus neutral, reverse, and park. Engine braking is standard delivering engine braking to two or four wheels depending on drive mode.  Active Descent control takes it one step farther allowing you to crawl down hills, although is not ideal for the steepest descants where braking can get you into trouble.
Polaris' All-wleel-drive system, allows you to select between 2WD and AWD with a flip of the switch. Their high-performance AWD system locks in providing true 4wd with minimum slip of the rear tires, virtually any time that traction is not abundant. We've tested it on some pretty sketchy climbs, coming away quite happy with its performance.
Updates for 2018 included a beefed up front differential and new front axles with stronger outbound CV joints. 2019 brings about a stronger drive chain in the transmission. Bushings were added to the drive clutch weights for smoother clutch engagement and reduced wear. A 30 amp battery replaced last year's 18 amp juice box.
Power delivery is as we remembered it, deceptively fast! It's excessive when you want it, yet amazingly manageable for its displacement. The electronic throttle offers precise throttle control at low-speeds in work mode. Standard mode offers a good balance on long trail rides but frankly, we get along just fine switching between work and performance mode.
Clutch engagement is so butter smooth off the bottom that you never feel overwhelmed, unless do something stupid or are simply inexperienced. With clutch engagement that's marginally smoother, the combination of the parallel twin's smooth low end power roll on and clutching makes the Sportsman feel a little soft off the bottom for speed freaks. A bit more off-idle snap from clutching, could also help get things moving more quickly when heavily loaded, plowing or pulling.
Grab a handful of throttle and the clutch quickly grabs hold sending you ripping down the trail at in the middle of the RPMs. In 2017, we had our Sportsman up to 78mph and still pulling, so running out of power shouldn't be an issue..
At higher speeds, the CVT is pretty responsive, doing a good job of back shifting racing in and out of turns. Engine braking is on the strong side even without Active Descent Control engaged. Its most beneficial when loaded down or trying to ride at a casual to intermediate pace, letting then engine do a lot of the braking for you.
Handling and Suspension
Dual A-Arms at both ends mate up toe the Sportsman's steel frame. Arched lower arms maximize ground clearance. Combined suspension travel still barely tops the class. 5-way preload adjustable shocks at all corners, control 9" of wheel travel front and 10.25" out back along with a rear sway-bar helping control body roll.
Power steering was recalibrated for 2019. We felt it could benefit from a reduction in assistance over 25mph in years past. However, Polaris increased its assistance from 0-45mph, with a 19% increase at maximum assist.
Polaris switched from 27" Maxxis Vipr tires, used in 2017, to  27×9-14 front and 27×11-14 rear Duro PowerGrip Tires mounted on cast aluminum wheels.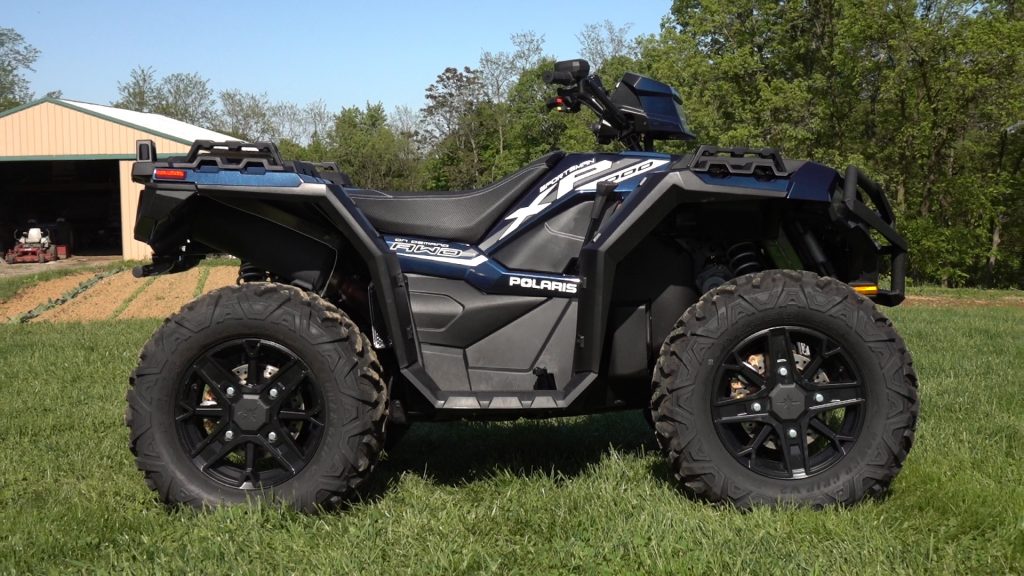 Dimensions remain virtually the same at a claimed 47.6" wide, with a 53" wheelbase, 12" of ground clearance, 38" seat height, and 50.75" overall height.  With the winch, larger tires, and front bumper the 1000 has a hefty claimed dry weight of 878lbs.
Suspension is tuned for all day riding. Its super plush over small to medium sized bumps yet can hold up to a few feet of air without bottoming harshly on well-executed landings. We were able to bottom the shocks a few times on jump landings and on whooped out sections of trail but found its performance respectable for sporty riding. There's a noticeable amount of weight transfer on acceleration and braking, without diving excessively. Stability in turns and side-hills is predictable, but no longer in a class of its own thanks to Can-Am's chassis and suspension updates.
We loaded down the Sportsman's racks  with 120lbs front, 220lbs rear and took it for a spin. Stock suspension settings felt wollowy so we cranked spring preload to max at both ends. This improved performance noticably. However, the front end still dove more than we'd like on off-cambers when loaded down. We feel the sportsman could benefit from a slightly firmer springs from the factory. Overall, it's close to perfect, but just a bit on the soft side, which many riders will enjoy.
The increase in power steering assist and Duro PowerGrip tires took the XP 1000's handling a small step in the wrong direction for some riders. Steering is quick and precise enough, plus it's extremely light, allowing you to maneuver the big 1000 through tight, stuff with surprising ease. On high-speed straightaways, steering feels too light, making the ATV feel a bit nervous and overly sensitive to rider input. The new power steering settings work great for prolonged operation at low-speeds while working. It should also to quite well maneuvering big tires through deep muddy ruts.
The macine's relatively long wheelbase makes it a competent climber and helps prevent the back end from coming around too quickly during power slides. The Duro tires provided less traction in any direction than than the Maxxis Vipr Tires. It's possible that the V-shaped tread pattern on the Vipr tires make them a slightly heavier steering tire, which could help the Sportsman's light steering.  The Duro's taller height compared to the standard XP 1000's tires allow them to roll more smoothly over bumps and add 1/2" of ground clearance.
Where we testes we felt the tires left some of the XP's exceptional performance on the table.
Brakes
A single handlebar mounted brake lever activates hydraulic disc brakes at all four corners. The right side mounted foot pedal operates the rear brakes independently. Steel braided brake help deliver good stopping power and feel although this behemoth takes a little room to rain in from warp speed.  We applaud Polaris for having park in the transmission in addition to a parking brake on the handlebar mounted lever .
Utility
Rack capacity is class leading with 120lbs front and 240lbs rear. They're steel reinforced and feature raised, removable tie down points. The rear rack has a claimed 44 tie down points and integrated bucket rings. Both ends have rubber sealed storage boxes under the racks offer six gallons of combined storage in addition to integration for Polaris line of Lock & Ride accessories. A 1.25" hitch receiver is rated to tow 1,500lbs. There's also a convenient drink holder.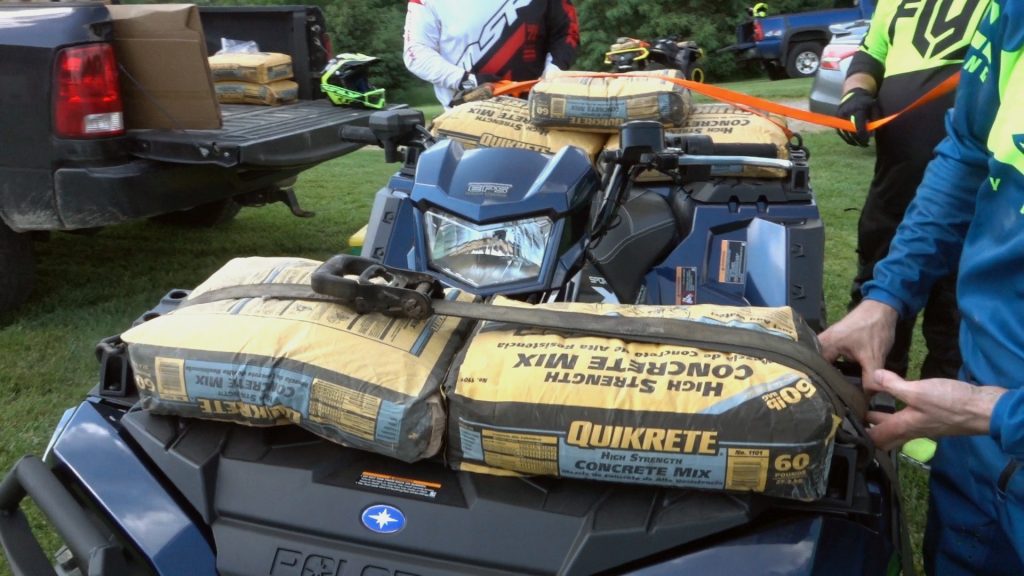 With 120lbs of concrete front and 220lbs rear we loaded the racks near capacity. We were able to confidently synch down on the rear rack but noticed the ends of the front box pulling up slightly if we synched down too hard.
Ergonomics and other details
The 1000 is comfortably slim for its massive size. In our last test we praised the dual zone seat's narrower front and wider rear section for being easy to move around on. While Polaris didn't mention changes to the seat, you can now feel the seat pan through the foam, something we didn't notice previously. The seat height feels pretty low, allowing you to hang off for the side for aggressive cornering.  The handlebars are within reach of but a bit on the tall side for our riders liking. We appreciate the generous footwall area. As with most 4×4 ATVs, we'd like taller foot pegs in case of mud or snow buildup. Fortunately, good fender coverage with factory installed fender flared do well keeping you and the rest of the top of the machine relatively clean under typical conditions. We sometimes smashed our fingers between the shift lever and front fender back in 2017, This was no longer an issue.
In 2018 All Sportsman XP models received the 4.3" digital instrument display found on the 2017 Sportsman LE. All of the 1000 models feature Bluetooth connectivity with your phone for missed calls and messages.
Dual front headlights and a single handlebar mounted headlight provide 150 watts of combined power. You can run the lowers by themselves on low, or with the handlebar mounted light on high, really allowing you to light up where you're going at night. Brilliant LED rear tail and brake lights offer plenty of visibility in the dark or dust
Conclusion
The fact that the Sportsman is such a capable worker gives you an extra reason to purchase a machine that most want for its virtually unrivaled fun factor. It should certainly be a top choice for  the power hungry rider looking for a comfortable ATV to put in lots of miles on.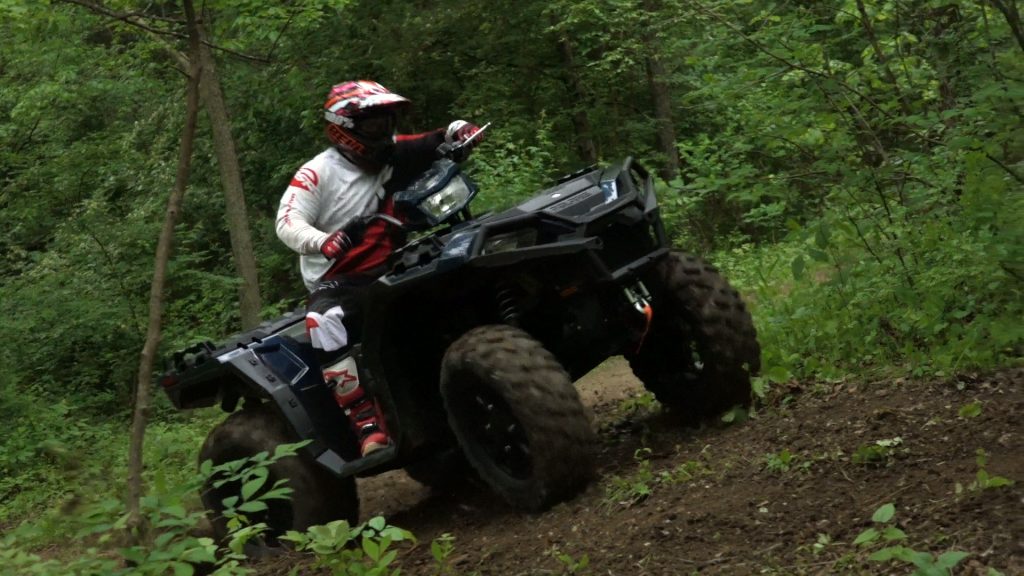 Manufacturer: Polaris
Model: 2019 Sportsman XP 1000
MSRP: $12,999