Racing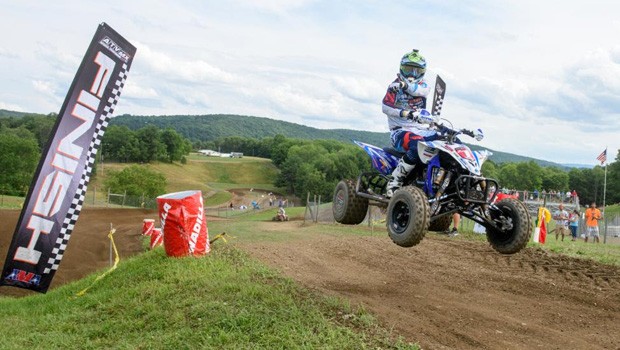 Published on July 18th, 2016 | by Joe
ATV MX Nationals Round 9 2016 Race Report
Chad Wienen Edges Out Competition to Earn Unadilla ATV National Overall Win
Hetrick and Rastrelli Round out Overall Podium
NEW BERLIN, N.Y. (July 16, 2016) – The 2016 ProX ATV Motocross National Championship (ATVMX) presented by CST Tires, an AMA National Championship, continued today in the Empire State with the Unadilla ATV National.  Wienen Motorsports/Yamaha/Maxxis/SSi Decals/Walsh Racecraft/FLY Racing's Chad Wienen posted a dominate 2-1 moto tally at the ninth round of the season to earn his fourth AMA Pro ATV victory of the season and continue his quest for his fifth straight national title.
The iconic Unadilla circuit in Central New York was graced with picture-perfect weather, and for the sixth time Maxxis/Elka Suspension/Liquid Wrench's Joel Hetrick kicked off the day by earning the ATVriders.com Top Qualifier Award. The speed Hetrick showed early easily carried into the motos, where he was able to take advantage of having the first gate pick.
When Moto 1 got underway, JB Racing/Root River Racing/Gold Speed Tires' Jeffrey Rastrelli edged out the rest of the field to score his first ever SSI Decals Holeshot Award. With a clean track in front of him Rastrelli quickly set the pace. It would not take long for Rastrelli to feel the pressure from Hetrick and Wienen Motorsports/Yamaha/Maxxis/SSi Decals/Walsh Racecraft/FLY Racing-backed Chad Wienen where mere seconds separated the riders as they crossed the finish line for the first compete lap.
The three continued riding wheel-to-wheel when with only two laps to go it was an all-out drag race through the mechanics area with Hetrick and Rastrelli side-by-side. Rastrelli held onto first, but just a few turns later Hetrick made the pass for the lead.
Once the white flag was waving, Wienen put on a last minute charge with the Unadilla fans cheering him on to make the pass for second with Rastrelli crossing the line in third. Maxxis/Liquid Wrench/Elka Suspension/Honda's David Haagsma rode a consistent race finishing in fourth and Maxxis/FLY Racing/Baldwin Motorsports' John Natalie rounded out the top five.
"I've had some health issues midseason, but I've finally got them all figured out and I'm feeling the best I've evet felt my whole career," said Rastrelli. "It was an awesome feeling to earn my first ever pro holeshot, but it was also nerve-racking with Hetrick and Wienen behind me for the first nine laps. I think they had an advantage being able to take different lines, but overall I'm really happy with today's result."
Moto 2 resulted in a considerably better start for Wienen where he grabbed the SSI Decals Holeshot Award with Root River Racing/Motowoz Shocks/JB Racing/Amped Apparel/Hoosier Tires' Sam Rowe in tow right behind him. Natalie was also in the mix where he looked to fend off Hetrick and Rastrelli who were eager to move up in the pack.
By the conclusion of the first lap Wienen already had a comfortable lead, but Hetrick was seated in the second place position. Meanwhile, Rastrelli was held in fourth by Natalie. By the halfway point of the race Rastrelli had secured third, but by this time the top five competitors were all spread apart by multiple bike lengths.
While Wienen maintained control of the lead, Hetrick was giving it all that he had in an attempt to gain time. With only a few laps remaining Hetrick found himself in the fence line after a rut knocked him off the track in the famed "Gravity Cavity." He was able to quickly regain his composure, but Wienen was already across the line where he claimed the moto win. Hetrick and Rastrelli followed in second and third in both moto scores and overall finishes.
"After getting second in the first moto I knew I needed to get the start in the second moto to showcase what I have and to go for the win," said Wienen. "Thankfully my quad just ripped off the start and I was able to lead the whole race from start to finish. I put in a couple of heaters early on to get the gap and maintain it the whole race. I just can't think my Wienen Motorsports team and all the Unadilla fans enough."
The ProX ATVMX series moves west for the RedBud ATV National in Buchanan, Michigan in two weeks, July 30.
For more information on the 2016 ProX ATV Motocross National Championship, visit the official series website at www.atvmotocross.com. Join the conversation on the series Facebook page, follow on Twitter and Instagram, and be sure to always hashtag #ATVMX.
Unadilla MX
New Berlin, New York
Round 9 of 12
Saturday, July 16
2016 AMA Pro Class Event Results:
Chad Wienen (2-1)
Joel Hetrick (1-2)
Jeffrey Rastrelli (3-3)
John Natalie (5-4)
David Haagsma (4-5)
Nick Gennusa (6-6)
Brett Musick (8-9)
Sam Rowe (7-10)
Josh Upperman (11-7)
Ronnie Higgerson (10-8)
Overall National Championship Standings:
Chad Wienen (399)
Joel Hetrick (377)
Jeffrey Rastrelli (263)
Josh Upperman (255)
David Haagsma (248)
Nick Gennusa (246)
John Natalie (244)
Thomas Brown (215)
Ronnie Higgerson (192)
Brett Musick (190)
SSi Decals Holeshot Award Standings:
Chad Wienen (10)
John Natalie (6)
Joel Hetrick (5)
Brett Musick (3)
David Haagsma (1)
Jeffrey Rastrelli (1)
ATVriders.com Top Qualifier Award Standings:
Joel Hetrick (6)
Chad Wienen (3)
About the ProX ATV Motocross National Championship
The ProX ATV Motocross National Championship presented by CST Tires, an AMA National Championship, is the nation's premier amateur and professional ATV motocross series, hosted at top motocross facilities nationwide. The 12-round series features the Nation's best racers, teams and sponsors, and is America's largest and longest-running ATV national motocross program. Since 1985, the series continues to expand and produce top talent from the amateur ranks, while premiering the professional class. For more information, please visit www.atvmotocross.com.
About ProX
Whether on the track, in the woods or on the street, riders trust OEM quality engine components from ProX Racing Parts. Specializing in high quality components for powersports applications, all parts are manufactured to highest quality standards at state of the art manufacturing facilities around the world. As the industry evolves, so does ProX. By stocking over 9,000 part numbers and with so many products continually being added, you won't go anywhere else! For more information please visit www.pro-x.com.