First Looks
Arctic Cat Unveils First Wave of New 2016 ATVs, First Look
Alterra ATV platform introduced;
MINNEAPOLIS–(BUSINESS WIRE)– Arctic Cat Inc. (NASDAQ:ACAT) today unveiled its first wave of 2016 model year off-road vehicles during its annual summer sales meeting in Orlando, Florida. The 2016 lineup features seven all-new products, including four Special Edition models built in limited quantities, powered-up Wildcat™ Sport models and the introduction of the new Alterra all-terrain vehicle (ATV) brand.
Commented Arctic Cat President and Chief Executive Officer Christopher Metz: "We unveiled exciting new special editions and models to meet the needs of several market segments. We are executing against aggressive and exciting new product development plans. These new 2016 side-by-sides and ATV models are just the beginning of the innovation that we intend to bring to market, as we strive to create the ultimate off-road riding experience."
The 2016 model Arctic Cats will be available at dealerships beginning in September, along with an all-new full line of SPEED High Performance Accessories for Arctic Cat's Wildcat line, influenced by racer Robby Gordon and aftermarket innovator Todd Romano. (See separate SPEED Accessories news release announced today.)
Arctic Cat is offering 32 North American models in its first wave of introductions. For more information on the full line of Arctic Cat 2016 ATV and side-by-side recreational off-highway vehicle (ROV) models, visit arcticcat.com.
New 2016 ATVs
Alterra – Arctic Cat debuts the Alterra name on ATVs (formerly the XR line) built to handle all terrains. Arctic Cat's new Alterra platform showcases best-in-class performance, features, styling and overall value.
New for model year 2016, Arctic Cat introduced the Alterra 400 and 450 models, which include the brand new body style and industry-leading capabilities of the full-sized Alterra, adapted for the more compact 400 and 450 mid-sized machines. Featuring new bodywork, racks and headlights, the Alterra models provide the ultimate workhorse in a nimble, lightweight and versatile package.
The company plans to expand the Alterra line into other growth segments.
TRV – Arctic Cat's new two-up rider model, the TRV 700 Special Edition, features a 3,000-lb. winch, color-matched aluminum wheels, and the choice of true timber camo/orange metallic or black metallic colored bodywork.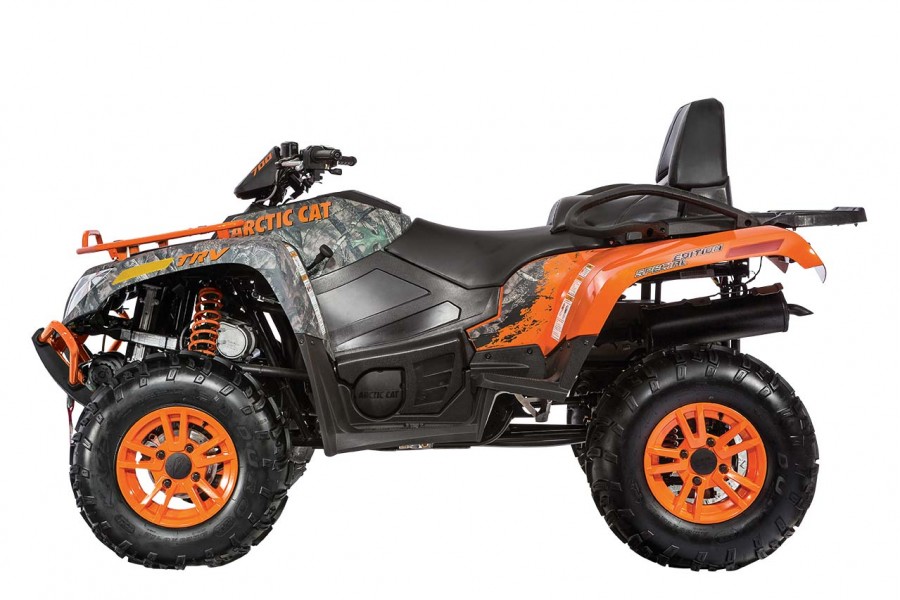 About Arctic Cat
The Arctic Cat brand is among the most widely recognized and respected in the recreational vehicle industry. The company designs, engineers, manufactures and markets all-terrain vehicles (ATVs), side-by-sides and snowmobiles, in addition to related parts, garments and accessories under the Arctic Cat® and Motorfist® brand names. Arctic Cat Inc. is headquartered in Minneapolis, Minnesota. Its common stock is traded on the NASDAQ Global Select Market under the ticker symbol "ACAT." More information about Arctic Cat and its products is available at www.arcticcat.com.