Racing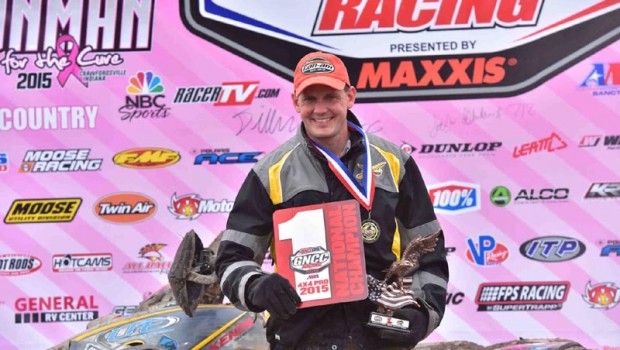 Published on November 5th, 2015 | by Joe
0
Bryan Buchannon Wins 2015 GNCC 4×4 Pro ATV Championship
Valcourt, Québec, Nov. 3, 2015 – Can-Am X-Team members wrapped up their Grand National Cross Country season in dominating fashion, winning six classes, the SxS overall and securing two Pro class championships at the Ironman event in Indiana. Can-Am Maverick 1000R pilot Kyle Chaney and Renegade X xc 800R racer Bryan Buckhannon successfully repeated as XC1 Pro SxS and 4×4 Pro ATV class champions, respectively.
"We ended the 2015 GNCC season on a definite high note, as Can-Am X-Team racers Kyle Chaney and Bryan Buckhannon both repeated as Pro class champions. Chaney finished fourth at Ironman to easily win the XC1 Pro SxS class title, while Buckhannon put a resounding exclamation point on his consistent, championship season with a victory aboard his Renegade 4×4 at the final round," said Jeff Leclerc, Racing Project Leader, Can-Am. "Overall, the 2015 ended with Can-Am racers winning six class titles, and pure dominance in the XC1 Pro class, where our Maverick racers took the top four spots in the final standings."
At the famous AMSOIL Ironman GNCC in Crawfordsville, Ind., Can-Am racers Kyle Chaney (TurnKey UTV / Can-Am) and Bryan Buckhannon needed strong finishes to repeat as GNCC champions in both the 4×4 Pro ATV and XC1 Pro SxS classes, respectively.
In side-by-side vehicle action, defending class champion Kyle Chaney just needed to be steady and record a decent finish to maintain his points lead and capture yet another title. Chaney posted a strong rally and fourth-place finish to easily win the GNCC XC1 Pro SxS championship. It was Chaney's second consecutive GNCC championship and third title of 2015 behind the wheel of the Can-Am Maverick 1000R side-by-side vehicle.
"Two in a row! I'd have liked to have finished on the podium here, but my co-pilot Chris Bithell calmed me down and helped me focus on finishing, so I could win the championship," said Chaney. "The competition in side-by-side racing is super stiff these days. You used to be able to come out with a stock machine and compete, but those days are gone, so you have to be prepared. The Can-Am Maverick is the best woods machine, period!"
Can-Am / JB Racing / Gunk racer Tim Farr earned his second straight XC1 Pro class victory to finish the year in third place in the final standings behind teammate Larry Hendershot Jr. and Chaney. Farr has now won the Ironman event for three straight years in the Can-Am Maverick side-by-side vehicle. With Hendershot's fifth-place finish, and Mouse Pratt's (Jack's Excavating) third-place run, Can-Am ended the year by sweeping the top four spots to dominate the final XC1 Pro class standings.
Can-Am X-Team member Richard Travalena also scored a class championship, winning the UTV Amateur Limited class in a Can-Am. Dave Plavi ended the season strong by winning the XC2 Pro Sport class in Indiana, to finish second overall for the year in his Offroadmotorsports' Wicked Bilt / Can-Am Maverick 1000R.
Buckhannon took matters into his own hands during the 10 a.m. session, winning the final round to give him his second consecutive 4×4 Pro class title. The multi-time GNCC champion had one of the most consistent seasons in history, winning three times and finishing on the class podium at all 13 rounds.
"It was no-holds barred and we knew it was going to be that way. There was a lot of pressure on us. I'm very hard on myself, but I calmed myself down before this race," Bryan Buckhannon. "This was a great year for us and for Can-Am. The Renegade has been flawless all season…this machine is built to win races."
Can-Am 4×4 ATV racers also won three other amateur ATV class championships. Scott Day (4×4 A/B), Matthew Ewart (4×4 C) and Forrest Whorton (4×4 Senior 40+) were each crowned 2015 GNCC champions riding Can-Am ATVs.
About BRP
BRP (TSX:DOO) is a global leader in the design, development, manufacturing, distribution and marketing of powersports vehicles and propulsion systems. Its portfolio includes Ski-Doo and Lynx snowmobiles, Sea-Doo watercraft, Can-Am all-terrain and side-by-side vehicles, Can-Am Spyder roadsters, Evinrude and Rotax marine propulsion systems as well as Rotax engines for karts, motorcycles and recreational aircraft. BRP supports its line of products with a dedicated parts, accessories and clothing business. With annual sales of over CA$3.5 billion from 107 countries, the Company employs approximately 7,600 people worldwide.
Ski-Doo, Lynx, Sea-Doo, Evinrude, Rotax, Can-Am, Spyder, E-TEC, G2, Maverick, Renegade and the BRP logo are trademarks of Bombardier Recreational Products Inc. or its affiliates. All other trademarks are the property of their respective owners.