Braking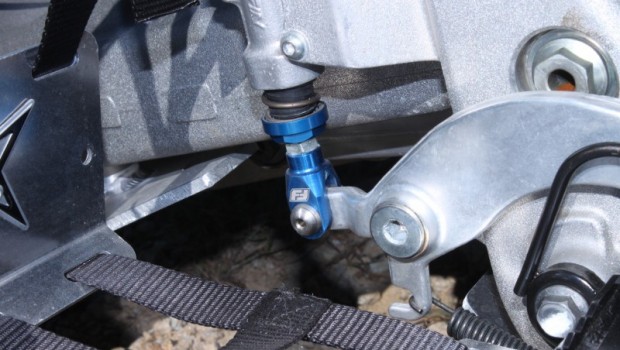 Published on April 24th, 2013 | by Joe
0
Fasst Company Brake Clevis and Return Spring Kit Review: with VIDEO
Add style, tuneability, and eliminate play with these affordable brake upgrades from Fasst Company.
A while back the company that introduced those famous shock absorbing Flexx handlebars, released a couple of affordable billet goodies, to improve the look and feel of your ATV's rear brake.
Technical Stuff
Fasst Company's Brake Return Spring Kit allows you to adjust your rear brake pedal's resistance, while eliminating the stock return spring. The kit is also claimed to minimize the amount of debris reaching your master cylinder. The clevis at the bottom of the brake's return spring is an area that develops play over time. Fasst Company's brake clevis eliminates this unwanted play; both it and the return spring bucket are made of billet aluminum and are available in a number of anodized colors.
The Test
We installed the Return Spring Kit and Clevis on our machine in around 20 minutes. You can increase or decrease the resistance of your rear brake's pedal by adding or removing preload from the return spring. This is accomplished by turning the return spring bucket one direction or the other.
We ran the return spring all the way in, then ran it out about one third of the way, liking our rear pedal set up a bit on the stiff side. This helped filter out a little unwanted toe tapping.Our setting also gave the rear brake a slightly more progressive feel, which aids a bit in modulation. While we never thought our machine needed such a product, we enjoyed the added tuneability.
One of the biggest telltale signs of a well-worn machine is play in the controls, both hand and foot. We've ridden machines with lots of play in the rear brake clevis. For these machines, Fasst Company's clevis will greatly improve the feel of the pedal. On our tight, new Kawasaki KFX450R, it added a bit of flash to the rear brake system.
Conclusion
The cosmetic appearance of these parts makes them worth the asking price alone. Getting more comfortable on your ATV by setting up your controls is an inexpensive way to enhance control and ride faster. Fasst Company's Brake Return Spring Kit and Clevis provide another way to dial in the feel of your machine's controls for a very modest investment. We believe they are well worth the money.
Manufacturer: Fasst Company
Product: Brake Clevis, $39.99  and Return Spring Kit, $19.99

Fasst Company Brake Return Clevis
Summary: The cosmetic appearance of these parts makes them worth the asking price alone. Getting more comfortable on your ATV by setting up your controls is an inexpensive way to enhance control