New Product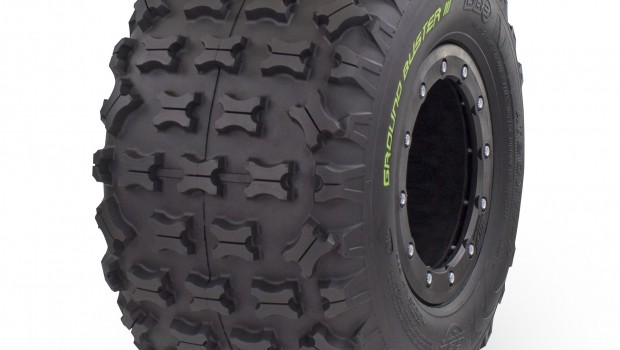 Published on September 9th, 2016 | by Joe
0
GBC Motorsports Unveils All-New Ground Buster III Sport ATV Tire
Anaheim, Calif. – August 19, 2016 – The 9th Annual GBC Motorsports Heartland Challenge is underway, and among the weekend's festivities GBC unveiled their all-new Ground Buster III tires.
Bridging the gap between GBC's XC-Racer and XC-Master tires, the new Ground Buster III offers cross-country racers and enthusiasts alike a unique tread pattern designed to tackle a variety of backwoods terrain. The Ground Buster III will be available in a 20×11-9 rear tire only, and riders can opt for either the lighter more flexible 2-ply rated version designed specifically to be used in conjunction with flat prevention systems, or the more rugged 6-ply rated version.
"After years of development and testing, we've settled on a configuration that we believe can be the best performing sport ATV rear tire on the market today," said GBC Motorsports' Johnny Gallagher. "The lightweight construction and tread design make the Ground Buster III the ideal tire for racing and aggressive trail riding."
While racers and spectators at this year's Heartland Challenge were treated to the very first look at the Ground Buster III, riders across the country can purchase them from their local GBC Motorsports dealers beginning September 1, 2016.
Learn more about the Ground Buster III and GBC Motorsports' full line of tires for ATVs and UTVs by visiting www.GBCMotorsports.com, and follow them on Facebook, Instagram and Twitter for the latest racing and product updates.