Racing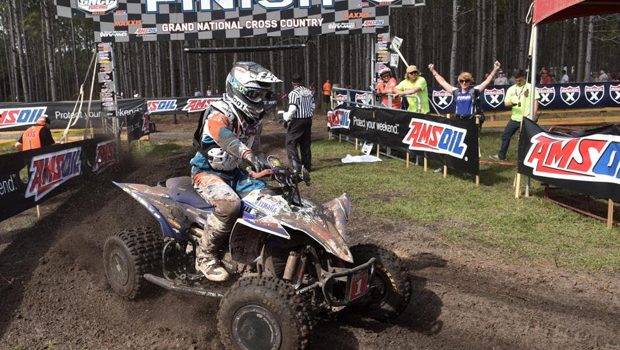 GNCC Round 2 2017 Race Report
Walker Fowler Extends Winning Streak to Two-in-a-Row at
Moose Racing Wild Boar GNCC
Brycen Neal and Adam McGill Round out Podium 
PALATKA, Fla. (March 11, 2017) – The "Sunshine State" lived up to its nickname, today, March 11, with round two of the 2017 AMSOIL Grand National Cross Country (GNCC) series presented by Maxxis, an AMA National Championship. After a thrilling two-hour race it was WFR/Yamaha/Maxxis/Fly Racing's Walker Fowler who topped the podium and took the overall win in Palatka, Florida at the Moose Racing Wild Boar GNCC.
Fowler found himself in a favorable position once the XC1 Pro class saw the green flag wave. His Yamaha machine rocketed off the start where he grabbed the $250 Wiseco XC1 Pro Holeshot Award and the early lead. "The holeshot just makes my whole day easier. It's nice to get out in the woods and ride my own race and try not to make any mistakes," said Fowler.
N-Fab/AmPro Yamaha's Cole Richardson and six-time GNCC champion Chris Borich followed in tow at the completion of the first lap.  It wouldn't be until the midway point of the race when the action would begin to really heat up. Borich's clutch would eventually begin to give him trouble, where he had to make some adjustments during a pit stop.
Richardson's wrist would end up causing too much pain to continue, which resulted in making the tough decision to end his race early. With Richardson's absence, it was a three-way battle between CST/Induction Solutions/LSR/HiPer/Spider Graphix's Adam McGill, Coastal Racing's Brycen Neal and JMR/ATVriders.com-backed Jared McClure.
After a mid-pack start, McGill had secured a podium position by the completion on the third lap and once the white flag was waving McGill set his sights on chasing down Fowler. McGill became within striking distance of Fowler when he had a small bobble with a lapped rider. "The first three laps were smooth, but I ended up coming together with a lapped rider on the last lap and losing a little bit of time," said Fowler.
However, McGill found himself in the exact same situation just miles away from the finish line. Lapped riders blocked the entrance to the FMF Powerpoint and McGill had to dismount from his quad to get around them. Neal capitalized on McGill's bad luck and made the pass for second and continued to hold it until the race was complete. With only a few miles remaining McGill had to settle for third.
"It's taken us a few races to get the momentum built up," said McGill. "After a terrible start, I just went out and rode the best I could. We got to the FMF Powerpoint and caught some lappers in a big bottle neck, but it is what it is."
"I went in the woods mid-pack and then took a bad line through the mud hole," said Neal. "After I got back on track I gave it everything I had. Overall, I'm really happy to finish second."
McClure finished just off the podium in fourth, and Borich fought through his clutch issue to grab a top-five finish. GBC/Canyon Motorsports/Fly Racing's Landon Wolfe had his best ride of the season with sixth overall, and Honda rider Tucker Wyatt also had a personal best finish in eighth.
Much like the XC1 Pro class and Fowler, M.R. Unlimited/Hygear Suspension/GBC Tires/Tire Spine's Devon Feehan made it two-in-a-row in the XC2 Pro-Am class. Matthew Lindle and Ithaca Recreation/Maxxis/Quad Tech/Storm Peak Crossfit's Hunter Hart took the remaining spots on the podium.
Perhaps the best battle of the day was the very last one in the 4 p.m. UTV race. Cohl Secoy reigned victorious at the end of the race, and while he wouldn't cross the finish line first, his adjusted time earned him his first career overall win. Reigning champion and Miller Brothers Racing/AmPro Yamaha's Cody Miller started off the season with second, and Can-Am/Chaney Racing's Kyle Chaney finished third.
The 4×4 Pro class controlled the 10 a.m. race, where Cunningham Racing/Can-Am/Maxxis-backed Kevin Cunningham took the overall and class win. Team UXC Racing's Kevin Trantham and Can-Am/DJR/QuadBoss Bryan Buckhannon trailed in second and third.
The WXC class podium was made up of the exact group of riders that were at the VP Racing Fuels Big Buck GNCC podium presentation. Angel Knox, Yamaha's Traci Pickens and Dillinger's Celtic Pub's Katelyn Osburn completed the podium.
Truett Racing's Collin Truett took the first Single Seat UTV overall win of the year. Team Ferraro's Chis Ferraro and Ocean County Powersports/Cycle Pros/Dover Oil/HMF-backed Robert Boynton rounded out the overall podium.
Wilson Racing's Tim Sroka was the first winner of the day. Sroka's Super Mini (12-15) class win vaulted him to the top of the overall standings. Colton Stoneking and Ye Old Cycle Barne's Layne McCormick followed in second and third overall.
The 2017 AMSOIL GNCC Series resumes in two weeks, March 25 and 26, with the Second Annual Maxxis Cannonball GNCC in Sparta, Georgia. A highlight show featuring the Wild Boar event will be air on the NBC Sports Network on Saturday, April 29 at 5:00 p.m.
For more information on the series, visit the official website at www.gnccracing.com or call (304) 284-0084. Join the conversation on the series Facebook page, follow us on Twitter and Instagram, and be sure to always hashtag #GNCC.
Moose Racing Wild Boar GNCC
Palatka, Florida
Round 2 of 13
Saturday, March 11
XC1 Pro Event Results:
Walker Fowler (YAM)
Brycen Neal (YAM)
Adam McGill (HON)
Jarrod McClure (HON)
Chris Borich (SUZ)
Landon Wolfe (HON)
Tucker Wyatt (HON)
Marty Christofferson (HON)
Brian Wolf (HON)
Westley Wolfe (SUZ)
*Overall National Championship Standings:
Walker Fowler (60)
Brycen Neal (46)
Jarrod McClure (43)
Adam McGill (37)
Chris Borich (34)
Landon Wolfe (29)
Devon Feehan (27)
Hunter Hart (19)
Matthew Lindle (19)
Marty Christofferson (18)
*Indicates that the Overall National Championship Standings will determine the 2017 National Champion.
XC2 Pro-Am Event Results:
Devon Feehan (HON)
Matthew Lindle (HON)
Hunter Hart (YAM)
Austin Abney (HON)
Greg Covert (YAM)
Sam Hough (HON)
Levi Coen (HON)
Cameron Bruce (YAM)
Braden Henthorn (HON)
Jeff Miller (HON)
XC2 Pro-Am Series Standings:
Devon Feehan (60)
Matthew Lindle (43)
Hunter Hart (42)
Greg Covert (41)
Levi Coen (27)
Sam Hough (27)
Jeff Miller (26)
Austin Abney (26)
Brandon Icard (23)
Kenny Shick (20)
About GNCC Racing
The AMSOIL Grand National Cross Country Series presented by Maxxis is America's premier off-road racing series. Founded in 1975, the 13-round championship is produced exclusively by Racer Productions. Cross-country racing is one of the most physically demanding sports in the world. The grueling three-hour GNCC races lead as many as 2,400 riders through tracks ranging in length from eight to 12 miles. With varied terrain, including hills, woods, mud, dirt, rocks and motocross sections, GNCC events are tests of both survival and speed. The series draws talent from all over the U.S., Central America, South America, Europe, Japan, Australia and New Zealand. GNCC Racing is televised weekly on NBC Sports and RacerTV.com. For more information, please visit www.gnccracing.com.